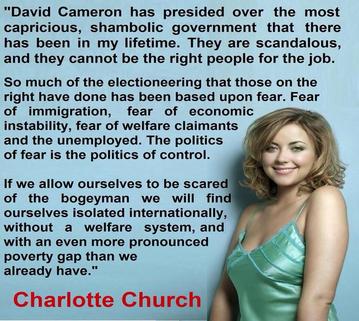 Well said that girl.

_________________
The conservative feels safe and content only if he is assured that some higher wisdom watches and supervises change, only if he knows that some authority is charged with keeping the change "orderly.

Friedrich Hayek

In other words a bunch of cap-doffers and forelock tuggers.
The Tartan terror. Keeper of the royal sporran. Chief Haggis Hunter




Posts

: 7719


Join date

: 2013-12-11


Location

: Edinburgh



She's turned into a right firebrand, good on her. I believe she said today she would be happy to pay 70% tax if it meant that welfare services and the NHS were saved.
_________________
This planet is our home.  Our life and hers are interdependent - Doreen Valiente



The Left want to make life easier for as many people as possible, The Right want to make life easier for themselves and fuck everyone else

.



Posts

: 17731


Join date

: 2015-01-04



Labours dodgy NHS PFI contracts and their increased spending on useless middle management bureaucracy has sucked billions out of NHS budgets.
Also under labour, people were allowed to claim up to £100,000 a year in benefits.
If charlotte church wants to give her money away towards corrupt PFI repayments and towards paying for unemployed people to enjoy a much better standard of living than most of the working people who are paying for it through their taxes, then let her start handing her money over for it...
But back in the real world... she's a twat...!


_________________
"Truth is ever to be found in the simplicity, and not in the multiplicity and confusion of things." — Isaac Newton

'The further a society drifts from truth the more it will hate those who speak it.'  — George Orwell



Posts

: 19924


Join date

: 2014-02-12




---
Permissions in this forum:
You
cannot
reply to topics in this forum