"Viking. North Utsire. South Utsire. South-easterly women breastfeeding. Occasionally in public."
Yes, it can only be the sequel to the original Ukip Shipping Forecast - and it's just as glorious as the last one.
It's the work of Nicholas Pegg, and take it from us: it makes for marvellous listening for any devoted Radio 4 listener and/or Ukip-hater...
http://www.huffingtonpost.co.uk/2015/02/17/ukip-shipping-forecast_n_6696828.html?utm_hp_ref=uk

The Shipping Forecast has never really been the same since Jimmy Kingsbury left. His voice 'Attention all Shipping' was known throughout the country. And it was not just mariners who listened to it, people tuned in to hear it even when it didn't affect them.

His voice was really very similar to that of Frank Philips who announced in 1943 on the BBC about the Dambusters bombing of the dams in Germany. Frank re-recorded the announcement for the film as well.

Here's Jimmy reading the shipping forecast. Bit of background noise but still good.

http://randomradio.net/audio/Shipping_020170.mp3

_________________
The conservative feels safe and content only if he is assured that some higher wisdom watches and supervises change, only if he knows that some authority is charged with keeping the change "orderly.

Friedrich Hayek

In other words a bunch of cap-doffers and forelock tuggers.
The Tartan terror. Keeper of the royal sporran. Chief Haggis Hunter




Posts

: 7719


Join date

: 2013-12-11


Location

: Edinburgh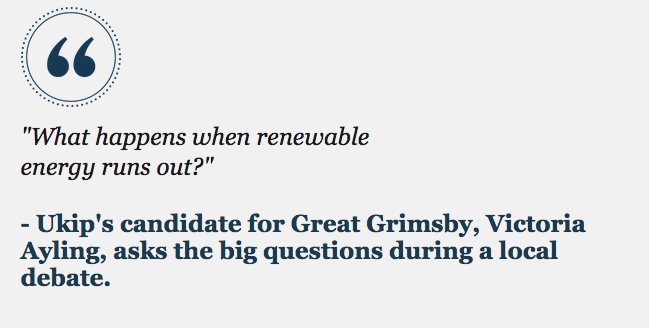 The UK's Victoria Ayling gaffed yesterday she asked, "what happens when renewable energy runs out?" You may know Ukip, they're (one of) the UK's answers to One Nation, only their members seem a whole lot more credible and vocal (when compared to say—Pauline Hanson) thanks to the UK's and Europe's genuine economic woes. What Ayling claims to have meant was renewable energy subsidies. Unfortunately for her, it kinda went viral anyway with more than 2,000 retweets of a Guardian writer's tweet. Ayling is famous for having said, "send the lot back" in a party video on immigration. Naturally, she claims it was taken out of context.

_________________
My job is to travel the world delivering Chaos and Candy.

We don't know the Questions... does that means we cannot seek the Answers?
The Mod Loki, Minister of Chaos & Candy, Emperor of the Southern Realms, Captain Kangaroo




Posts

: 19095


Join date

: 2013-01-23


Age

: 36


Location

: Australia




---
Permissions in this forum:
You
cannot
reply to topics in this forum