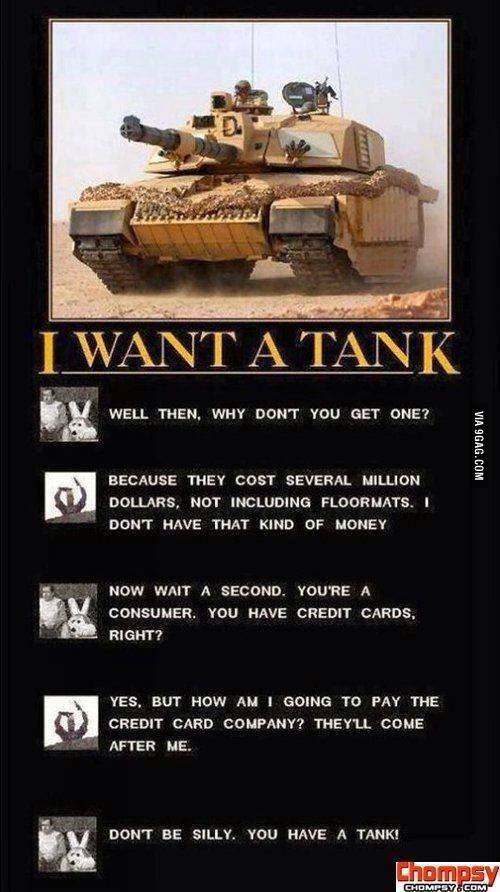 ::rfth:: ://?roflmao?/: ::smthg:: ::smthg:: ::smthg:: ::smthg:: ::smthg:: ::smthg:: ::smthg:: ::smthg:: ::smthg:: ::smthg:: ::smthg:: ::smthg:: ::smthg:: ::smthg:: ::smthg:: ::smthg:: ::smthg:: 
That tank looks British.

They can have the lot for about £1million - why not, they have our planes?
That was quite funny Victor! 

::smthg:: 

They, them, us. We were connected at one time.
_________________
This came in the post today.  It says, Hypocrite, It must be yours. 




Posts

: 181


Join date

: 2014-04-29




_________________
My job is to travel the world delivering Chaos and Candy.

We don't know the Questions... does that means we cannot seek the Answers?
The Mod Loki, Minister of Chaos & Candy, Emperor of the Southern Realms, Captain Kangaroo




Posts

: 18391


Join date

: 2013-01-23


Age

: 35


Location

: Australia



Love it...cheers Vic


_________________
Do you think you'll be the guy - to make the Queen of the Angels sigh?
the Nerd Queen of Nerds, the Lover of Books who Cooks




Posts

: 5312


Join date

: 2014-01-19


Age

: 50



Great!  Hilarious.
Kinda the story of contemporary Iran, innit?   ::drnkpst::

_________________
"Little thieves are hanged, but great thieves are praised." — Old Russian proverb, offered by Vladimir Putin to Donald J. Trump, Helsinki, July, 2018.

"I don't stand by anything."  ― Donald Trump, interview with John Dickerson, 5.1.17...

"That's libertarians for you — anarchists who want police protection from their slaves." ― Kim Stanley Robinson, Green Mars



Posts

: 24614


Join date

: 2013-12-19


Age

: 53


Location

: Northern California



Anyone can get a Tank. Just get down to your local dealer and get a trade in at half the price.
And if your struggling just put it on your Islamic bank account and hey presto you're quids in.
Here's a selection...
http://www.milweb.net/webvert/70625


_________________
The conservative feels safe and content only if he is assured that some higher wisdom watches and supervises change, only if he knows that some authority is charged with keeping the change "orderly.

Friedrich Hayek

In other words a bunch of cap-doffers and forelock tuggers.
The Tartan terror. Keeper of the royal sporran. Chief Haggis Hunter




Posts

: 7719


Join date

: 2013-12-11


Location

: Edinburgh





_________________
"Some people expend tremendous energy merely to be normal" ~ Albert Camus
King of Beards. Keeper of the Whip. Top Chef. BEES!!!!!! Mushroom muncher. Spider aficionado!




Posts

: 35563


Join date

: 2013-07-28


Age

: 48


Location

: England



I'm still rolling on the floor at this. Lol.

_________________
"Little thieves are hanged, but great thieves are praised." — Old Russian proverb, offered by Vladimir Putin to Donald J. Trump, Helsinki, July, 2018.

"I don't stand by anything."  ― Donald Trump, interview with John Dickerson, 5.1.17...

"That's libertarians for you — anarchists who want police protection from their slaves." ― Kim Stanley Robinson, Green Mars



Posts

: 24614


Join date

: 2013-12-19


Age

: 53


Location

: Northern California




---
Permissions in this forum:
You
cannot
reply to topics in this forum