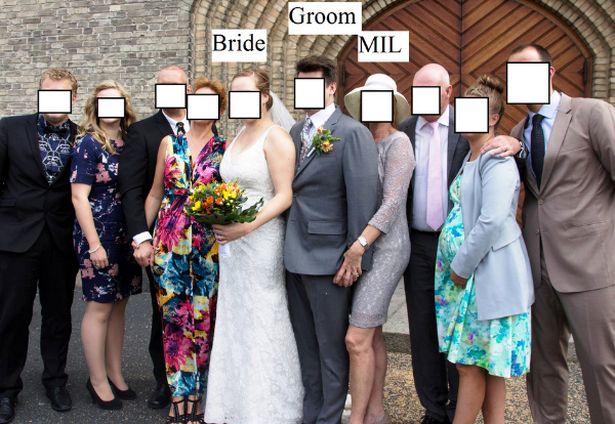 A mother has come under fire online for the bizarre pose she chose to adopt in her son's wedding photos
When it comes to weddings, there's often someone waiting in the wings to upstage the bride and ruin her big moment.

Recently that job has fallen to the mother-in-law, (the mother of the groom), who either turns up wearing a wedding dress of her own or attempts to ban certain people from the guest list.

But one mum has topped all of these shenanigans and managed to steal the spotlight off the happy couple in their own photos by doing something rather 'creepy'.

The unnamed woman decided to adopt an awkward-looking pose as the photographer asked them to say cheese, making it look as if she was spooning her son from behind.

The bizarre photo was shared on Reddit's Just No MIL thread, which sees people revealing the strange behaviour of their in-laws.

This post quickly garnered plenty of attention, with than 335 people commenting to share their disgust over the mum's actions.

One person commented: "It looks like she's seconds away from wrapping her leg around his thigh. Why don't you just straddle him love."

Another wrote: "Oh lord please grant [this couple] the serenity to move far far away from the clutches of this mother."

A third simply said: "That's beyond disturbing."

"She looks like she's desperately clutching his hand," replied someone else. "It just looks awkward."

"He's making a fist but she's not taking the hint," pointed out a different user.

A sixth person added: "Totally creepy and I'm sure exactly what the groom wants on his big day."

Others pointed out that as people were so focused on the mother-in-law, they'd missed that one of the other guests was wearing an "awesome" Darth Vader print shirt.

Someone replied to this particular comment, saying: "I did not see that, and now I can't unsee. Glorious."
https://www.mirror.co.uk/news/weird-news/mother-groom-branded-creepy-awkwardly-18323621
Yeah...it does look rather...erm....odd....

_________________
"The true genius shudders at incompleteness - and usually prefers silence to saying something which is not everything it should be."
~ Edgar Allan Poe

eddie

King of Beards. Keeper of the Whip. Top Chef. BEES!!!!!! Mushroom muncher. Spider aficionado!




Posts

: 40032


Join date

: 2013-07-28


Age

: 49


Location

: England



Why try to make out it's creepy ? Looks to me she was a bit "squashed" out and made the best of it !

nicko




Posts

: 12860


Join date

: 2013-12-07


Age

: 79


Location

: rainbow bridge



It is odd after-the-fact.  But the photographer probably instructed her to move in close, it being such a wide shot. Also, the hand on his may be an awkward reminder of, don't take this as something else.

I always marvel how photography catches only the motionless instant, and completely misses the movement...and sometimes the plot, creating an appearance of something else going on.

_________________
"Little thieves are hanged, but great thieves are praised." — Old Russian proverb, offered by Vladimir Putin to Donald J. Trump, Helsinki, July, 2018.

"I don't stand by anything."  ― Donald Trump, interview with John Dickerson, 5.1.17...

Normal is broken.

"That's libertarians for you — anarchists who want police protection from their slaves." ― Kim Stanley Robinson, Green Mars

Original Quill




Posts

: 30982


Join date

: 2013-12-19


Age

: 54


Location

: Northern California



Aww the poor lady.  She did nowt wrong, it was a bit of a squash and she was obviously trying to squeeze in so that everyone in that line up would show up on the photo.

The snapper should have taken a step or two back, and used wider angled lenses.

Lessons learnt: try facing forward next time, don't do a sideways pose lol.
_________________
Live Love Laugh

JulesV




Posts

: 3754


Join date

: 2016-07-30


Location

: Vantage Point



well, it does look rather odd to me tbh.
i'm more concerned why the photographer couldn't wait for the woman in the green floral number to finish scratching her fanny before he took the shot
really!


gelico




Posts

: 720


Join date

: 2019-05-03



gelico wrote:

well, it does look rather odd to me tbh.

i'm more concerned why the photographer couldn't wait for the woman in the green floral number to finish scratching her fanny before he took the shot

really!
ha ha ha, we both know she is supporting her pregnant belly gelico  


Thorin




Posts

: 10023


Join date

: 2018-11-16



The angle of the photo is deceptive, Her leg is not touching his leg and simple in front of her other leg slightly. Only his jacket is tocuhing her body. They are not clearly spooning. There is at least a gap of her hand between each body here. Its his jacket that is conflating the issue here
Its clear there is also a gap between her front and his back.

If her hand was not over his, nobody would bat an eyelid. Which is what is creating people to think something is wrong here. She is basically sandwiched between what I guess is her own husband and son. Though can people exaplin what is wrong with a mother glasping her sons hand here?

Like i say looks can be deceptive

Thorin




Posts

: 10023


Join date

: 2018-11-16



Just tonight we just had a load of professional photos taken at grandsons graduation.
The photographer maneuvered everyone in close for group shots, put your hand there, hold his arm, put your left leg out, bend your knee, get closer in.....and so on.
Mum was proably just following instructions...., but the intimate hand holding looks a bit odd.

_________________
Not everyone likes me, but not everyone matters.

Syl




Posts

: 19566


Join date

: 2015-11-12


Location

: Manchester



She didn't need to hold his hand.
I dunno, perhaps people are making more of it than need be.

_________________
"The true genius shudders at incompleteness - and usually prefers silence to saying something which is not everything it should be."
~ Edgar Allan Poe

eddie

King of Beards. Keeper of the Whip. Top Chef. BEES!!!!!! Mushroom muncher. Spider aficionado!




Posts

: 40032


Join date

: 2013-07-28


Age

: 49


Location

: England




---
Permissions in this forum:
You
cannot
reply to topics in this forum