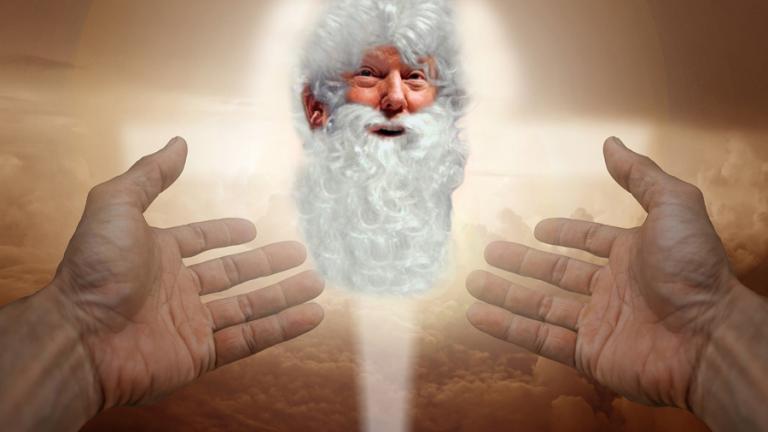 Patheos published 10 signs; here are some of my favorites. Thanks to edds for finding this:
8. Your church is planning a "patriotic worship service" for the 4th of July.
Let me simplify this for you: there's no such thing as "patriotic worship" unless you're willing to simply admit you're worshipping your own country.
You were the ones who taught me that if God isn't the focal point of our worship, that it's sinful idolatry. Surely you remember Jesus saying, "It is written: worship the Lord your God and serve him only"?
Apparently there's now room for two. Strange!
7. You instinctively applaud when Trump threatens to "bomb the shit" out of people, but quickly push back if someone quotes what Jesus taught about violence and enemy love.
Jesus commanded we love our enemies, and that we never repay evil with evil but instead repay evil with good. I mean, it's right there in the red words. I still have it underlined from 1984.
But now when I quote that in response to your thinking that it's all cute when Trump wants to "knock the crap" out of a protestor or nuke a country, you tell me that I'm twisting scripture.
Sorry, but I think siding with Trump over Jesus is… as Trump would say: Sad!
5. You think it's God-honoring to refuse to bow to a national statue, but that you should be fired from your job, kicked out of the country, or even charged with treason for refusing to stand for the flag.
Let me get this straight: When everyone obeyed the king and bowed down to the national statue and Shadrach, Meshach, and Abednego refused– under the pain of death– to pledge their allegiance to anyone except God, they were the good guys of the story…
But fast forward to present day America, and the good guys are actually the ones who want to force everyone to pay respect to the national symbol? Plot twist!
4. You want the nation to return to "biblical values"… except for all those socialist sounding biblical things like caring for the poor, welcoming the stranger, giving food to the hungry, etc.
So you really want the nation to return to "biblical values"? You do realize that when Israel lived under God's law (which you love to quote when talking of same sex marriage) also included laws that mandated the rich be taxed, even down to the food they had, and that the wealth was to be redistributed to the poor and immigrants, yes?
Or is this the one situation where you'd rather not remember that you keep saying, "But God's law never changes"? Confused!
2. You claimed Barack Obama's election was the result of evil forces, but the minute Trump was sworn into office you started quoting verses about how "God picks a nation's kings and queens."
For real, how does this work? Did God only get involved and start deciding elections with the past election cycle, or did you just start quoting this verse after the black guy left?
There's a lot in this world I don't know, but I do happen to know the answer to *that* one. Easy!
The rest: https://www.patheos.com/blogs/formerlyfundie/10-signs-youre-actually-following-trumpianity-instead-of-christianity

_________________
And I crawled out the window with my shadow in a spoon
Dancing on the roof shooting holes in the moon

- Beck
Cowboy King. Dread Pirate of the Guadalupe. Enemy of the American people.




Posts

: 26734


Join date

: 2013-01-19


Age

: 44


Location

: Tesco's




Surveys in the USA have often shown that over 90% of Americans
claim
to be "people of faith"...
With nearly 90% of those claiming to be "Christian"..
I've often thought that 80% of them were talking crap.
_________________
It's not what you look at that matters, it's what you see.Our life is frittered away by details. Simplify, simplify.The mass of men lead lives of quite desperation.
Henry David Thoreau



Posts

: 7300


Join date

: 2016-02-24


Age

: 61


Location

: Lake Macquarie, NSW, Australia





Similar topics
---
Permissions in this forum:
You
cannot
reply to topics in this forum