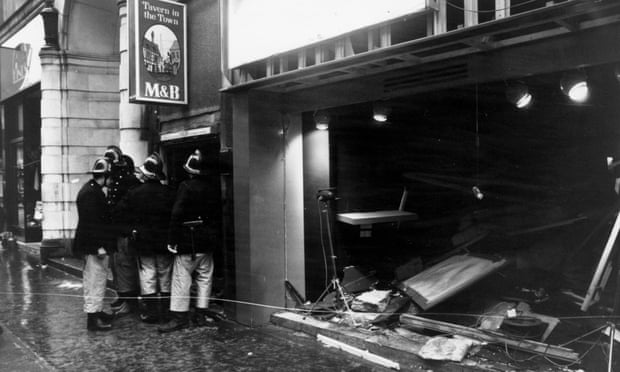 Firefighters survey the damage outside the Tavern in the Town pub in Birmingham. Photograph: Wesley/Getty Images
Documentary makers claim to have identified two prime suspects in the 1974 IRA Birmingham pub bombings.

The explosions at the Tavern in the Town and Mulberry Bush killed 21 people and injured 220.

One of the men named in the ITV Exposure programme, to be broadcast on Monday night, is the convicted IRA bomber James Francis Gavin, who has since died.

In Hunt for the Birmingham Bombers, Gavin, a former British soldier, is alleged to have been one of the people who planted the bombs.

The second suspect is shown being asked about his alleged role by the documentary makers outside a Belfast supermarket. He declined to comment and his lawyers told the programme: "Our client denies all the allegations … and does not intend to respond any further to the unfounded allegations you have made."

The documentary will suggest the Crown Prosecution Service had examined the case against the suspect and concluded there was insufficient evidence to charge him.
https://www.theguardian.com/uk-news/2018/oct/01/new-birmingham-pub-bombing-suspects-found-ira-documentary-claims
What do you think; does this matter any more? Is there any sort of statute of limitations on prosecuting things like this?

_________________
"As man advances in civilization, and small tribes are united into larger communities, the simplest reason would tell each individual that he ought to extend his social instincts and sympathies to all members of the same nation, though personally unknown to him. This point being once reached, there is only an artificial barrier to prevent his sympathies extending to the men of all nations and races."

Charles Darwin
Cowboy King. Dread Pirate of the Guadalupe. Enemy of the American people.




Posts

: 25334


Join date

: 2013-01-19


Age

: 44


Location

: Funkytown, Texas



no statute of limitations at all in UK law Ben......
_________________
If at any time in 2018 I have annoyed you, pissed you off or said the wrong thing....Suck it up snowflake, cause 2019 AINT gonna be any different
Patience my Ass......I' m gonna KILLsomething
[b].(It's hard to remember that the task is to drain the swamp, when you are up to your arse in alligators)
INTERNAL SECURITY DIRECTOR





Posts

: 10005


Join date

: 2015-11-06



with the minor exception of 10 (I think) years to collect a debt.
_________________
If at any time in 2018 I have annoyed you, pissed you off or said the wrong thing....Suck it up snowflake, cause 2019 AINT gonna be any different
Patience my Ass......I' m gonna KILLsomething
[b].(It's hard to remember that the task is to drain the swamp, when you are up to your arse in alligators)
INTERNAL SECURITY DIRECTOR





Posts

: 10005


Join date

: 2015-11-06




---
Permissions in this forum:
You
cannot
reply to topics in this forum