Aaron Allen and his sister Jolisa Jones saw a car go into the water and flip over. There was a mother, a father, and an 11-day-old baby inside.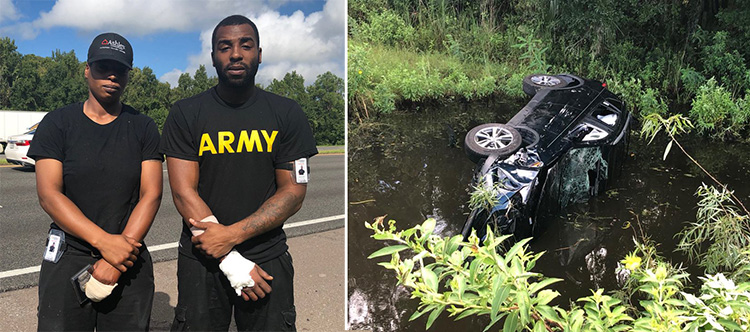 Photos credit: Fox 13 News Tampa
Aaron and Jolisa jumped into the water to try to save them.
"I saw that water was seeping into the car, where it was turned upside down," Aaron told Fox 13 in Tampa. "We tried to break the windows, but that didn't work. So the only thing I could think of was to flip the car over. So I told my sister to help me so we could flip it over to its side. So what happened is after we flipped it over to the side, I took my shirt off and wrapped it around my fist and I used my fist to break the windshield off."
Aaron and Jolisa saved all three people inside. And they are all doing just fine, including the newborn.
However Aaron seriously injured his hand in the process:
"As my fist was coming out of the windshield, it hooked the glass and it pulled my skin all the way back in a big chunk. The glass tore into my tendons in my arm."
But Aaron has no regrets.
"If I was in that situation, I would want someone to come to my rescue, honestly. I would want someone to help me."
https://www.sunnyskyz.com/good-news/2986/Siblings-Lift-Overturned-SUV-And-Save-Family-With-Newborn-Trapped-Inside


---
Permissions in this forum:
You
cannot
reply to topics in this forum