A 9-year-old girl with cerebral palsy, who can't walk or talk, is being hailed a hero for saving her baby brother from drowning in the swimming pool.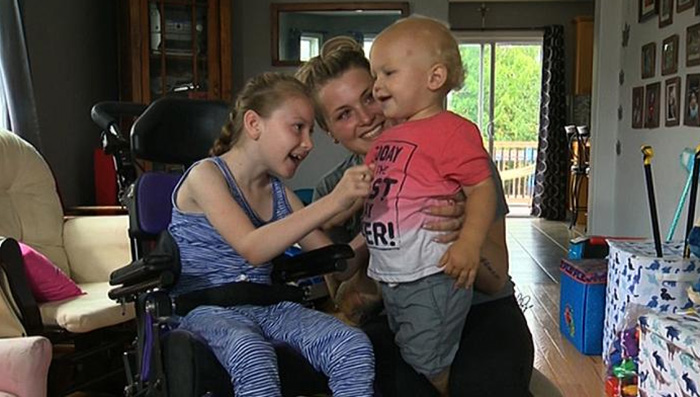 Photo credit: CTV Network
Lexie Comeau-Drisdelle, from Dartmouth, Nova Scotia, realized her 1-year-old brother Leeland was in trouble when she saw him jump into the pool on his own. So, she did the only thing she could, and let out the loudest scream her lungs could possibly give.
The scream alerted her family that something was wrong because they say she'd never yelled like that before.
Lexie's grandmother quickly ran toward the screaming child. She realized Leeland was not around, and Lexie kept screaming and pointing to the door that leads to the pool.
"When my mom told me what was going on, I quickly looked out the window and there, at the edge of the pool I saw his little head," said Kelly Jackson, Lexie's mother. "I began to panic, and my mom quickly ran towards him and pulled him out."
Leeland coughed up some water and was later taken to the hospital as a precaution.
"At that moment, it was so scary. We thought it was not going to end well, we hugged him a million times. In two seconds a life can change and we are just thankful that Lexie was so quick to alert us," Jackson told CNN.
Lexie was recognized on Wednesday as a hero by the Halifax Regional Council for her response. She was also honored by the city's police department.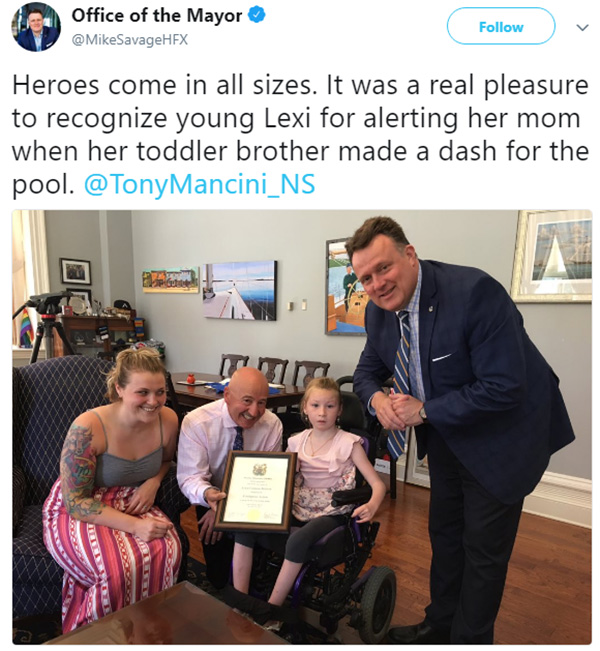 Credit: Twitter
"You don't need to be able to walk and talk and have all your senses," Lexie's grandmother Nancy Comeau-Drisdelle said. "You can still make yourself heard, and you can still help. And yes, she did save his life."
https://www.sunnyskyz.com/good-news/2887/Girl-With-Cerebral-Palsy-Saves-Baby-Brother-From-Drowning-In-Pool

Wow. What a wonderful story.


_________________
"Don't think of the end of the journey as your destination. Perhaps all you needed was your destination. The journey is the learning.
Maybe each person you meet is just a journey.
That has never changed for me.

Why don't you be my destination? Teach me and be humble in your knowledge.

~ eddie.... Just some hippy-trippy astrology freak, in the clouds, on her own nutjob. (But well happy in her own skin fam)
King of Beards. Keeper of the Whip. Top Chef. BEES!!!!!! Mushroom muncher. Spider aficionado!




Posts

: 39048


Join date

: 2013-07-28


Age

: 49


Location

: England






Posts

: 3092


Join date

: 2016-08-22



Sweet.


_________________
"Little thieves are hanged, but great thieves are praised." — Old Russian proverb, offered by Vladimir Putin to Donald J. Trump, Helsinki, July, 2018.

"I don't stand by anything."  ― Donald Trump, interview with John Dickerson, 5.1.17...

Normal is broken.

"That's libertarians for you — anarchists who want police protection from their slaves." ― Kim Stanley Robinson, Green Mars



Posts

: 29410


Join date

: 2013-12-19


Age

: 54


Location

: Northern California




---
Permissions in this forum:
You
cannot
reply to topics in this forum