A few days ago, there was yet another antisemitic attack in the US: a 14-year-old boy was was approached by an unknown white man, who punched him in the face and cursed at him, calling him a "Jew boy."

The immediate reaction of reasonable people has been one of horror. Then there was the reaction of former CNN reporter Jim Clancy (in now deleted tweets)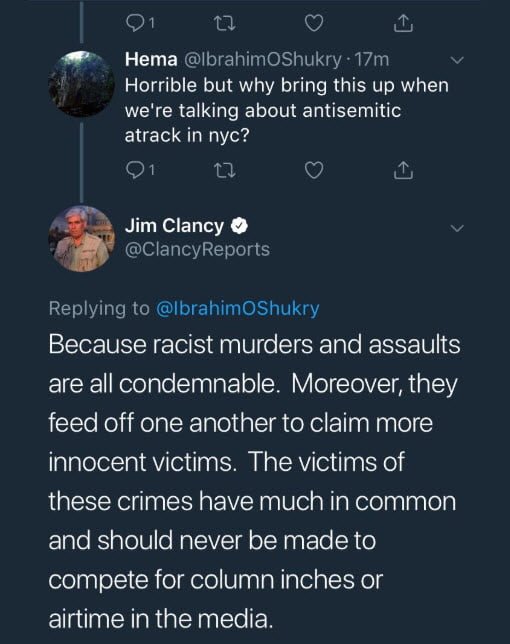 (screenshots courtesy of Rebecca Griffin)

It seems Clancy cannot just condemn a heinous, antisemitic attack on a young boy without "But, Israel." He seems to even be implying that the reason for the attack on the young boy was Israel's actions.
There's a word for this: 
"antisemitism."
And another word: "unhinged."
Not that we should be surprised. It was his unhinged hatred of Israel that resulted in his departure from CNN in 2015. And he's been at it since.
http://www.israellycool.com/2018/05/10/former-cnn-journalist-jim-clancys-vile-reaction-to-antisemitic-attack-on-boy/
Now, where have I also seen such warped thinking when discussing antisemitism?
Am sure it was only this morning, I did see the same thinking.

---
Permissions in this forum:
You
cannot
reply to topics in this forum