The Washington Post wrote:Report: Trump Is Under Investigation for Obstruction of Justice

The Washington Post reports the probe led by special counsel Robert Mueller into Russian interference in the 2016 election has widened to include a closer look at the president's actions.

Matt Ford

By firing James Comey, President Trump has now provoked the criminal investigation he insisted didn't exist when he fired him. Special Counsel Robert Mueller is reportedly investigating whether Trump tried to obstruct justice by firing the former FBI director last month, placing the Trump administration in a legally perilous situation less than six months into office.

The Washington Post reported Wednesday that Mueller has quietly reached out to multiple top intelligence officials to set up interviews as part of his sprawling probe into both Russian interference in the 2016 presidential election. That includes examining any wrongdoing by Americans that accompanied it, as well as any efforts to obstruct or curtail the federal investigation itself.

The exact timeline for when the investigation expanded to include obstruction claims against the president is unclear. The Post said federal investigators began their inquiry "days after" Trump's abrupt dismissal of Comey on May 9. The director's ouster sparked a political firestorm for the White House, culminating a fortnight later in Deputy Attorney General Rod Rosenstein's appointment of Mueller as special counsel.

The White House itself no longer answers questions about the probe, referring reporters to the president's outside counsel, Marc Kasowitz. "The FBI leak of information regarding the president is outrageous, inexcusable and illegal," Mark Corallo, a spokesman for Kasowitz, told the Post.

Wednesday's revelation is a severe blow to the White House, after a week in which it has issued strenuous claims that Trump himself is not the subject of a criminal investigation. Top administration officials frequently touted Comey's testimony on June 8 that the president had not been under investigation for colluding with Moscow to damage Hillary Clinton's presidential bid at the time Trump fired Comey.

But Trump, whose anger at Comey for refusing to declare publicly that the president was not under investigation reportedly contributed to his decision to fire him, has now brought about precisely such a criminal probe by dismissing him. A broad cross-section of the American legal community warned that his actions towards Comey could reach the threshold of obstruction of justice, a federal crime cited in the impeachment efforts against both Richard Nixon and Bill Clinton. (Nixon resigned before the House could vote on articles of impeachment; Clinton was impeached for obstruction but not convicted of it.)

According to the Post, Mueller has reached out to NSA Director Mike Rogers, Director of National Intelligence Dan Coats, and former NSA Deputy Director Richard Ledgett to voluntarily interview them as part of the obstruction inquiry. All three men have agreed, the Post said. It's unclear whether Mueller made his request before Coats and Rogers testified before the Senate Intelligence Committee last week. At that open hearing, both men declined to answer multiple questions from senators about their interactions with the president. The hearing came one day after the Post reported Trump had asked Coats and Rogers in March to intervene with then-director Comey to halt the Russia investigation.

Mueller has also asked the NSA for any documents about its interactions with the president over the Russia investigation, The New York Times reported Wednesday night. Separately, The Wall Street Journal reported that Mueller has requested to interview Rick Ledgett, the NSA's recently retired deputy director. Ledgett reportedly wrote a memo documenting a phone call between Admiral Mike Rogers, the NSA's director, and the president. Trump questioned the intelligence community's assessment that Russia had interfered with the election, and tried to persuade Rogers to say there was no evidence of collusion between the campaign and Russia, the Journal reported.

Trump could theoretically invoke executive privilege to try to block the release of documents like that memorandum, but would be unlikely to find a sympathetic judge: The U.S. Supreme Court blocked Nixon from using the privilege to withhold evidence in a criminal investigation in U.S. v. Nixon in 1974. The Times also reported Mueller is probing the possibility of money laundering by Trump's associates, on the theory that any collusion with Russian officials might have involved pay-offs, which would then have needed to be concealed.

It's unclear how the revelation of Mueller's expanded investigation will affect the long-term survival of his inquiry. Trump considered ousting the special counsel in recent weeks, only to be talked out of it by virtually the entire White House staff. Under Justice Department rules, Trump cannot fire Mueller directly—that power is held by Rosenstein as acting attorney general. (Attorney General Jeff Sessions recused himself from the investigation in March.) Rosenstein assured Congress at a hearing on Tuesday that Mueller has "full independence" and that he would not fire him without "good cause," which DOJ rules narrowly define as "misconduct, dereliction of duty, incapacity, conflict of interest, or … violation of departmental policies."

If Trump nonetheless moved ahead and ordered Rosenstein to fire Mueller, it would almost certainly spark a political crisis and could present serious challenges to the American rule of law: No president has fired a special prosecutor investigating his own conduct since Nixon's Saturday Night Massacre in 1974 during the nadir of the Watergate crisis.
The noose tightens. It shouldn't be a surprise. Trump has twice admitted that he obstructed justice. His comment that the Comey testimony was vindication, elicited comments from practiced lawyers:
give it time, boy, give it time.

_________________
"Little thieves are hanged, but great thieves are praised." — Old Russian proverb, offered by Vladimir Putin to Donald J. Trump, Helsinki, July, 2018.

"I don't stand by anything."  ― Donald Trump, interview with John Dickerson, 5.1.17...

If you can't indict, and you don't impeach, you've got villainy.

"That's libertarians for you — anarchists who want police protection from their slaves." ― Kim Stanley Robinson, Green Mars



Posts

: 26578


Join date

: 2013-12-19


Age

: 53


Location

: Northern California



It was the big seven-one for him yesterday, too! What a wonderful birthday present.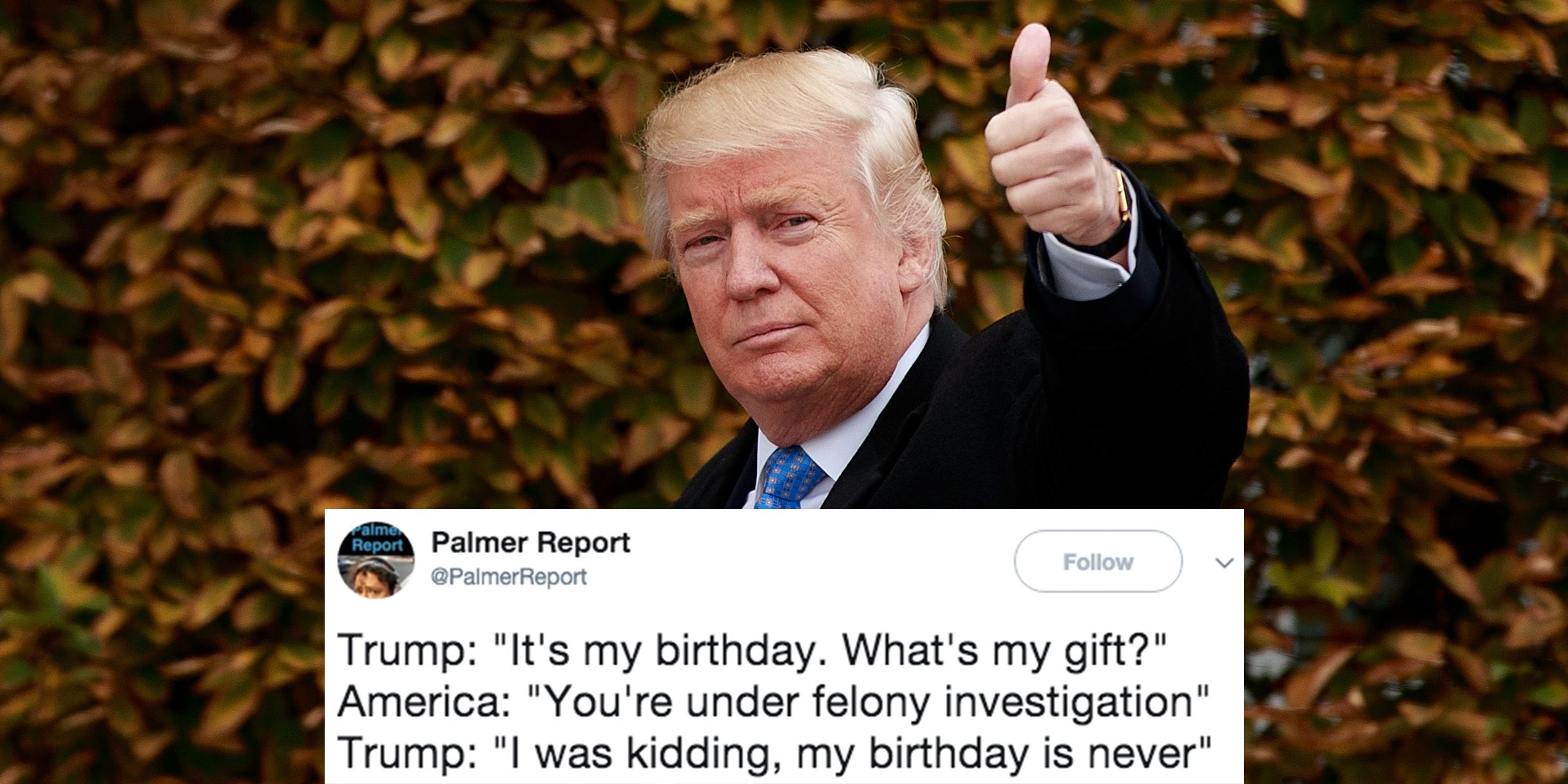 _________________
"As man advances in civilization, and small tribes are united into larger communities, the simplest reason would tell each individual that he ought to extend his social instincts and sympathies to all members of the same nation, though personally unknown to him. This point being once reached, there is only an artificial barrier to prevent his sympathies extending to the men of all nations and races."

Charles Darwin
Cowboy King. Dread Pirate of the Guadalupe. Enemy of the American people.




Posts

: 25104


Join date

: 2013-01-19


Age

: 44


Location

: Funkytown, Texas



At least he confirmed it.


_________________
"Little thieves are hanged, but great thieves are praised." — Old Russian proverb, offered by Vladimir Putin to Donald J. Trump, Helsinki, July, 2018.

"I don't stand by anything."  ― Donald Trump, interview with John Dickerson, 5.1.17...

If you can't indict, and you don't impeach, you've got villainy.

"That's libertarians for you — anarchists who want police protection from their slaves." ― Kim Stanley Robinson, Green Mars



Posts

: 26578


Join date

: 2013-12-19


Age

: 53


Location

: Northern California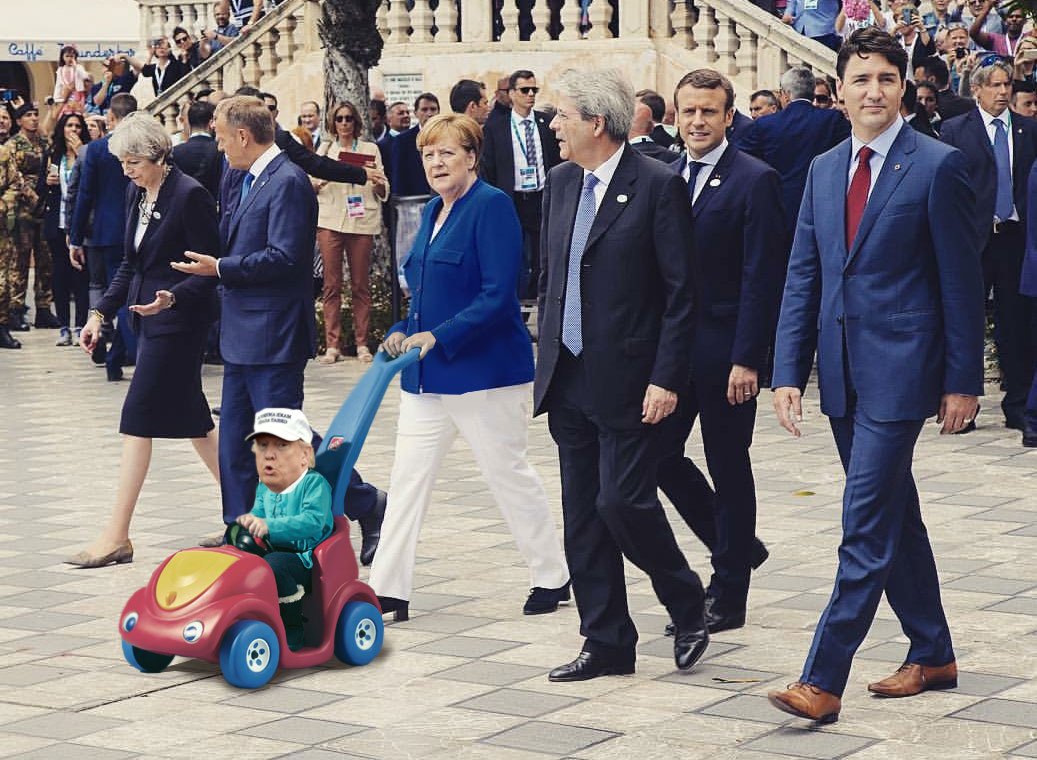 _________________
"As man advances in civilization, and small tribes are united into larger communities, the simplest reason would tell each individual that he ought to extend his social instincts and sympathies to all members of the same nation, though personally unknown to him. This point being once reached, there is only an artificial barrier to prevent his sympathies extending to the men of all nations and races."

Charles Darwin
Cowboy King. Dread Pirate of the Guadalupe. Enemy of the American people.




Posts

: 25104


Join date

: 2013-01-19


Age

: 44


Location

: Funkytown, Texas





Similar topics
---
Permissions in this forum:
You
cannot
reply to topics in this forum