A picture has emerged of an RAF bomb bearing the message "Love from Manchester", following the attack on the city which killed 22 people. 
The image, which has now been removed, was posted on Twitter, showed a message on a Paveway IV bomb on a British plane carrying out air strikes on the so-called Islamic State terror group from RAF Akrotiri in 
Cyprus
. 
The picture was initially thought to be a hoax but the Ministry of Defence confirmed to HuffPost UK that it was was genuine.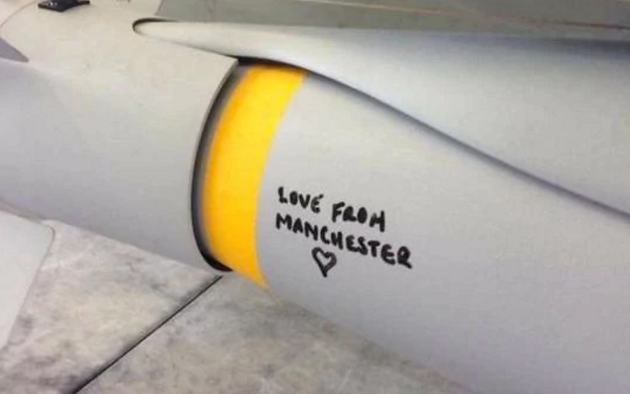 The message was scrawled on a Paveway IV bomb

They did not comment further.
It is not known who wrote the message but on Twitter it was captioned: "RAF Armourer on a Reapor UAV squadron wrote this on a Hellfire [sic] missile before taking off on a Syria mission, Sent from my RAF MATE."
There is a history of members of the armed forces writing messages on missiles.
It comes as reports reveal a "bomb factory" was found inside the home of Manchester bomber Salman Abedi, as it emerged on Friday that he may have been planning his attack for at least a year.
BEN STANSALL VIA GETTY IMAGES

Manchester is mourning the death of 22 people killed in the attack

http://www.huffingtonpost.co.uk/entry/raf-bomb-heading-for-islamic-state-target-pictured-with-love-from-manchester-message-scrawled-on_uk_5927dae0e4b01b9a5937e666

---
Permissions in this forum:
You
cannot
reply to topics in this forum