Labour has accused Jeremy Hunt of ignoring "extensive warning signs" before the unprecedented cyber attack that has plunged the NHS into chaos.
Shadow health secretary Jonathan Ashworth said concerns were repeatedly flagged about the NHS's outdated computer systems, which left it vulnerable to the virus.
In a letter to Hunt on Saturday he wrote: "As Secretary of State, I urge you to publically outline the immediate steps you'll be taking to significantly improve cyber security in our NHS. The public has a right to know exactly what the Government will do to ensure that such an attack is never repeated again."
Labour said there have been repeated warnings about the vulnerability of the outdated NHS systems, including from the National Cyber Security Centre and the National Crime Agency.
Many had been left "extremely vulnerable" to an attack since 2015, when they continued to use an outdated version of Windows after a security package had been stopped, Jon Ashworth said.
"NHS Trusts have been running thousands of outdated and unsupported Windows XP machines despite the Government ending its annual £5.5m deal with Microsoft, which provided ongoing security support for Windows XP, in May 2015," the shadow health secretary wrote in his letter to Jeremy Hunt.
"It effectively means that unless individual trusts were willing to pay Microsoft for an extended support deal, since May 2015 their operating systems have been extremely vulnerable to being hacked."
A freedom of information request in February found that 79 English NHS trusts had suffered ransomware attacks since June 2015, Ashworth said.
Labour leader Jeremy Corbyn has also responded to the attack:
What we've now got is a bunch of 21st Century highway robbers that have hacked into our NHS and are basically offering protection money to get the information back in order to treat cancer patients or anybody else. It's unbelievably disgusting and I've got nothing but contempt for those people that have done it, and I'm sure all of you would share that.
But I'm also very angry that in 2014, there was a one-year renewal of the protection system on the NHS systems which was not renewed after that and not renewed the year after that and so are systems are now not upgraded and not protected. As a result, we've got this dreadful situation that NHS workers are facing today.
And so we obviously support our NHS workers but I tell you this, a Labour government would not leave our NHS's very vital information systems unprotected. We would protect them."
https://www.theguardian.com/society/live/2017/may/12/england-hospitals-cyber-attack-nhs-live-updates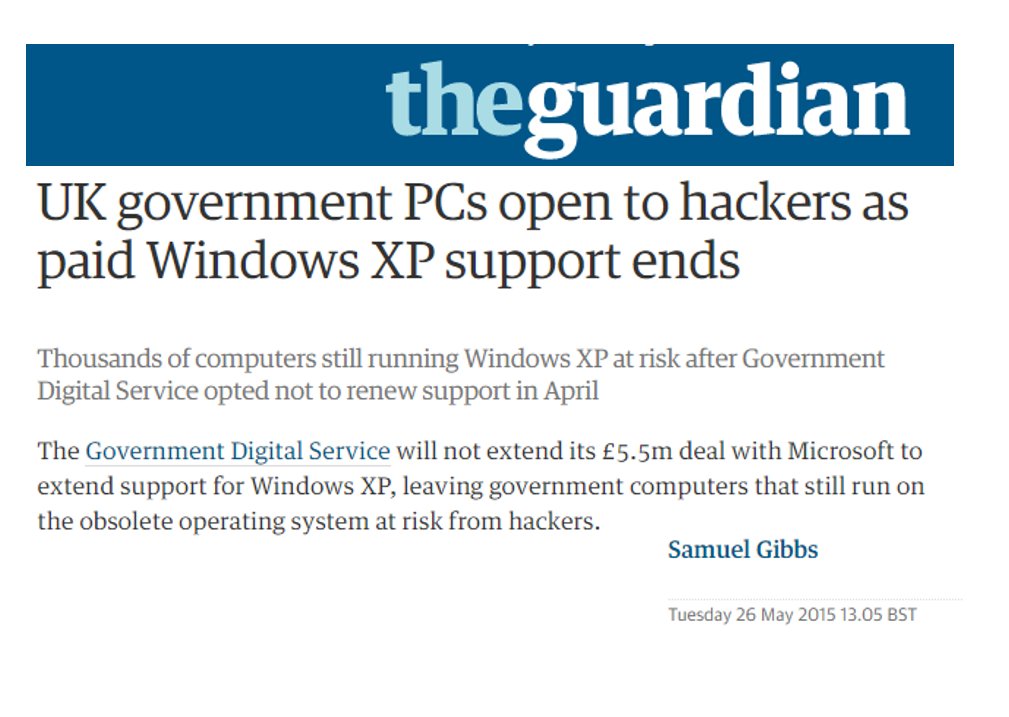 So much for stable leadership. The only thing relative to stable with the Tories is the building they should be housed in
Last sentence made me chuckle.
The article is right - this seemed bound to happen sooner or later.

_________________
"It is better to be hated for what you are than to be loved for what you are not." ~ Andre Gide
King of Beards. Keeper of the Whip. Top Chef. BEES!!!!!! Mushroom muncher. Spider aficionado!




Posts

: 34621


Join date

: 2013-07-28


Age

: 48


Location

: England



Thing is, if you put the bastards in the stable they would privatise the horsemuck and sell it back to the farmer as manure.

---
Permissions in this forum:
You
cannot
reply to topics in this forum