The National Union of Students (NUS) is embroiled in a fresh anti-Semitism row after three candidates holding or running for positions on its executive committee were revealed to have made offensive comments.
In online posts seen by The Independent, one current member of the union's National Executive Council shared a video mocking Jews as having big noses and being tight with money, while another publicly suggested Jewish people are tight-fisted and said he wanted to destroy Israel.
A third, who is seeking a position on the union's executive in elections being held this week, wrote an offensive Twitter message referring to Jews and using the phrase "Heil Hitler".
The Independent can also reveal that, during her time as a student at the University of Birmingham, Malia Bouattia, the current NUS president, was involved in hosting a play called "Seven Jewish Children" that has been widely criticised as anti-Semitic.
Ms Bouattia, who is seeking re-election, was last year accused of "outright racism" by the House of Commons Home Affairs Select Committee over comments she made relating to Israel. She had claimed the University of Birmingham was a "Zionist outpost" and criticised "Zionist-led media outlets".
The revelations come amid mounting concern about levels of anti-Semitism on university campuses. A survey by the NUS last month found a quarter of Jewish students in the UK live in fear of an anti-Semitic attack, while two thirds who had been the victim of crime at their place of study said they were targeted because of their faith.
The NUS annual conference, where it will elect its national officers for the coming year, begins in Brighton on Tuesday. Despite the deepening worries about anti-Semitism, a number of candidates seeking office have a history of making anti-Jewish and anti-Israeli comments.
Ali Milani, who is currently a member of the union's National Executive and is running to be its Vice President for Union Development, was accused of "deeply anti-Semitic" remarks after tweets emerged from 2012 and 2013 in which he said Israel has "no right to exist" and is "a land built on ethnic cleansing and colonialism".
Mr Milani, who is also president of Brunel University students' union, also made a comment about Jews and money, tweeting: "Nah u won't mate, it'll cost you a pound #Jew".

Mr Milani also appeared to defend the terrorist group Hamas firing rockets into Israel, writing: "Oh fuck off! Hamas firing into southern Israel was a retaliation!"
And he threatened violence against supporters of Israel, writing: "Just heard someone say 'Palestine. It's what they used to call Israel'. Is a punch in the throat justified?"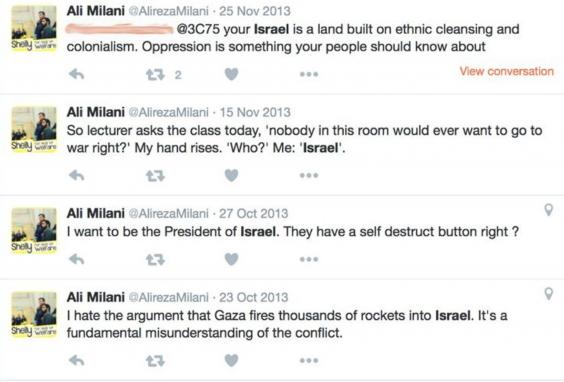 Another candidate running for a place on the NUS' National Executive Council, Sean O'Neill, posted on Twitter in 2012 using the hashtags "heilhitler" and "fuckslutskilljews" – apparently in an attempt at humour.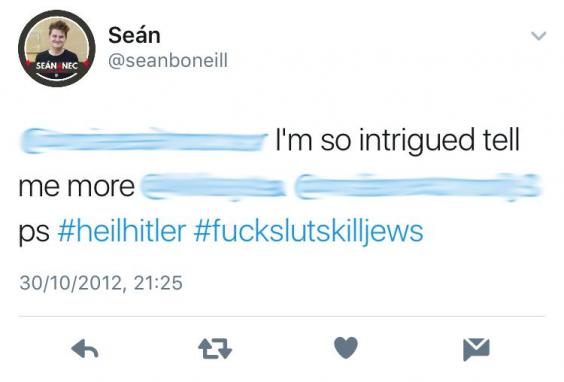 http://www.independent.co.uk/news/education/education-news/nus-anti-semitism-national-union-students-offensive-tweets-jews-racism-adolf-hitler-israel-executive-a7696566.html

Lefties eh? They'll be calling themselves Nazis soon.

_________________
"It ain't over 'til it's over"



Posts

: 30443


Join date

: 2014-02-10




---
Permissions in this forum:
You
cannot
reply to topics in this forum