When the heat suddenly stops working in your home in the middle of winter in Minnesota, it's enough to cause some stress. But when you have a newborn baby, one might panic.
On February 23, the furnace went out in Jesse and Maria Hulscher's home. Their son, Adler, was just born.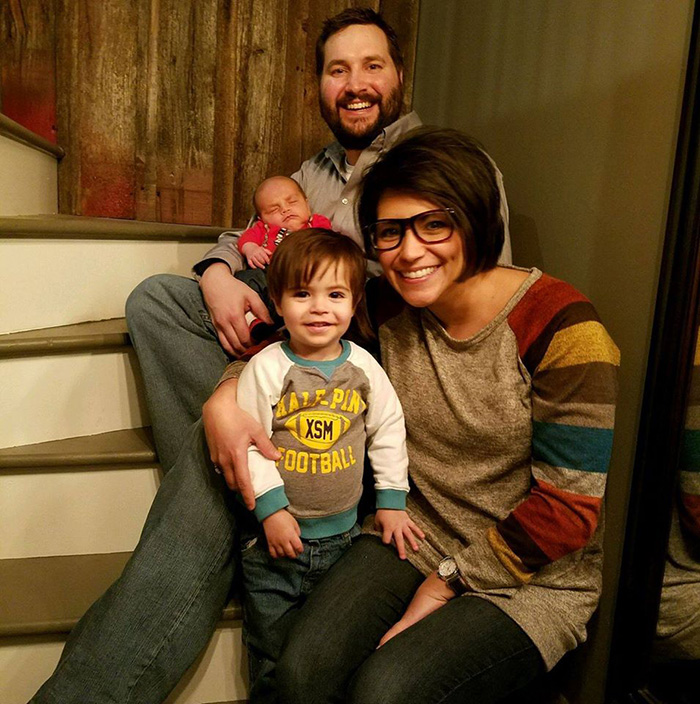 Facebook / Maria Hulscher
That morning, Jesse and their 2-year-old son were home preparing to visit Maria and baby Adler in the hospital.
"Feb 23rd.....that was the morning after Adler was born and I was just hopping out of the shower at my house about the get Henrick ready to go up the hospital to see Maria and baby Adler when the blower fan stopped working in our furnace," Jesse said. "I rushed to dial Magnuson Sheet Metal and I think Craig sensed the urgency in my voice that I needed someone to fix the problem and asap (need heat in the house for the new baby!).
"After explaining the new baby and the need to make sure we had heat, not only did they have some one over with 20 minutes of hanging up but....... checked the mailbox today waiting to find an invoice from them and this is what I find. Can't thank them enough for the great service, speedy response time and amazing technicians. Businesses like this earn customers for life!"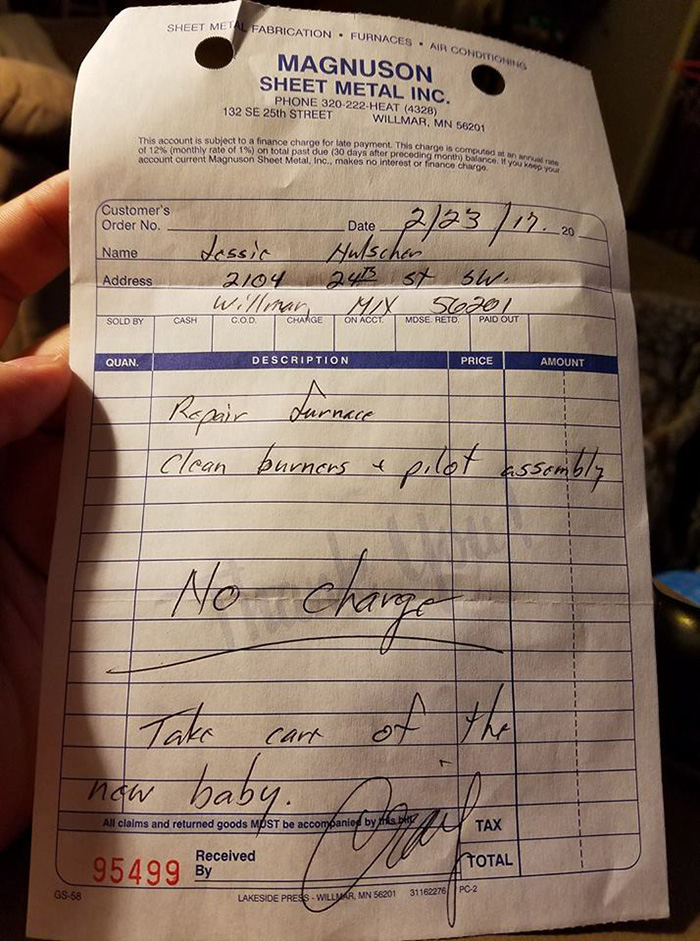 Read more at http://www.sunnyskyz.com/good-news/2153/Furnace-Goes-Out-The-Day-Their-Baby-Is-Born-Then-They-Get-This-Note-In-The-Mail#MsobTXzY4ifU2Uml.99
Now, I have to go lol, again, hope everyone has a good evening.
Good on Magnuson Sheet Metal, and this is probably the best thing about social media. Companies that are nice can be rewarded with what is top notch publicity.

_________________
My job is to travel the world delivering Chaos and Candy.

We don't know the Questions... does that means we cannot seek the Answers?
The Mod Loki, Minister of Chaos & Candy, Emperor of the Southern Realms, Captain Kangaroo




Posts

: 18859


Join date

: 2013-01-23


Age

: 36


Location

: Australia



A real feel good story, thank God for nice people.
I think everyone should make public gestures like this....it's so much nicer to read good news rather than bad all the time.

_________________
Not everyone likes me, but not everyone matters.



Posts

: 17793


Join date

: 2015-11-12


Location

: Manchester



They are what you call human beings. Sadly, so many of us have stopped acting like one.

_________________
A Hydro-field cuts through my neighborhood
Somehow that always just made me feel good
I can put a spare bulb in my hand
And light up my yard

- Barenaked Ladies.
King of Beards. Keeper of the Whip. Top Chef. BEES!!!!!! Mushroom muncher. Spider aficionado!




Posts

: 36754


Join date

: 2013-07-28


Age

: 48


Location

: England



I think if you are nice to people you get it back from most, even if its just a smile.
Not everyone is in the position of doing work for no charge, but what a lovely thing to be able to do, especially when a new baby has joined the family.


_________________
Not everyone likes me, but not everyone matters.



Posts

: 17793


Join date

: 2015-11-12


Location

: Manchester




---
Permissions in this forum:
You
cannot
reply to topics in this forum