A powerful tweet is helping people realize the everyday struggles that people with disabilities face. On March 27, Alyssa Herrera, a 16-year-old from Grove City, Ohio, went to a Red Robin restaurant with her grandmother, brother and her 17-year-old sister, Annalicia, who is blind.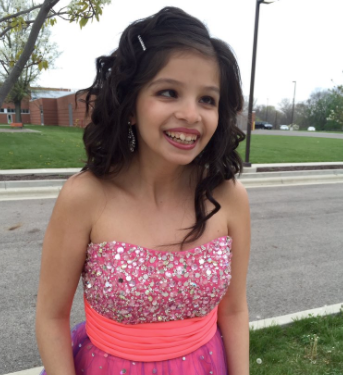 ALYSSA HERRERA

Alyssa told the Huffington Post that dining out isn't the most pleasant experience for her family.
"When we are out at a restaurant we get a lot of staring and whispers," Alyssa told HuffPost. "Which sometimes agitates my family but we have gotten used to it since Anna has been blind all her life."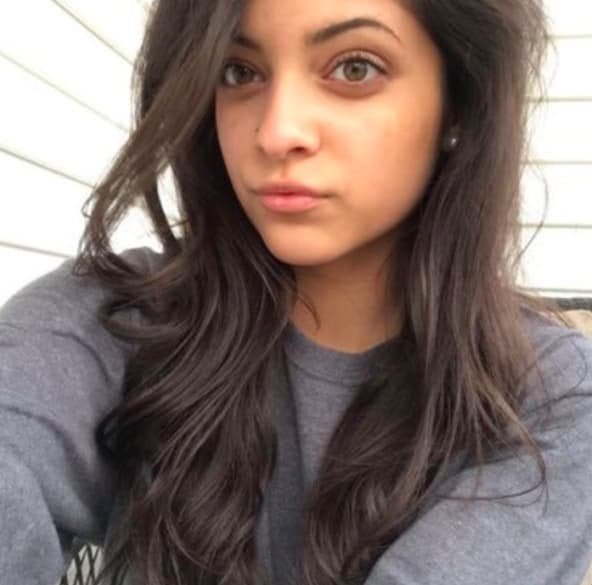 ALYSSA HERRERA

Alyssa also said whenever they eat out Annalicia usually orders chicken fingers and fries, which is a dish she likes and is usually available at most restaurants.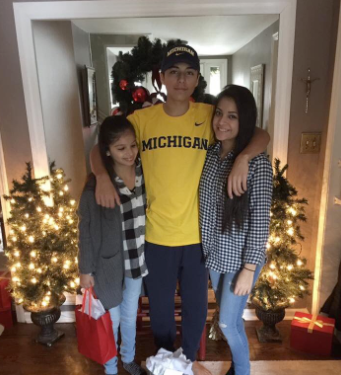 ALYSSA HERRERA

The Herrera sisters with their brother, Arthur.

"Since most menus are in print she can't really explore much," Alyssa said.
But shortly after a host sat the Herrera family at Red Robin on Monday, Annalicia was asked if she wanted a menu. Their grandmother said yes, and a few moments later, the host returned with a menu in braille.
The family was stunned — this had never happened before.
"She had a big smile on her face," Alyssa said.
Annalicia opened it and began perusing a menu on her own for the very first time in her life.
Alyssa slyly took a picture of the special moment.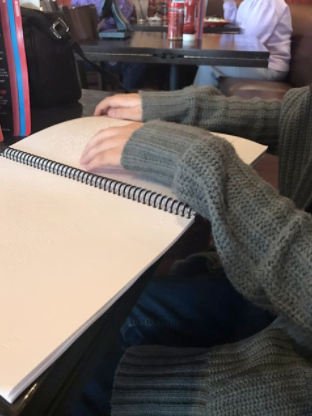 ALYSSA HERRERA

"It was pretty great," Annalicia told HuffPost. "But I felt like I had so much to choose from."
Alyssa thinks her sister may have been a little overwhelmed by the experience and chose her food pretty quickly, and took less time with her menu than Alyssa did.
Annalicia ended up ordering a chicken teriyaki burger, which she absolutely loved.
"Honestly, it was the best sandwich I've ever had," Annalicia said. She added that next time she goes back she wants to take her time with the menu and choose a few new appetizers.
"My 18th birthday is tomorrow, so maybe I'll go to Red Robin!" she said excitedly.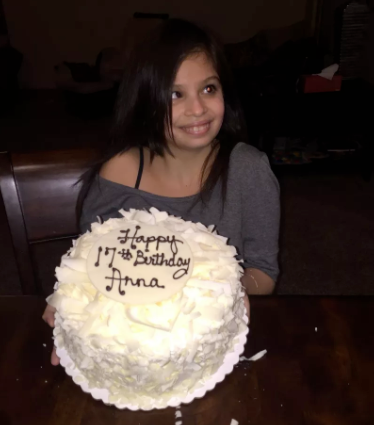 ALYSSA HERRERA

Annalicia on her 17th birthday.

Shortly after Alyssa took the photo of Annalicia reading the braille menu, she posted it on Twitter. After dinner, Alyssa checked on the post and was shocked to see it had gone viral — receiving over 300,000 likes and 100,000 retweets.
[ltr]

View image on Twitter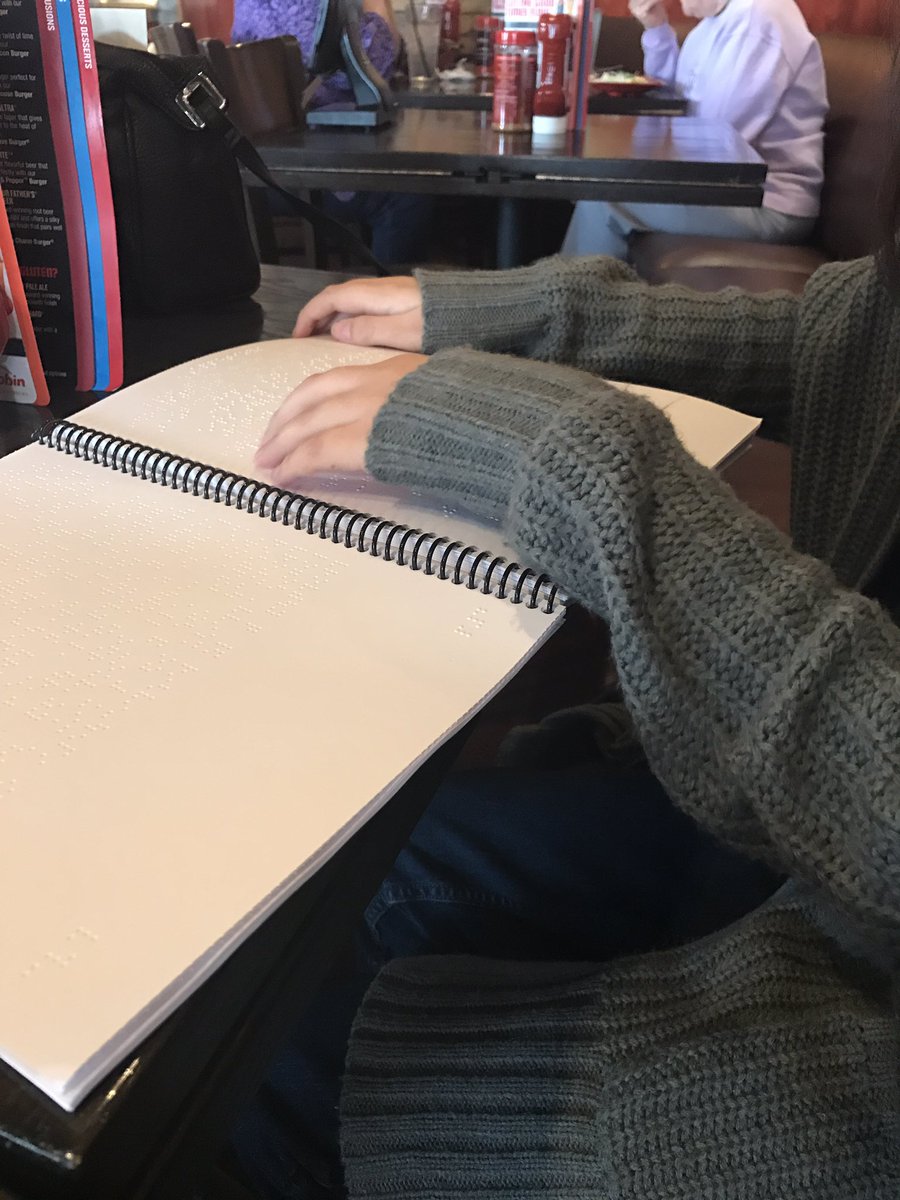 [/ltr]


 Follow
Alyssa @alyssaherrera33


[ltr]

My sister has been in this world for 18 yrs and today is the first time she has been offered a menu at a restaurant

[/ltr]


6:32 PM - 27 Mar 2017
But after some contemplation, Alyssa has a theory as to why it's resonating with so many.
"I don't think [able-bodied people] think much about people with disabilities and how one simple [gesture] can mean a lot to them," she told HuffPost. "[Some people on Twitter] have realized how privileged they are to have sight. Some have wondered why there isn't a braille menu at every restaurant."


 Follow
Camilla @Camilla_33


[ltr]

@alyssaherrera33 realizing how privileged I am because I've never thought of that. Wow that should be a requirement for every restaurant.

[/ltr]


2:32 AM - 28 Mar 2017
"Growing up having a blind older sister is hard," Alyssa said. "She gets mad quite often because she can't do much of what we can do, and with Red Robin having a menu in braille and offering it to her meant a lot to all of us."
http://www.huffingtonpost.com/entry/blind-teen-reads-braille-menu-red-robin_us_58dd4285e4b05eae031dfdc0?section=us_good-news
Lovely story.

That's pretty much why I'm learning British Sign Language - it's lonely being deaf and I want to work with deaf children.

_________________
A Hydro-field cuts through my neighborhood
Somehow that always just made me feel good
I can put a spare bulb in my hand
And light up my yard

- Barenaked Ladies.
King of Beards. Keeper of the Whip. Top Chef. BEES!!!!!! Mushroom muncher. Spider aficionado!




Posts

: 36754


Join date

: 2013-07-28


Age

: 48


Location

: England



eddie wrote:Lovely story.

That's pretty much why I'm learning British Sign Language - it's lonely being deaf and I want to work with deaf children.
I think it should be policy, that all restaurants have braille menu's.
In he bigger scheme of things, its also good for business and helps those with blind disabilities Eddie

---
Permissions in this forum:
You
cannot
reply to topics in this forum