The artist wants to remind people that "words matter."
A mom of three in northern California has turned a feminist battle cry into a work of art that is speaking to many parents.  On Feb. 7, while the Senate considered Senator Jeff Sessions' nomination for U.S. attorney general (which was later confirmed), Senator Elizabeth Warren attempted to read a letter Coretta Scott King wrote in 1986 that condemned Sessions. Senate Majority Leader Mitch McConnell described Warren's denied attempt with three sentences:
"She was warned. She was given an explanation. Nevertheless, she persisted."
"Nevertheless, she persisted" quickly became a rallying cry in the form of  hashtag, tattoos and other acts of support for Warren. Like many others, Courtney Privett has turned the phrase into empowering works of art, and one of her latest pieces is dedicated to moms.
Privett, an artist and mom of three, has shared several pieces of artwork on Instagram that include the quote "Nevertheless, she persisted" along with word bubbles that include the many demeaning phrases women hear. On Monday, she posted her "mom edition" piece, which includes word bubbles that read, "You're letting her eat that?!" and "You shouldn't have time to be depressed."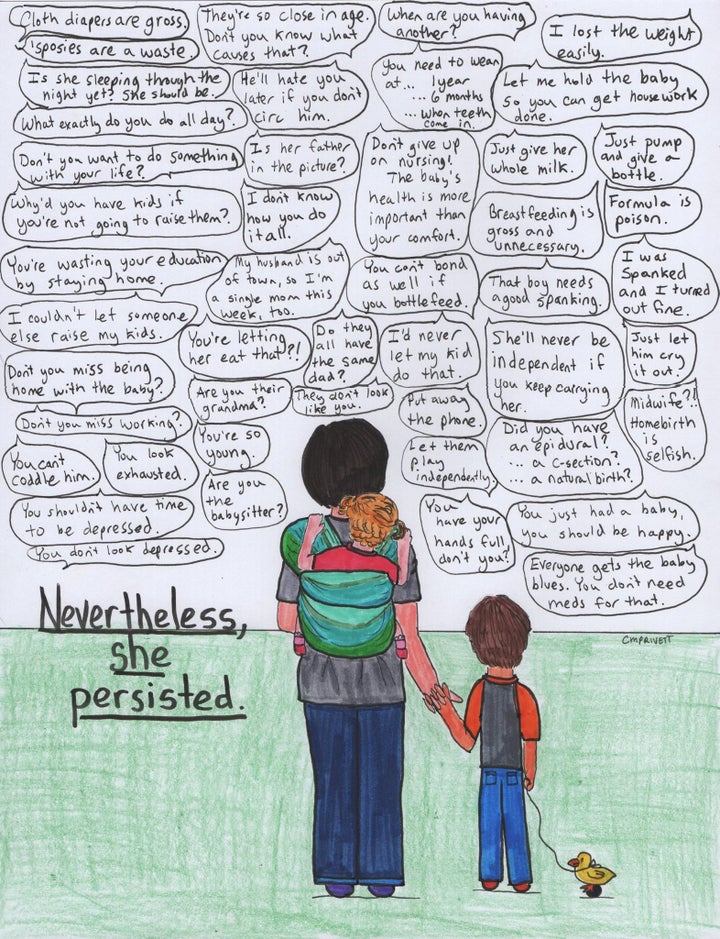 http://www.huffingtonpost.com/entry/every-mom-will-relate-to-this-artists-take-on-nevertheless-she-persisted_us_58b721c1e4b019d36d101fce?section=us_good-news

---
Permissions in this forum:
You
cannot
reply to topics in this forum