This is what I love about Louis CK. He's a seriously funny comedian but he's also layered with lovely insights.
This is a lesson we should teach all of our children early on.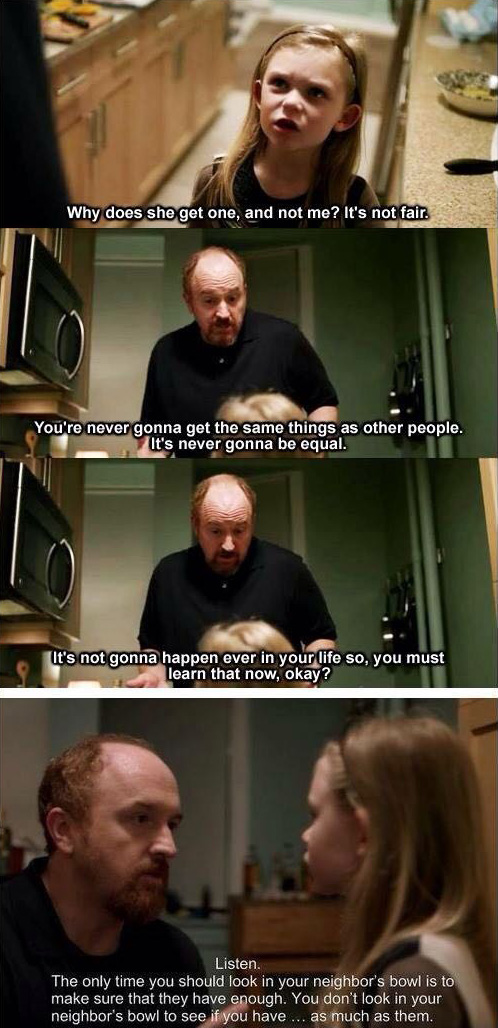 Read more at http://www.sunnyskyz.com/blog/2030/Louis-CK-s-Lesson-On-Fairness-Should-Be-Taught-To-All-Children-Early-On#PhzVJ2uGrYPuVEpF.99
That's a good lesson to learn, and lessons like this are always best taught in childhood....they hopefully stay with you for life.
Trying to keep up with the Jones's and coveting what your neighbours and friends have is one of the most destructive traits a person can have imo...it breeds jealousy and envy, I bet we all know someone like that.

I was taught its better to give than to receive (and that's sometimes a tough lesson when you are a young kid) but it really is.

_________________
Not everyone likes me, but not everyone matters.



Posts

: 16846


Join date

: 2015-11-12


Location

: Manchester



I've never understood envy. I have never experienced it, and come to think of it, jealousy is a trait Ive had little experience of. What's the point of being envious of another's possession or job or partner? It's not yours so move on.
_________________
INTELLIGENCE - "Not because you think you know everything without questioning, but rather because you question everything you think you know."
Word.

King of Beards. Keeper of the Whip. Top Chef. BEES!!!!!! Mushroom muncher. Spider aficionado!




Posts

: 36017


Join date

: 2013-07-28


Age

: 48


Location

: England




---
Permissions in this forum:
You
cannot
reply to topics in this forum