Britain's economy would lose £328 million in just one day if migrants stopped working, new figures have revealed as part of a campaign to demonstrate the positive impact of immigration. 
As part of a nationwide day of action, titled 
One Day Without Us
, 
the New Economics Foundation has shown
 the impact this would also have on the economy.
As part of One Day Without Us, some businesses have apparently closed their doors to highlight the huge loss £328 million loss, equal to 4% of the country's daily GDP. 
Although migrant workers in the UK make up 10.9% of the total workforce, many sectors actually include far higher proportions of foreign-born workers.
According to figures from the Migration Observatory, they make up...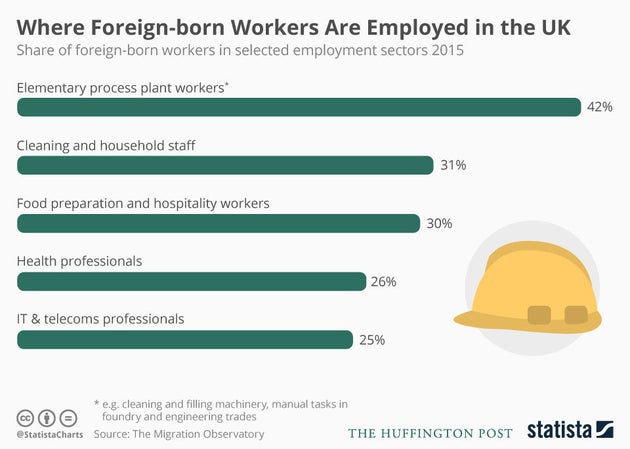 This shows which sectors have the highest proportion of foreign-born workers
Some people also shared this graphic to show the make-up of NHS workers...
[ltr]
View image on Twitter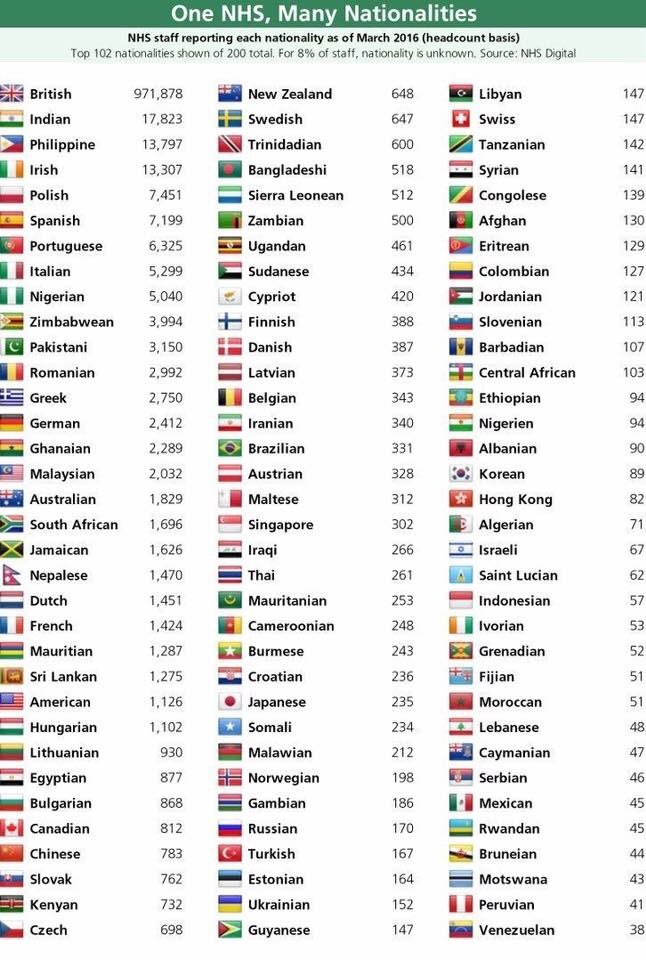 [/ltr]
✔

@NimkoAli

[ltr]Going to repost this to show what #1dayWithoutUs would be like for the #NHS.[/ltr]
http://www.huffingtonpost.co.uk/entry/one-day-without-us-highlights-positive-impact-migrants-have-on-uk-and-its-economy_uk_58aadf23e4b045cd34c34397?utm_hp_ref=uk

One common claim that you often hear from the various anti-immigration groups in all of our countries,  is how they are only interested in saving all those jobs for "our" own citizens...
Not only are those (largely alt.right/fascist-inspired..) xenophobic groups apparently immune to the economic realities, as demonstrated in that one example in the O/P;  but those anti-immigration groups are also equally ignorant of certain other "uncomfortable truths" including :
Many jobs can't be be filled by locals for a raft of reasons -- e.g.skill shortages,  distaste or unwillingness, distance;
Aging populations, and local demographics --  leading to localised shortages of suitable workers
Some jobs require specialised skills and/or knowledge          



Even when it comes to "training up" local workforces to fill vacancies, that won't happen overnight  --  finding the right people, putting training resources in places, financing the whole exercise, bringing them up to standard --  in many cases, it could take a decade or two to address some needs.
The way that some of those 'anti-immigration' micro-parties carry on, you would think that they believe that they can solve many of the world's problems
simply
by stopping the international movement of both skilled workers and willing migrants..

_________________
It's not what you look at that matters, it's what you see.Our life is frittered away by details. Simplify, simplify.The mass of men lead lives of quite desperation.
Henry David Thoreau



Posts

: 5781


Join date

: 2016-02-24


Age

: 60


Location

: Lake Macquarie, NSW, Australia



Plus the one that Say crap like "saving all those jobs for "our" own citizens..."

made zero effort in school, and are the reason WHY the nation needs to look elsewhere for those with work ethics and skills.
Or they are in an industry(manufacturing, textiles etc) that due to the globalization has to compete with lower wages of developing economies. and prefer to persist in whining instead of changing.
Jobs for life are long gone, if your choosen career path evaporates then forge a new one. As a lot of Right wing say to dole bludgers etc "Life does NOT owe you a Living". well that extends to notions of 'our' people being put before those that will do it better and/or cheaper.

_________________
My job is to travel the world delivering Chaos and Candy.

We don't know the Questions... does that means we cannot seek the Answers?
The Mod Loki, Minister of Chaos & Candy, Emperor of the Southern Realms, Captain Kangaroo




Posts

: 17947


Join date

: 2013-01-23


Age

: 35


Location

: Australia




---
Permissions in this forum:
You
cannot
reply to topics in this forum