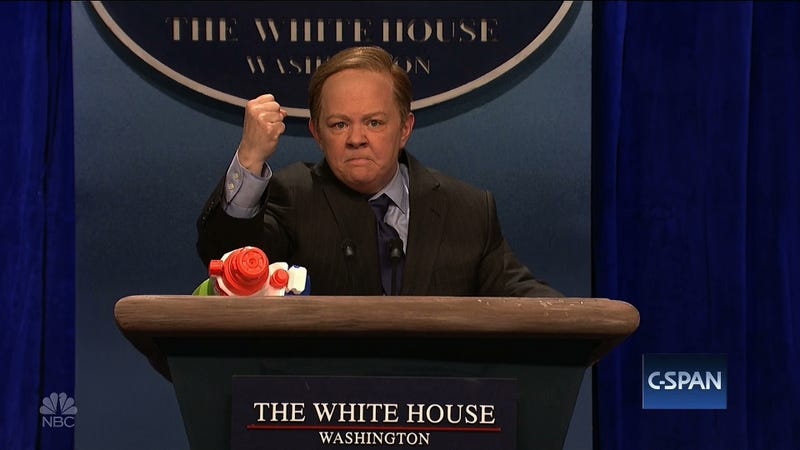 White House press secretary Sean Spicer
02.08.17 12:00 AM ET

Kellyanne Conway's "Bowling Green massacre" isn't the only case of a White House aide pointing to a terror attack that didn't happen to make the case for So-Called President Trump's controversial executive order limiting travel from seven majority-Muslim countries.

White House press secretary Sean Spicer has repeatedly pointed to Atlanta, along with San Bernardino and Boston, as one of three U.S. cities that have been attacked by Islamist terrorists to argue that the Trump administration needed to act quickly to prevent another attack in the future.

While the Boston bombing and shootings in San Bernadino were both carried out by Islamist terrorists, neither involved foreign nationals from the seven countries in Trump's executive order. There has never been an Islamist terror attack in Atlanta.

In a Jan. 29 appearance on ABC's This Week, Spicer explained to Martha Raddatz that the White House needed to implement its executive order quickly, before another terror attack could take place. "What do we say to the family that loses somebody over a terroristic (sic), to whether it's Atlanta or San Bernardino or the Boston bomber?"

Spicer used a similar line the following day on MSNBC's Morning Joe, when The New York Times' Jeremy Peters asked him if President Trump had signed the executive order as the result of an imminent terror threat on U.S. soil. "Too many of these cases that have happened, whether you're talking about San Bernardino, Atlanta, they've happened, Boston," Spicer said. "Jeremy, what—do you wait until you do? The answer is we act now to protect the future."

At the White House press briefing later that day, Spicer again pointed to Atlanta to explain the need for the "extreme vetting" provided in the White House's executive order.

"I don't think you have to look any further than the families of the Boston Marathon, in Atlanta, in San Bernardino to ask if we can go further," Spicer said. "There's obviously steps that we can and should be taking, and I think the president is going to continue do to what he can to make sure that this country is as safe as possible."

Seamus Hughes, the deputy director of George Washington University's Center for Cyber and Homeland Security, said Atlanta should not be included.

"There has not been a successful jihadi terror attack in Atlanta," Hughes said.

The White House did not respond to a request to clarify what Spicer was referring to when he named to Atlanta in a list of past Islamist attacks.
http://www.thedailybeast.com/articles/2017/02/08/sean-spicer-makes-up-atlanta-islamist-attack.html

_________________
It's so hard to be without you / used to feel so angry, now I only feel humble.

- Ryan Adams
Cowboy King. Dread Pirate of the Guadalupe. Enemy of the American people.




Posts

: 27076


Join date

: 2013-01-20


Age

: 44


Location

: Tesco's




Furthermore, they just keep digging themselves deeper and deeper into their holes..


OF those
78
alleged "terrorist" inspired/related incidents (worldwide) that Team Trump later claimed were either under-reported, or not reported at all, on American news over the last couple of year, to help take some heat off their fake reports --
A couple of those incidents occurred in Oz,  including :
*  the Lindt Cafe siege in Sydney --  which actually had worldwide live TV coverage during the siege;
*  and a backpacker hostel murder --  where there is still no known or identified "terrorist links".
_________________
It's not what you look at that matters, it's what you see.Our life is frittered away by details. Simplify, simplify.The mass of men lead lives of quite desperation.
Henry David Thoreau



Posts

: 7455


Join date

: 2016-02-25


Age

: 61


Location

: Lake Macquarie, NSW, Australia





Similar topics
---
Permissions in this forum:
You
cannot
reply to topics in this forum