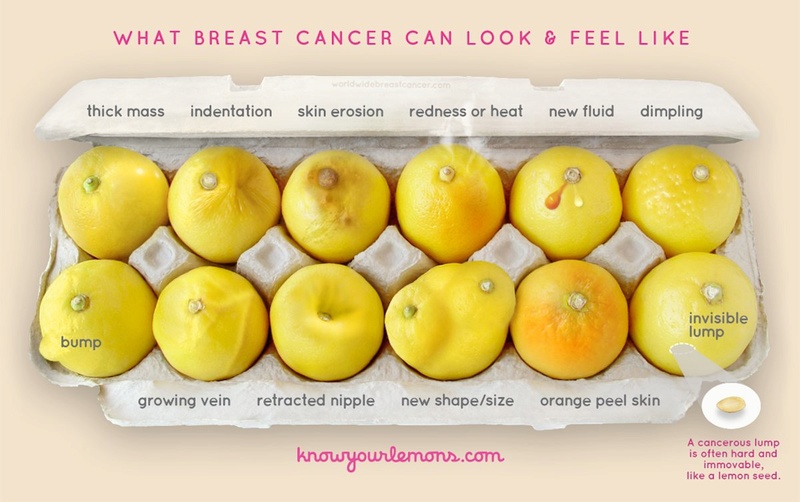 Earlier this week, many Facebook users were posting red hearts in support of breast cancer awareness, but one woman is opening up about why a "cute heart" isn't going to help save lives. Erin Smith Chieze posted the photo above on Facebook, giving an explicit description of how breast cancer can look and feel, and it's going viral for all the right reasons. In response to all the red hearts Erin has seen on Facebook, she explained the importance of these lemons.
"In December of 2015 when I saw an indentation that looked like one of those pictures, I instantly knew I had breast cancer," she wrote. "I tried to feel for a tumour, but my tumour was non palpable. I was diagnosed with breast cancer 5 days later and with stage 4 the following month. A heart did nothing for awareness. I knew what breast cancer was. I knew all about self exams, but a picture of what to look for keyed me into knowing I had a terminal disease."
She continued, "We need to give REAL information, not cute hearts. Without having seen a picture randomly with real information, I wouldn't have known what to look for. Do us a favour, stop playing games with my life and start truly helping people. Metastatic breast cancer treatment research and real awareness."
After feeling frustrated by the red hearts on Facebook, Erin decided to take matters into her own hands and post her touching story in an effort to help save lives the way a similar photo helped her. This image is part of the Know Your Lemons campaign started by the Worldwide Breast Cancer organization. It's an incredibly informative graphic that both men and women should use for self-exams.
"PLEASE, stop playing games that do not actually promote awareness, they often cause people to tune out anything that might even mention the word awareness," Erin wrote. "So if you truly want to help people WITH cancer, or those who will GET cancer, share photos like this one."
Find out more information about the Know Your Lemons campaign here, and check out Erin's full post below.
https://www.popsugar.co.uk/fitness/What-Breast-Cancer-Can-Look-Feel-Like-Photo-42988676
What a great idea.

_________________
"It is better to be hated for what you are than to be loved for what you are not." ~ Andre Gide
King of Beards. Keeper of the Whip. Top Chef. BEES!!!!!! Mushroom muncher. Spider aficionado!




Posts

: 34827


Join date

: 2013-07-28


Age

: 48


Location

: England



If anyone has trouble seeing the full picture please click link or I can shrink it.

_________________
"It is better to be hated for what you are than to be loved for what you are not." ~ Andre Gide
King of Beards. Keeper of the Whip. Top Chef. BEES!!!!!! Mushroom muncher. Spider aficionado!




Posts

: 34827


Join date

: 2013-07-28


Age

: 48


Location

: England




---
Permissions in this forum:
You
cannot
reply to topics in this forum