t's a little bit awkward when you turn up to work wearing the same outfit as someone else but one newsreader went all-out in an awkward strop caught on camera.
Australia's Channel Nine presenter Amber Sherlock was less than impressed when colleague Julie Snook and guest, psychologist Sandy Rea, both turned up also wearing white.
When Sherlock let rip at her co-worker, Rea suggested she could try to find something to cover up with.
But the newsreader said: "You're fine Sandy but there can't be three of us. And I made this clear two and a half hours ago."
Snook replied: "Amber, if it's an issue I can get on out of here."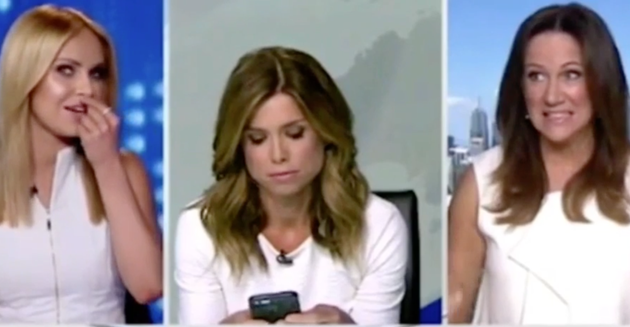 Guest Sandy Rea's face said it all (right)
Scrolling through her phone and clearly irritated, Sherlock fired back: "It is an issue. Go and grab a jacket."
Poor Rea looked on awkwardly as the pair continued their passive-aggressive exchange.
The toe-curling clip caught the attention of BBC Sport presenter Karthi Gnanasegaram, who tweeted that she had a similar wardrobe experience with colleague Mishal Husain - it doesn't sound like either of them threw a strop though...
http://www.huffingtonpost.co.uk/entry/newsreader-amber-sherlock-tantrum-outfit-clash_uk_58776ba8e4b09642a34f8081?utm_hp_ref=uk
Seriously, how silly can you get?

http://www.news.com.au/entertainment/tv/reality-tv/amber-sherlock-and-julie-snook-video-who-leaked-the-footage-of-the-nine-presenters/news-story/15fdf611e9707ef40a181bd7084c1fbb


THERE'S a mole in the ranks and the Nine Network wants to flush them out.

According to a TV insider, "there will be a witch hunt" to find out who leaked that embarrassing video of Amber Sherlock demanding that her colleague Julie Snook put on a jacket so their white outfits didn't clash.

News.com.au understands the video was emailed around the Nine newsroom, before being leaked to Mumbrella.

"It was hugely embarrassing and Amber will be demanding answers," the insider said to news.com.au about the clip from Wednesday.

"There's no doubt that leaking such a video could be a sackable offence. It made one of their star presenters look nuts and petty. I suspect the IT department will be currently investigating who emailed Mumbrella [where the footage first appeared] yesterday afternoon."

The witch hunt could take some time though because a lot of people around the country had access to the footage.

"That was a studio output feed," the insider explained.

"Cameras and microphones are often open during a commercial break so presenters can check their appearance and to ensure any guests outside of the main studio can be heard.

"It's hard to know who would have leaked it because studio output feeds can often be accessed by affiliates around the country as well as an internal feed in Sydney."

Whoever leaked the video either has a grudge against Sherlock or simply found the footage amusing and knew that such an exchange would go viral.

Well now she looks even worse.
Channel 9 suck, there morning show sucks because they all come across as fake. And the video show that they are fake, they are all bitches to each other then smile and pretend to be friends on camera.
there competitor channel 7's Sunrise, come off as much more natural like the hosts actually get along.

_________________
My job is to travel the world delivering Chaos and Candy.

We don't know the Questions... does that means we cannot seek the Answers?
The Mod Loki, Minister of Chaos & Candy, Emperor of the Southern Realms, Captain Kangaroo




Posts

: 19095


Join date

: 2013-01-23


Age

: 36


Location

: Australia



Today's Seven rivals on Sunrise even addressed the video this morning, playing a clip of the meltdown amid much laughter. Host David Koch said he sympathised with his peers at Nine.

"It is funny, we laugh at it, but I would hate for anyone to publicly show what we get up to during commercial [breaks]," he said.

While Sherlock may have briefly gone into social media hiding, it seems the rest of Twitter is having a field day with her instantly infamous meltdown:


_________________
My job is to travel the world delivering Chaos and Candy.

We don't know the Questions... does that means we cannot seek the Answers?
The Mod Loki, Minister of Chaos & Candy, Emperor of the Southern Realms, Captain Kangaroo




Posts

: 19095


Join date

: 2013-01-23


Age

: 36


Location

: Australia




---
Permissions in this forum:
You
cannot
reply to topics in this forum