Brazil's Chapecoense football team in Colombia plane crash
Footage shows the devastation following the crash near Medellin in Colombia
A plane carrying 77 people, including a top Brazilian football team, has crashed on its approach to the city of Medellin in Colombia.
Colombia's civil aviation body says only six people survived the crash, blamed on an electrical fault.
The chartered aircraft, flying from Brazil via Bolivia, was carrying members of the Chapecoense team.
The team had been due to play in the final of the Copa Sudamericana, against Medellin team Atletico Nacional.
Organisers say Atletico Nacional has asked for Chapecoense to be awarded the cup. Brazilian clubs have offered to lend players to them for free for the next year.
Colombian aviation officials said there were 21 journalists on board.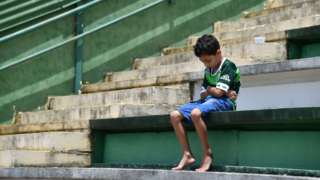 A young boy mourns the team at their stadium in Chapeco - many more have gathered outside
Sports journalist Ricardo Setyon knew some of those on board
http://www.bbc.co.uk/news/world-latin-america-38140981
How absolutely awful. Almost a whole football team of young men and 21 journalists.

_________________
"They were curved together like quotation marks with no words in between."
king of beards. Keeper of the Whip. head cook and bottle washer. Senior mushroom muncher




Posts

: 30422


Join date

: 2013-07-28


Age

: 47


Location

: England



_________________
If at any time in 2016 I have annoyed you, pissed you off or said the wrong thing....Suck it up buttercup, cause 2017 AINT gonna be any different
There are those who's opinion I value, there are those who's opinion I neither value or scorn, and then there are those who's opinion I just ignore as insignificant...I can assure you the latter outnumber the first two combined by a whole order of magnitude

Difficile est meminisse officium paludes siccare , cum de nocte surrexeritis et asinus tuus alligators
....(It's hard to remember that the task is to drain the swamp, when you are up to your arse in alligators)
victor said:- "its better than (like you, Scrat) being a subversive commie who seeks to destroy the nation from within"
INTERNAL SECURITY DIRECTOR





Posts

: 8283


Join date

: 2015-11-06



Amost a whole football team wiped out.
They lit up Wembley's arch last night in the colour green in sympathy with the people of Brazil. Nice thought.

_________________
"They were curved together like quotation marks with no words in between."
king of beards. Keeper of the Whip. head cook and bottle washer. Senior mushroom muncher




Posts

: 30422


Join date

: 2013-07-28


Age

: 47


Location

: England



---
Permissions in this forum:
You
cannot
reply to topics in this forum