Buried in the small print of today's announcements - the Chancellor's Autumn Statement and a forecast from the Office of Budget Responsibility - were several bits of bad news.
1. 13,000 Fewer Affordable Homes
In the Autumn Statement today Philip Hammond made much of his promise of 40,000 extra affordable homes, saying it would meet the "challenge of delivering housing where it is desperately needed".
But the Office of Budget Responsibility spotted that the net effect of Hammond's policies would actually be to cut the number of affordable homes by 13,000 over the forecast period (albeit with a small boost next year).
Responding, the Shadow Housing Secretary John Healey said: "This blows a hole in the claims made by the Chancellor today."
"Ministers must now urgently sort out this mess and get Britain building again after six years of failure."
2. Hikes In Car And Home Insurance
Insurance Premium Tax will rise from from 10% to 12%, which will hit those buying home, car, pet and health insurance (and wipe out any benefits to motorists from a fuel duty freeze).
Director General of the Association of British Insurers Huw Evans called the measures a "hammer blow for the hard pressed". 
3. The Poorest Hit Hardest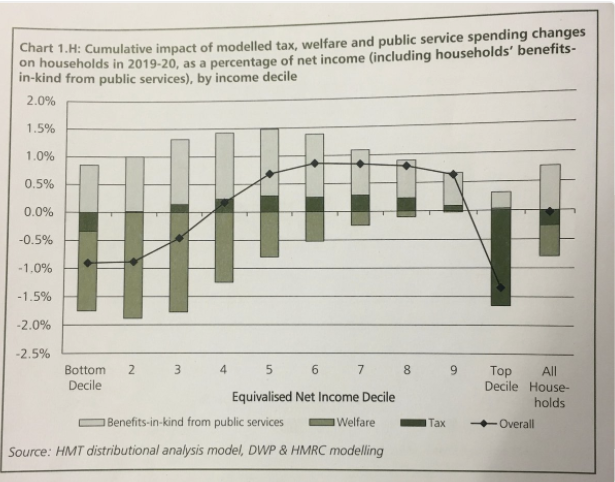 HMRC
Help for Theresa May's "just about managing" classes will cost the rest. The cumulative effect of the tax, public service and welfare budget changes will be to hit Britain's poorest.
4. Brexit Will Cost £58bn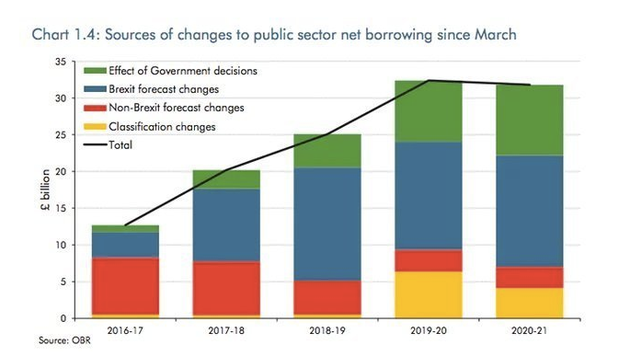 OBR
According to the OBR, Brexit will cost Britain £59bn. £16bn of that comes as a result of depressed migration, it says, and this cost will go up if May succeeds in hitting her immigration target. 
5. Extra Civil Servants For Brexit Will Cost £94m A Year
From 2017 up to £94m a year will be needed to pay for more civil servants, who will deal with all the paperwork Brexit involves. 
In total this will cost £412m over the course of the Parliament. 
6. The "Working Poor" Will Still Lose Thousands From Universal Credit Cuts
Philip Hammond is to partly reverse George Osborne's planned cuts to Universal Credit, allowing those affected to keep an extra 2p for every pound they earn.
But the change will restore just £700 million a year of the proposed £3 billion cuts.
7. The Triple Lock On Pensions Isn't Safe After 2020
Hammond reassured pensioners that the "triple lock" was safe until 2020, but they could be in for a shock after the next general election.
 "We will meet our pledge to our country's pensioners through the triple lock. But as we look ahead to the next Parliament, we will need to ensure we tackle the challenges of rising longevity and fiscal sustainability", he said.
"And so the Government will review public spending priorities and other commitments for the next Parliament in light of the evolving fiscal position at the next Spending Review." 
8. An Extra £240m On Grammar Schools
Theresa May will inject £240m into expanding selective education, in a move  Labour has called "ploughing cash into her pet project".
Lucy Powell MP accused the Prime Minster of "abandoning the evidence on what works" and "backing the wrong horse".
Evidence that grammar schools help the social mobility remains thin on the ground. 
9. The National Living Wage Is Below Target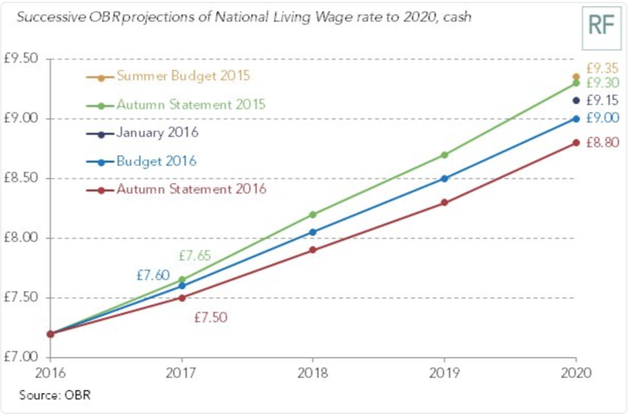 OBR
Amid fanfare from the Treasury about improving "the living standards of ordinary working class people and their families", Hammond raised the living wage - launched under Osborne - to £7.50 an hour.
But this is below the rate suggested by Osborne to achieve his target of £9 an hour by 2020. After today's announcement, we're on track for just £8.80.
10. The UK's EU Contributions Could Go Up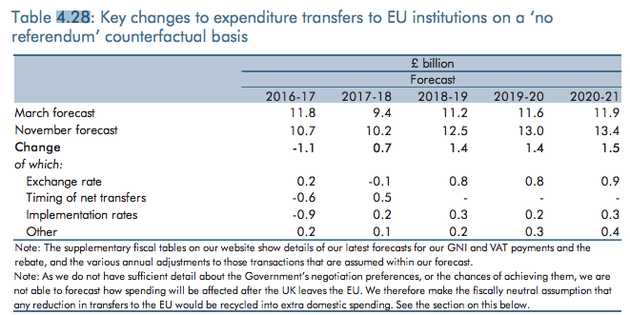 OBR
Britain's contributions to the EU could actually go up after it leaves. Because of the fall in the pound (EU contributions are paid in Euros), and the possibility Britain will have to pay to be a member of the single market, the OBR has predicted Britain will pay more to Brussels from 2018-19.
According to the OBR, the most likely scenario is that the UK will pay out £800m extra in 2018-19 and 2019-20, and £900m extra in 2020-21.
11. No Cuts To Air Travel Taxes
The Treasury has also sneaked out an announcement that it will delay helping regional airports with air passenger duty until after Brexit.
http://www.huffingtonpost.co.uk/entry/autumn-statement-11-things-buried-in-the-small-print_uk_5835d81de4b0ddedcf5be77d?
And in case anyone missed it: 
A shocking admission of economic failure by the Chancellor announcing an all time high debt next year of 90.2% of GDP
_________________
This planet is our home.  Our life and hers are interdependent - Doreen Valiente



The Left want to make life easier for as many people as possible, The Right want to make life easier for themselves and fuck everyone else

.



Posts

: 17731


Join date

: 2015-01-04




---
Permissions in this forum:
You
cannot
reply to topics in this forum