Thanks to didge who found it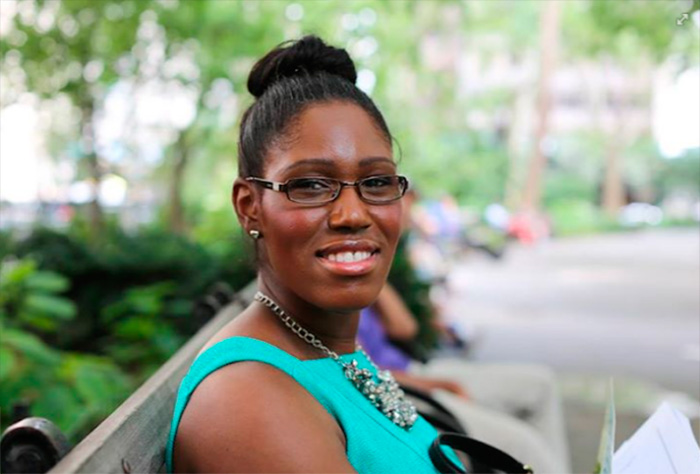 "I had a child when I was sixteen. I got kicked out of high school because of all the absences. My family and community pretty much wrote me off. But right away I got a job at a sporting goods store. Soon I was able to get a job as a receptionist at a tax company, and they gave me enough responsibilities that I learned how to do the taxes. Eventually I learned enough to become an associate. Then I got offered a job at a smaller company, and even though it was a pay cut, they offered me responsibility over all the books -- accounts payable, accounts receivable, everything. It was less money but I wanted that experience so I took the risk. And I'm so glad I did, because six months later, the controller of that company left and I was given that position. They told me they couldn't officially call me the controller because I didn't have a college degree. So I finished my degree 5 months ago-- just to make it official! So after having a child at sixteen, I made it all the way to controller of a company, without even having a college degree. Can you believe that? Honestly, I've been waiting to tell that story for so long that I told it to a customer service representative on the phone last week. She was nice about it and pretended to care."
Nothing beats the feeling of knowing you made it on your own steam. All aboard!
Read more at http://www.sunnyskyz.com/blog/1839/This-Woman-s-Inspiring-Story-Defines-The-American-Dream#8KdEG8RBcut4eL6G.99

_________________
"It is better to be hated for what you are than to be loved for what you are not." ~ Andre Gide
King of Beards. Keeper of the Whip. Top Chef. BEES!!!!!! Mushroom muncher. Spider aficionado!




Posts

: 34610


Join date

: 2013-07-28


Age

: 48


Location

: England



It's a great thread...inspirational.

_________________
Not everyone likes me, but not everyone matters.



Posts

: 15299


Join date

: 2015-11-12


Location

: Manchester



Such a wonderful story, from such a rough start.  Very pretty lady, too.

But they don't all end up that way...due, in part, to the racism in this country.  We need to undo our wrongs as whites, and give back what we took. It's not just a remedial measure; it's a matter of equity.

_________________
"Little thieves are hanged, but great thieves are praised." — Old Russian proverb, offered by Vladimir Putin to Donald J. Trump.

"I don't stand by anything."  ― Donald Trump, interview with John Dickerson, 5.1.17...

"That's libertarians for you — anarchists who want police protection from their slaves." ― Kim Stanley Robinson, Green Mars



Posts

: 23301


Join date

: 2013-12-19


Age

: 53


Location

: Northern California



Blacks were not indigenous to America, they were slaves, sadly, but Indians, or native Americans were.

Give them back their country, but of course that will never happen, as there's millions and millions of people who live in America there now.


_________________
__________________________________________________________________________________



Posts

: 2792


Join date

: 2016-08-22




I CONSIDER that the "
luckiest break
" that this young woman found for herself, was in being hired by a company that gave her those opportunities, and allowed her to advance so far --  
and that she made the best of any opportunities that came her way...Just consider,
how different it can be,
if :
She was working for the wrong employers;
Or simply living in the wrong neighbourhood;
If she didn't grab every opportunity that was offered;
OR, if she didn't have the requisite talent and mindset to begin with...      

I still consider that notion of some vague
'American Dream'
to be a load of pure anti-worker/pro- materialist hype, giving the false notion that if somebody could only live in the "good ol' U S of A", that anyone can achieve anything if only they work hard, knuckle down, keep looking, and take any pay cuts offered..
And always remember that your employer is right, and should be treated as the God that he most ckearly is.        
_________________
It's not what you look at that matters, it's what you see.Our life is frittered away by details. Simplify, simplify.The mass of men lead lives of quite desperation.
Henry David Thoreau



Posts

: 5682


Join date

: 2016-02-24


Age

: 60


Location

: Lake Macquarie, NSW, Australia



Funny how you rarely hear wealthy people say, "You know what? I got really, really lucky. I happened to have an idea that worked and was born into the right circumstances to see it through."

_________________
"I just want a big fat fucking cake or some shit!"

~eddie, when she was hungry this one time
Cowboy King. Dread Pirate of the Guadalupe. Enemy of the American People.




Posts

: 23907


Join date

: 2013-01-19


Age

: 43


Location

: La Ciudad de los Chingadores, Texas



Warren Buffet:

"My wealth has come from a combination of living in America, some lucky genes, and compound interest. Both my children and I won what I call the ovarian lottery. (For starters, the odds against my 1930 birth taking place in the U.S. were at least 30 to 1. My being male and white also removed huge obstacles that a majority of Americans then faced.) My luck was accentuated by my living in a market system that sometimes produces distorted results, though overall it serves our country well ... In short, fate's distribution of long straws is wildly capricious."

_________________
"I just want a big fat fucking cake or some shit!"

~eddie, when she was hungry this one time
Cowboy King. Dread Pirate of the Guadalupe. Enemy of the American People.




Posts

: 23907


Join date

: 2013-01-19


Age

: 43


Location

: La Ciudad de los Chingadores, Texas




---
Permissions in this forum:
You
cannot
reply to topics in this forum