Buildings burn, residents flee as fast-moving brush fire marches through Cajon Pass area
Paloma Esquivel, James Queally and Sarah Parvini
August 16, 2016
VIDEO >  http://www.latimes.com/local/lanow/la-me-raw-video-blue-cut-fire-20160816-premiumvideo.html 

A fast-moving brush fire broke out late Tuesday morning in the Cajon Pass, scorching at least 6,500 acres of land as walls of flame forced tens of thousands of people to evacuate and swallowed several structures whole , officials said.
 Fed by a large amount of bone-dry brush, the Blue Cut fire exploded across the hills and canyons of San Bernardino County, growing from 1,500 acres in size to 6,500 in a matter of hours as it forced 30,500 residents to flee their homes, according to Tracey Martinez, public information officer for the San Bernardino County Fire Department. 

The  blaze is the latest of several destructive wildfires to hit California as the state endures a fifth year of drought. The dry conditions, along with 100 degree temperatures, helped fueled the blaze's fast spread.
This year's fire season has been particularly destructive, burning hundreds of homes and killing eight people, and fire officials have warned the worst may be yet to come.
Just a small horrible reminder that there is a huge segment of wild life and farming industry being impacted by these extremes: both ends of my country - drought driven fires to horrible flooding from unseasonal weather conditions for monsoon type rains that just hang over one area and dump feet of rain, not just a few inches within a day!
Yes, it's an EMU running for it's life - trying to find some safe place to hide
from the smoke - flames - heat!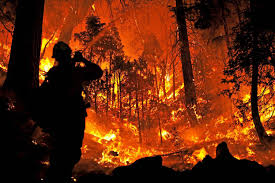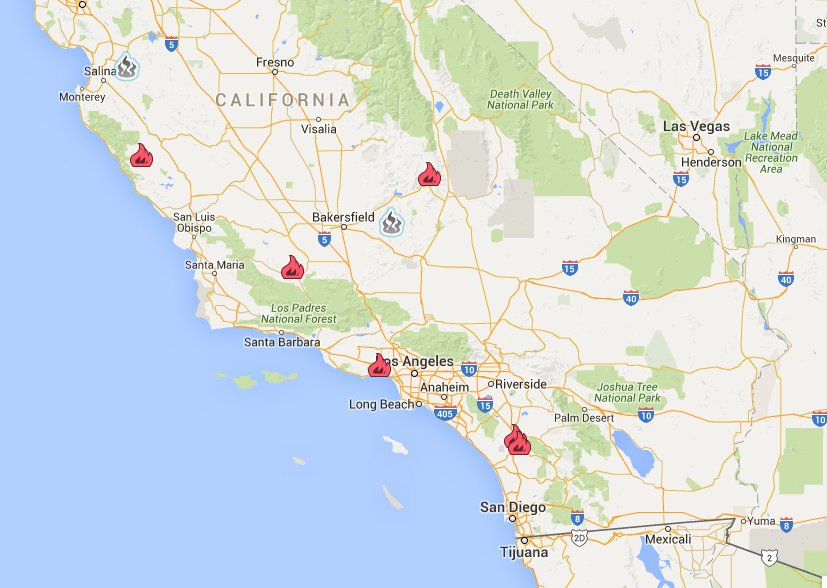 Coffins Unearthed by Deadly Flood Waters in Louisiana Spotted Floating Down Streets

---

by Johanna Li3:00 PM EDT, August 15, 2016

Video

> http://ietv.co/2bidwOC

Coffins unearthed by deadly flooding in Louisiana were spotted floating down a street lined with houses over the weekend.

According to the Walker Police Department, the caskets had floated up from the St. Mark's Cemetery in Baton Rouge Friday afternoon as a result of the flooding.

Some residents spotted caskets drifting, while others saw entire burial vaults in the floodwaters.

After the police department shared the eerie image on their Facebook page, those with relatives buried in the cemetery spoke out to share their concern.

"I have family buried here,"

one person commented.

"It is so sad."

Another wrote: "My daddy's wife is buried here. I feel so sorry for her children."

Parts of Louisiana have seen as much as 17 inches of rain over the past weekend, the Associated Press reported.

One man scrambled to rescue nearly a dozen dogs in his car before searching for shelter from the floods.

"It was two inches when I left this morning," the man could be heard saying in footage by WAFB, "it's now about three feet in my house."

After the historic flood left five people dead, and at least 10,000 people in shelters since the rainfall began Friday night, President Obama has declared a state of emergency in Louisiana.

http://www.insideedition.com/headlines/18090-coffins-unearthed-by-deadly-flood-waters-spotted-floating-down-residential-streets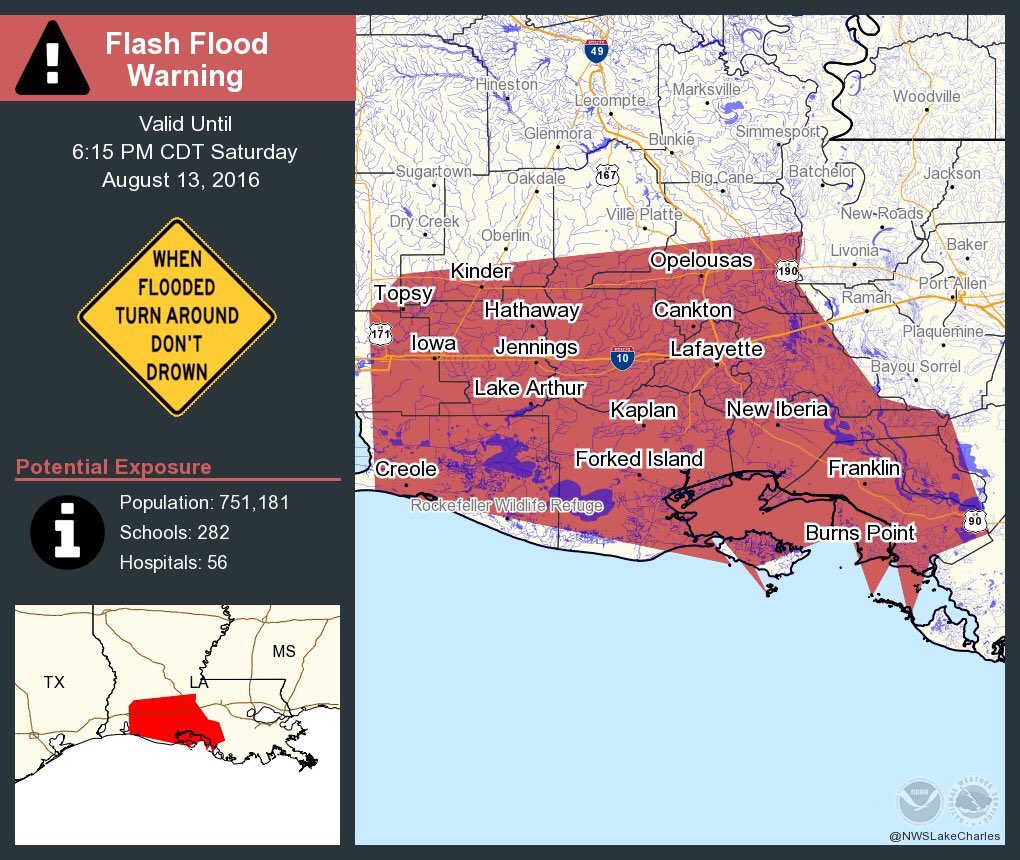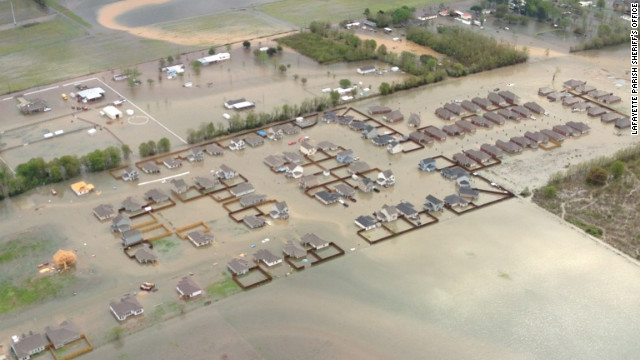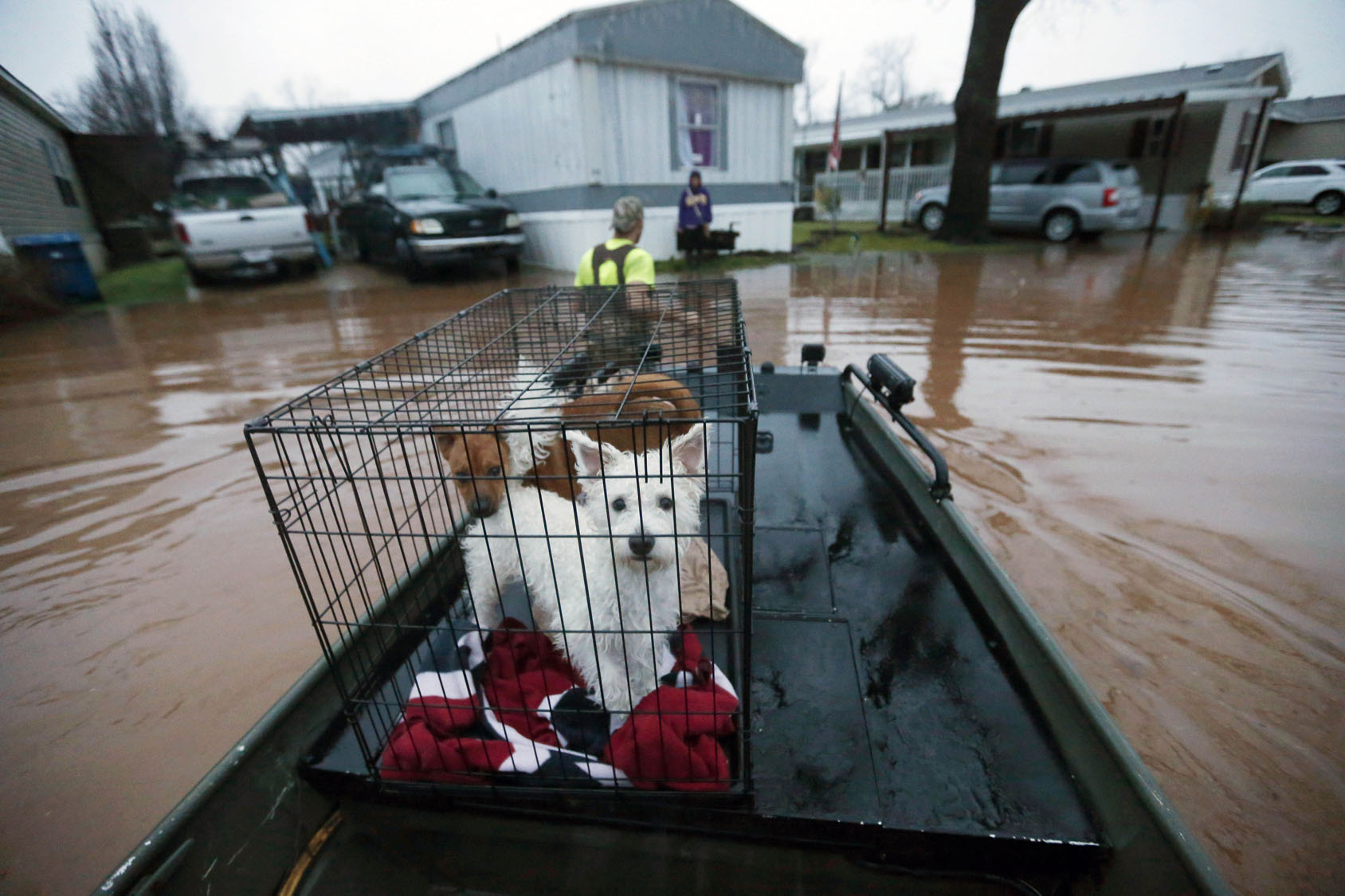 Caution to Residents in Flooded Areas Louisiana is currently experiencing floods due to severe weather in many regions throughout the state. The Louisiana Department of Health and Hospitals (DHH) advises all Louisiana residents to be aware of the dangers flood waters pose and to take all appropriate precautions. Residents are reminded that, due to the sudden nature of rain-related floods, not all flooded roadways will be marked and that local emergency resources may be under strain. 
Deaths have already occurred in Louisiana as individuals have either ignored posted signs regarding flood waters or entered flood waters where signs were not posted. These include an adult male in Bienville Parish, and adult male in Ouachita Parish and a 6-year-old child in Ouachita Parish.  
Below are some useful guidelines and additional resources for all Louisianans regarding flooding, including information on where to get emergency updates. 
What to Do if Your Community Experiences Flooding:
Stay Out of Flood Water
   Flood water may be mixed with sewage or other dangerous contaminants. Showering or otherwise washing after touching flood water is necessary. Clothes that come into contact with floodwater must be washed with hot, soapy water immediately afterward. Make sure children stay away from flood waters.  
Do not drive through flood water.
Water only a few feet deep can cause a vehicle to float or stall. Flood water may also hide other dangers, such as exposed electrical wires or sharp objects.  Stay Tuned  
Keep aware of your situation through local radio or TV broadcasts. Keep an eye out for boil advisories for public water or other public health alerts. Follow the guidance of emergency authorities. 
Know That Septic Tanks May Be Affected
Avoid using a septic tank if its drain field is underwater.
Take Extra Care Regarding Wildlife
The threat posed by wild animals and insects may be more significant during times of flooding. Venomous snakes, alligators, leeches, ants and mosquitoes are all potentially threatening creatures that you may encounter during a flood.  
After the Flood:
Stay Aware of Flood Water Contamination Public drinking supplies may not be safe in the aftermath of a flood. Keep aware of boil advisories and other public health alerts through your local radio and TV broadcasts. At least 15 water systems are currently under a boil advisory due to the weather. If you have questions about the safety of your water, contact your water system.  If you have well water, you may need to disinfect your well and have it tested for contamination.  
Recovery and Cleaning Up

If floodwater entered your home, you must clean and disinfect your home and any items that came into contact with floodwaters. Take precautions when doing so, especially if your home experienced a backup of sewage. Wear personal protective equipment, including rubber boots and waterproof gloves. Porous items that absorbed flood waters, including drywall, carpets, upholstered furniture and curtains may need to be disposed of entirely or professionally cleaned. 
Any food that came into contact with flood water, including canned goods, must be thrown out.
  For more information from the Department of Health and Hospitals on flood water safety or other emergency efforts, visit the websites below.  http://www.dhh.state.la.us/index.cfm/page/308/n/176 http://www.dhh.la.gov/emergency   Additional resources are available from the Governor's Office of Homeland Security and Emergency Preparedness at http://www.gohsep.la.gov/default.aspx.
Because, Chickens Lives Matter.
This week during Louisiana 's Great Flood of 2016;
Rachel Williams Davidson rescued 54 chickens, 1 peacock and 1 turkey.
 I'm glad there are people like this in the world!...
A cousin sent me this on their FB page ...while this young couple was busy saving their flock, my cousin's weren't so fortunate for their new flock of young turkey pullets ...not enough wire cages - water came up to fast during the night. They lost their entire flock - 200+ I just don't know how so many people will be able to recoup such huge losses.
And as I posted last night earlier about my cousins turkey farm; they didn't have flood insurance either - their small farm/his parents 50 year old farmstead - wasn't rated as a 100 year flood plain!
And for those that were housed in the 'flood plain region' the cheapest flood insurance policy would have cost them an extra $1,000. to their home owners coverage; not many home owners could afford that extra and not all of the flood insurance covers all of the finite type of  extreme rainfall damage. 
They have perimeters for recorded rainfall and what is a 'standard guide line' and what is considered 'GOD ORDAINED' ...guess this being the Bible Belt; there's going to be a lot of 'Denials' for claims due to 'that was the Hand Of God' so your claim is DENIED!
As Louisiana flood waters recede, disbelief and shock set in

Posted Aug. 17, 2016 at 3:53 PM

ALBANY (AP) — The smell of muddy water hung heavy in the air as people began sorting through waterlogged belongings and ripping out carpets Wednesday in flood-wracked southern Louisiana, which now faces a long-term challenge of how to house thousands of displaced people.

Even as the water receded in some areas, it was rising in other communities downstream, sending people fleeing to shelters.

Officials painted a stark picture of the crisis: an estimated 40,000 homes damaged and 11 people killed in some of the worst flooding in Louisiana history. More than 30,000 people have been rescued since Friday.

More than 110 state highways remained closed Wednesday, along with even more local roadways. Amid scattered reports of looting, Louisiana Gov. John Bel Edwards said parishes with widespread damage were being placed under curfew as of Tuesday night. Residents and business owners in the town of Albany repeatedly noted that the area had never flooded before — and flood insurance wasn't required.

As the water receded, people donned surgical masks and began the back-breaking job of ripping out soggy carpet, drywall and insulation. They cleared out spiders and cockroaches that had bubbled up through the sewer grates.

Some businesses already have placed huge garbage bins out front to hold ruined inventory and soggy debris. In residential areas a powerful stench wafts off huge piles of sodden garbage, soaked upholstery and carpets and discarded appliances.

Chris Bankston was with workers mucking out his family-owned auto parts store Wednesday. He said his father opened the business nearly 70 years ago. Water had never gotten within 200 yards of his business until the weekend, he said.

=In the town of Sorrento, James Lane was getting to work cleaning his house — something familiar to him from Hurricane Katrina in 2005.

"I can't even think about what to do, just got to go with it as it comes in," Lane said. "We actually lost everything in Katrina, came here 10 years later, lost everything again." Officials have been going house to house to ensure everyone was accounted for. They also searched countless cars caught in the flooding. "I don't know we have a good handle on the number of people who are missing," the governor said.

For the Baton Rouge area, it was a blow on top of what has already been a tough summer starting with the shooting death of 37-year-old Alton Sterling on July 5. The death of Sterling, a black man, at the hands of two white police officers incited widespread protests in which nearly 200 people were arrested.

And help was coming from quarters beyond the federal government.

Performer Taylor Swift told The Associated Press she is donating $1 million to flood relief. "The fact that so many people in Louisiana have been forced out of their own homes this week is heartbreaking," the 26-year-old said in a statement.  Entertainer Lady Gaga also said she's donating an unspecified amount to flood relief efforts

In Livingston Parish, one of the hardest-hit areas with about 138,000 people, an official estimated that 75 percent of the homes were a total loss.

Officials from Livingston Parish were in Baton Rouge on Tuesday to talk to federal officials about getting temporary housing for their first responders — a sign of the housing crunch likely to come with so many people out of their homes for weeks and perhaps months. Rivers and creeks were still dangerously bloated south of Baton Rouge as water drained toward the Gulf of Mexico.

Nearly 800 evacuees waited Tuesday in a makeshift Red Cross shelter in Gonzales at the Lamar Dixon Expo Center, a multipurpose facility that has hosted rodeos, car and truck shows and concerts. Floyd Melancon, 71, and his partner, Judy McGehee, 61, remained in the dark about how much water — if any — their Prairieville home received.  "My neighbor sent me a picture. Water was in the yard. I don't know where it's at right now," Melancon said. "Judy and I think it's come up since then."

In the house for 14 years, the couple lacks flood insurance to cover repairs. "We weren't in a flood zone. It had never flooded before," McGehee said.

With flood insurance, homeowners are prone to draining savings accounts and relying on federal disaster programs to rebuild and repair. Insurance Commissioner Jim Donelon said in hard-hit Baton Rouge only 12 percent of residences are covered by flood insurance, and 14 percent in Lafayette — what he called "shocking."

The governor said he is worried about "battle fatigue" setting in as rescuers and residents deal with day upon day of stress. The trauma was evident among people who went back to their homes.

David Key used a small boat to get to his house in Prairieville and said it had taken on 5 inches of "muddy, nasty bayou water." There were fish and thousands of spiders, and mold had started to grow. "I'm not going to lie, I cried uncontrollably," he said. "But you have to push forward and make it through. Like everybody says, you still have your family."

http://www.beauregarddailynews.net/news/20160817/as-louisiana-flood-waters-recede-disbelief-and-shock-set-in/?Start=1
Just heard on the radio - the death toll has risen to 13, people died due to food water.

---
Permissions in this forum:
You
cannot
reply to topics in this forum