The pound falls again and heads for its weakest close since 1985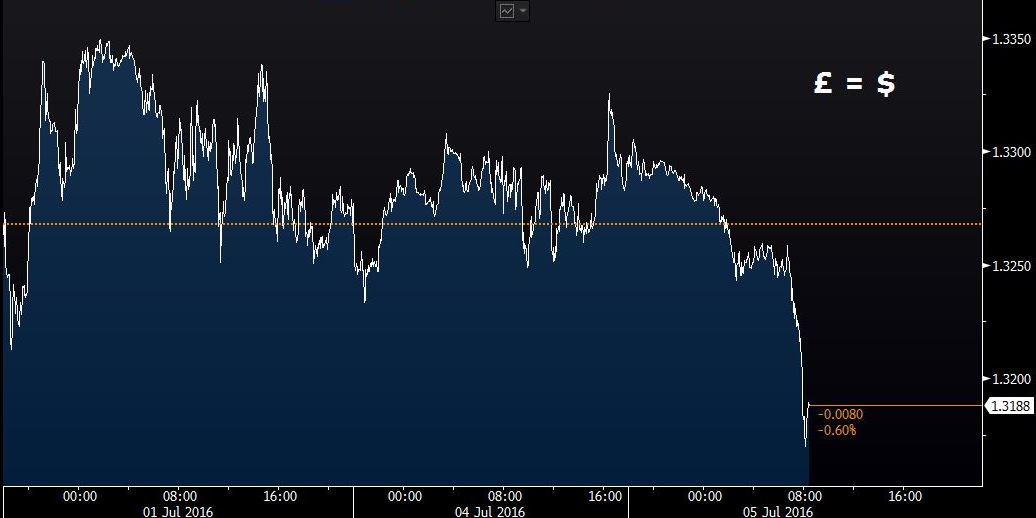 The pound fell toward its lowest level in more than three decades against the dollar, approaching levels reached last week in the aftermath of Britain's vote to leave the European Union. Bank of England Governor Mark Carney will give a press conference in London on Tuesday, in which he may outline more tools to contain the fallout from the U.K.'s decision to quit the bloc. An index published by YouGov Plc and the Centre for Economics and Business Research indicated pessimism about the economic outlook almost doubled in the week following the June 23 referendum. Sterling slid 0.9 percent to $1.3167 and 84.68 pence per euro.
http://www.bloomberg.com/news/articles/2016-07-04/asian-stock-outlook-clouded-with-silver-in-demand-as-crude-falls
Brexit, the gift that just keeps giving.  Hope nobody is heading for America, they won't get many dollars for their pounds

Nige and Boris and their millionaire chums have probably been selling off their stocks of £££ sterling over recent weeks, and buying up $USD and ¥, maybe hedging their bets with some gold and platinum on the side...
Setting themselves up to buy back into British shares, bonds and debentures once they've knocked the markets down 20-->>30% or so..      
_________________
It's not what you look at that matters, it's what you see.Our life is frittered away by details. Simplify, simplify.The mass of men lead lives of quite desperation.
Henry David Thoreau



Posts

: 5610


Join date

: 2016-02-24


Age

: 60


Location

: Lake Macquarie, NSW, Australia



Just keep your money where it is...stocks and shares fall and rise, they always have and they always will..you only lose if you claim it now.

_________________
Not everyone likes me, but not everyone matters.



Posts

: 15116


Join date

: 2015-11-12


Location

: Manchester



It's not so much the stocks and shares as the way the value of the £ is dropping, for exports, that's good, for imports is means we pay a huge amount more that will get passed on to customers.
It definitely has it's ups and downs...(no pun)


_________________
Not everyone likes me, but not everyone matters.



Posts

: 15116


Join date

: 2015-11-12


Location

: Manchester






The pound against the dollar was £1/$1.38 in June, 2001.


And still higher against the euro than when labour left govt...


The current situation is because speculators have been selling sterling while buying up other currencies as well as betting on sterling going down...


And given the amount of money being poured in by the bank of England over the last few years, it is surprising the pound had remained so strong up till now... because pumping money into the system is effectively devaluing the currency.




_________________
"Truth is ever to be found in the simplicity, and not in the multiplicity and confusion of things." — Isaac Newton

'The further a society drifts from truth the more it will hate those who speak it.'  — George Orwell



Posts

: 20048


Join date

: 2014-02-12




---
Permissions in this forum:
You
cannot
reply to topics in this forum