TORIES IGNORED FOUR REQUESTS FOR INFORMATION ON THEIR ELECTION EXPENSES, REVEALS COURT DOCUMENT

A witness statement by the Electoral Commission revealed that the Tories ignored four requests for more information over their election expenses.

The revelations illustrate the extent to which the Tories are trying to block, hide or just delay police investigation into the growing Tory Election Fraud scandal.


The party ignored legal notices and repeated requests for information from the Electoral Commission four times in total, they revealed in a witness statement.

And all of that related just to the constituency of South Thanet, where Kent Police had asked for an extension to investigate allegations the Tories didn't properly account for their spending to win the seat.

The Electoral Commission detailed the Tory attempts to ignore and block their investigations in a witness statement when backing the Kent police request.

Here are those four attempts:

On 18 February 2016, the [Electoral] Commission wrote to the [Conservative] Party … and issued a Notice under Schedule 19B paragraph 3 of PPERA. This Notice required the Party to produce material relating to the South Thanet matters. At the Party's request the Commission extended the deadline for the provision of this material… When the Party formally responded to the Notice, the Commission considered that the Party had failed to comply fully with it.

On 23 March 2016 the Commission issued the Party was a second Notice … The Party did not comply with this Notice…

On 22 April 2016, the Commission wrote to the Party. It gave the Party a further deadline for the provision of the material the Party had failed to provide under two statutory Notices … On 28 April 2016 the Party's legal representatives wrote to the Commission setting out its rationale for being unable to comply with the Commission's request by the deadline given.

By letter dated 29 April 2016, the Commission wrote to the Party's legal representatives and gave a final extended deadline… The party did not provide any further material by that extended deadline.

The information is detailed in this witness statement (via Mark Pack)

Strict election spending limits are there to make sure that political parties have a roughly equal playing field, and that one party cannot use its financial firepower to overwhelm others.

Tories in South Thanet tried to block Kent Police request for an extention but failed.

Currently, across the UK, 18 police forces are investigating 33 constituencies over allegations that election spending limits were flouted to win the local seat.

The judge in the South Thanet case yesterday said:

The consequences of a conviction would be of a local and national significance with the potential for election results being declared void.

http://politicalscrapbook.net/2016/06/tories-ignored-four-requests-for-information-on-their-election-expenses-reveals-court-document/

_________________
"It is better to be hated for what you are than to be loved for what you are not." ~ Andre Gide
King of Beards. Keeper of the Whip. Top Chef. BEES!!!!!! Mushroom muncher. Spider aficionado!




Posts

: 34803


Join date

: 2013-07-28


Age

: 48


Location

: England



There are now 30 Tory MPs under investigation for electoral fraud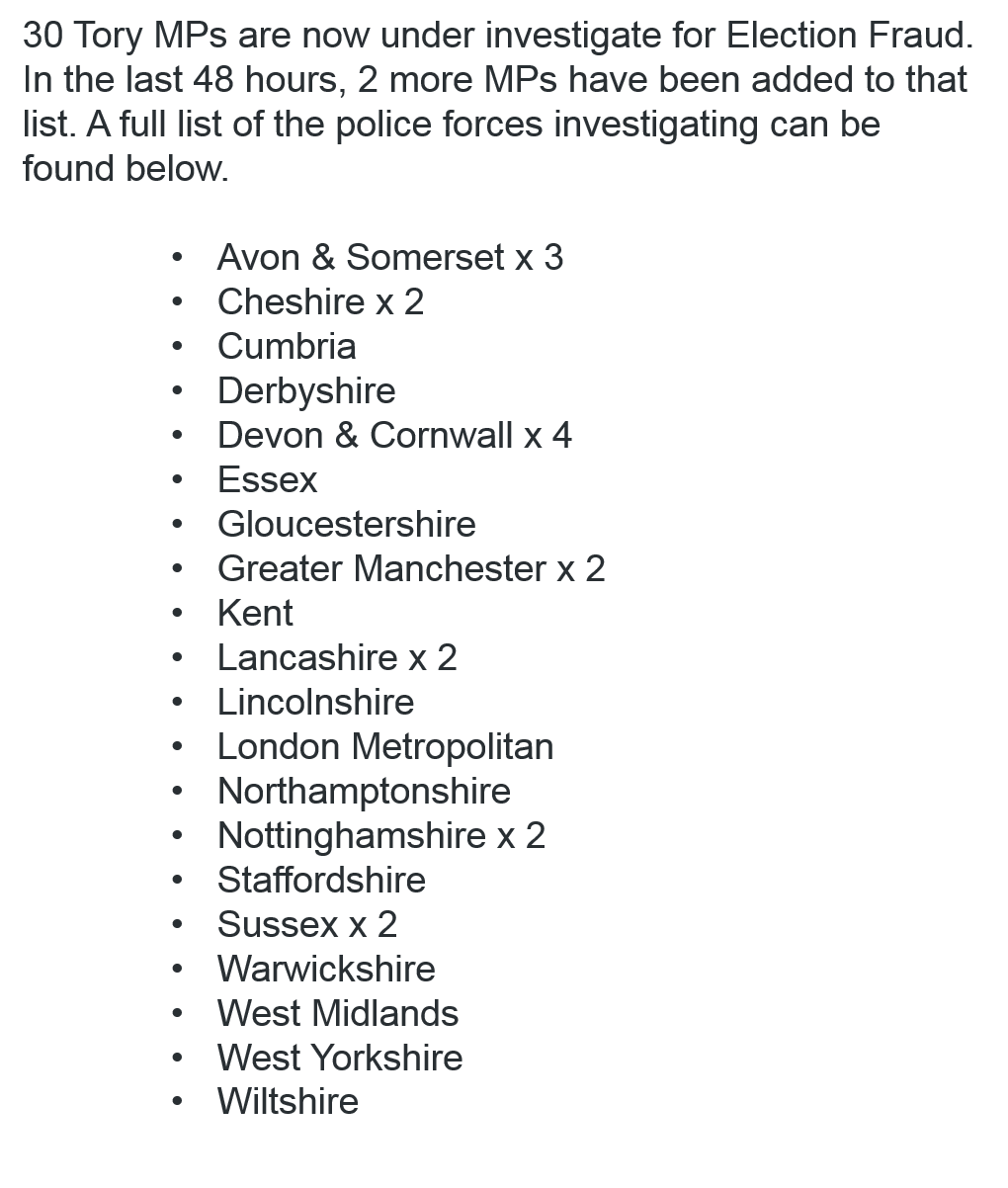 THey'll run this out in the courts for as long as they can - up to the next election. Cheating gits

_________________
The conservative feels safe and content only if he is assured that some higher wisdom watches and supervises change, only if he knows that some authority is charged with keeping the change "orderly.

Friedrich Hayek

In other words a bunch of cap-doffers and forelock tuggers.
The Tartan terror. Keeper of the royal sporran. Chief Haggis Hunter




Posts

: 7719


Join date

: 2013-12-11


Location

: Edinburgh



Never trust a Tory has turned out to be a very true saying
Forgot I posted this thread up. I had something I was going to say about if but really cannot remember what it was now.


_________________
"It is better to be hated for what you are than to be loved for what you are not." ~ Andre Gide
King of Beards. Keeper of the Whip. Top Chef. BEES!!!!!! Mushroom muncher. Spider aficionado!




Posts

: 34803


Join date

: 2013-07-28


Age

: 48


Location

: England




---
Permissions in this forum:
You
cannot
reply to topics in this forum