Britain First has posted a graphic on Facebook claiming the UK should follow the lead of Japan in its treatment of Muslims.
The Japanese government does not take religion into account when publishing demographic data so exact population figures are hard establish.
Academic research suggests there are around 70,000 Muslims in the country of which 90% are thought to be resident foreigners and about 10% native Japanese.
There are also a number of mosques, the largest of which was opened in 2015.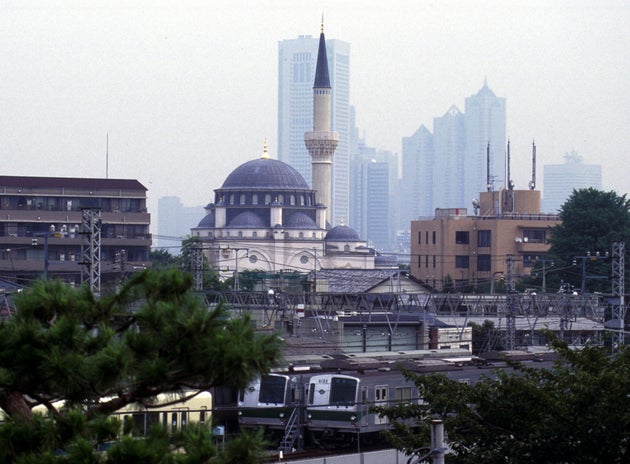 Koichi Kamoshida via Getty Images
The Tokyo Mosque
If the above post is true it would suggest a significant number of people in Japan face extraordinary discrimination and hardship, but do they?
Japan is the only nation that does not give citizenship to Muslims.
FALSE - There is no restriction on Muslims being granted Japanese citizenship, in fact application forms do not even require a person to state their religion. 
Permanent residency is not given to Muslims.
FALSE - The Japanese government does not inquire about religion when considering residency applications. Points that are considered include length of residency, age, a history of "upright conduct," the ability to support oneself and a willingness to give up other nationalities.
Propagation of Islam in Japan is banned.
FALSE - The Koran and other Arabic books can be freely imported. There are around 60 mosques in the country where religious books can be found.
In the University of Japan, Arabic or any other Islamic language is not taught.
FALSE - There is no University of Japan. There are however a number of other institutions that offer courses on Arabic. The Tokyo University of Japan teaches Arabic Studies as does the Arabic Islamic Institute in Tokyo. 
Japan is the only country in the world with negligible number of embassies in Islamic countries.
FALSE - Japan has embassies in Afghanistan, Bahrain, Iran, Iraq, Jordan, Kuwait, Lebanon, Oman, Saudi Arabia, Syria, Turkey, United Arab Emirates, Yemen and the Palestinian Authority. 
One cannot import a Koran published in the Arabic language.
FALSE - See above.
Muslims must follow Japanese law and language.
TRUE (kind of) - Muslims in Japan have to follow Japanese law but so do all other citizens.
The Japanese government is of the opinion that Muslims are fundamentalist and unwilling to change their Muslim laws.
FALSE - In 2014, Japanese Prime Minister, Shinzō Abe, hosted the Islamic Diplomatic Corps.
He said: "Since assuming the post of Prime Minister, I have made official visits to many Islamic countries in the Middle East, Africa and Southeast Asia.
"I have found that a fundamental aspect of the spirit of Islam is harmony with and love for others."
Muslims cannot even rent a house in Japan.
FALSE - Article 14 of Japan's constitution states: "All of the people are equal under the law and there shall be no discrimination in political, economic or social relations because of race, creed, sex, social status or family origin."
There is no Sharia Law in Japan.
TRUE - Again, all Japanese citizens must adhere to Japanese law but this applies to all, not just Muslims.
Article 20 of Japan's constitution states: "No religious organisation shall receive any privileges from the State, nor exercise any political authority.
"2) No person shall be compelled to take part in any religious acts, celebration, rite or practice.
"3) The State and its organs shall refrain from religious education or any other religious activity."
In conclusion, the post is largely complete nonsense.
http://www.huffingtonpost.co.uk/entry/britain-first-japan-islam_uk_573872bbe4b01359f686fe3c?utm_hp_ref=uk
What a load of idiots they are.
Stormee wrote:We need MORE Britain First type whitiz on OUR island to show/lead the way to our salvation, saving OUR island from takeover, however they do it is OK by me as long as we succeed.

If muzzzzizzzz were measurably beneficial  to ANY country then all countries in the world would be encouraging them to come to their countries.
Secondly, why is the world talking about muzzzzizzzzz so much?

Name positive benefits muzzzzizzzz have brought to the British Isles?

WHY will muzzzzizzzz NOT integrate here?

Why do muzzzzizzzz want to change OUR country?


ONE OF THE MAIN REASONS why your BF/BNP/EDL idols and heroes will never gain any genuine significant political influence over there is quite simple Stormee  --
The great majority of your fellow countrymen would realise that a group like those British First nongs would bankrupt your country within its first term in guvm'nt !

_________________
It's not what you look at that matters, it's what you see.Our life is frittered away by details. Simplify, simplify.The mass of men lead lives of quite desperation.
Henry David Thoreau



Posts

: 5768


Join date

: 2016-02-24


Age

: 60


Location

: Lake Macquarie, NSW, Australia



It was a complete joy to watch Britain First getting wiped out in the London election.    Restored my faith in human nature.
Nice. With reporting like this, more and more people will see that the bigots just flat-out make stuff up in order to fuel their hateful agenda. The only support BF will get will be morons and people who are fine with dishonesty in pursuit of bigotry.

_________________
"I just want a big fat fucking cake or some shit!"

~eddie, when she was hungry this one time
Cowboy King. Dread Pirate of the Guadalupe. Enemy of the American People.




Posts

: 23975


Join date

: 2013-01-19


Age

: 43


Location

: La Ciudad de los Chingadores, Texas



So much of this 'horse shit' gets so much FB time - and it just keeps getting cycled through everyone that can't be bothered with looking for the truth/fact checking any thing --- they just grab the image and cycle it forward as if it is FACTS. 
And the gullible humanoids fall in line and believe it and never question it and get really bent out of shape when you provide them with the TRUTH


Similar topics
---
Permissions in this forum:
You
cannot
reply to topics in this forum