The Israeli army stormed a money exchange office in the occupied West Bank town of Ramallah early on Thursday, causing a fire and leading to clashes with Palestinian youths, according to local media reports.
Witnesses told Maan News that at dawn a group of Israeli soldiers shot stun grenades at the al-Ajouli currency exchange, which sparked a fire in the building leaving it burnt out by mid-morning.
Israeli Occupation Forces Burn Down Currency Shop in al-Bireh
#
Ramallah
#
Palestine
http://english.wafa.ps/page.aspx?id=ptj22Ya34433471787aptj22Y …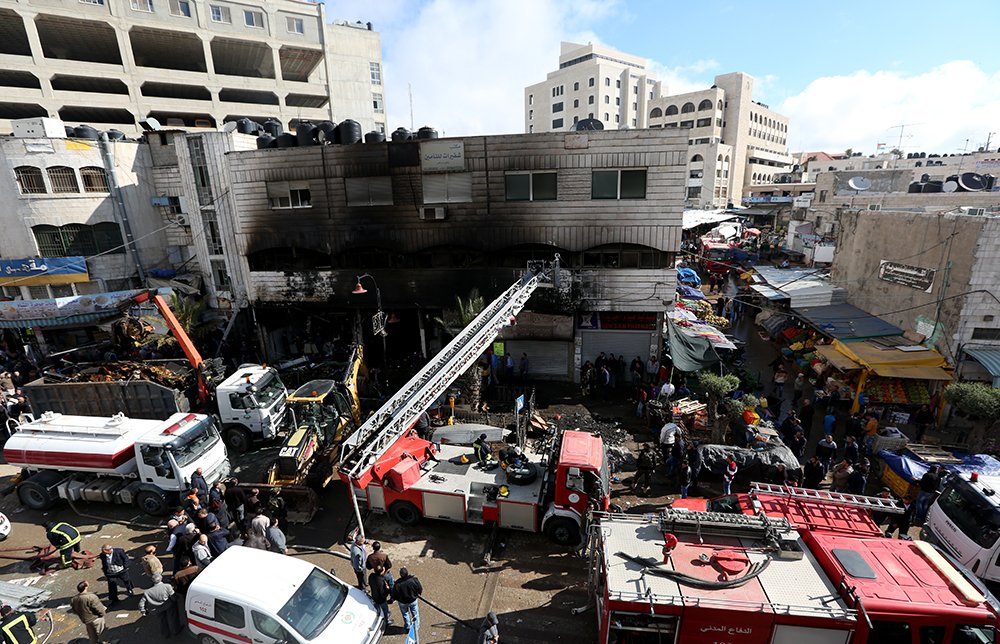 A spokesperson for the Israeli army said that the business had been raided with the aim of confiscating "terror funds".
After the company's owner, Hajj Ghazi al-Ajouli, refused to open a safe inside, Israeli troops "attempted to open it with a controlled detonation" which led to the fire.
The army spokesperson told Maan that the incident will be "investigated".
Ajouli has been detained by Israeli troops as a result – no details have been made public about why there is suspicion his company may hold funds related to militant activities.
The raid caused clashes to erupt between Palestinian youths and Israeli soldiers in central Ramallah, principally on the street where the exchange is located, as well as in the adjoining town of al-Bireh.
There were no reports of any casualties in the clashes.
Thursday's raid on the Ajouli exchange is the third time it has been targeted by Israeli forces.
The operation which took place at dawn is standard practice for the Israeli army, who carry out overnight arrests throughout the West Bank on a near daily basis.
- See more at: http://www.middleeasteye.net/news/israeli-forces-raid-ramallah-currency-exchange-causing-fire-clashes-1937386039#sthash.TZYuG072.dpuf
The fire also burnt down 10 shops.  All the money is missing - wonder where that went then?
The fire was obviously started so they could get away with the money, not content with thieving land.
The troops entered the establishment as part of a "joint operation of the IDF, police and border guards" to investigate the funding of terror groups, an army spokesperson said.
When the owner of the money exchange "refused to open the safe, the forces who were there carried out the detonation in a controlled way," the army said.
Despite the efforts to control the explosion, a fire broke out and quickly spread to adjacent stores.
http://www.timesofisrael.com/idf-soldiers-try-to-open-safe-in-ramallah-start-a-fire/
Had to have a get out story didn't they.

Fuck 'em.
sassy wrote:Had to have a get out story didn't they.

Fuck 'em.
Sassy supporting terrorists funders now, quelle surprise
So basically if the terrorist supporting scum had not refused to open the safe, this fire never would have happened

---
Permissions in this forum:
You
cannot
reply to topics in this forum