Mohammad Sakha teaches circus skills to children with learning disabilities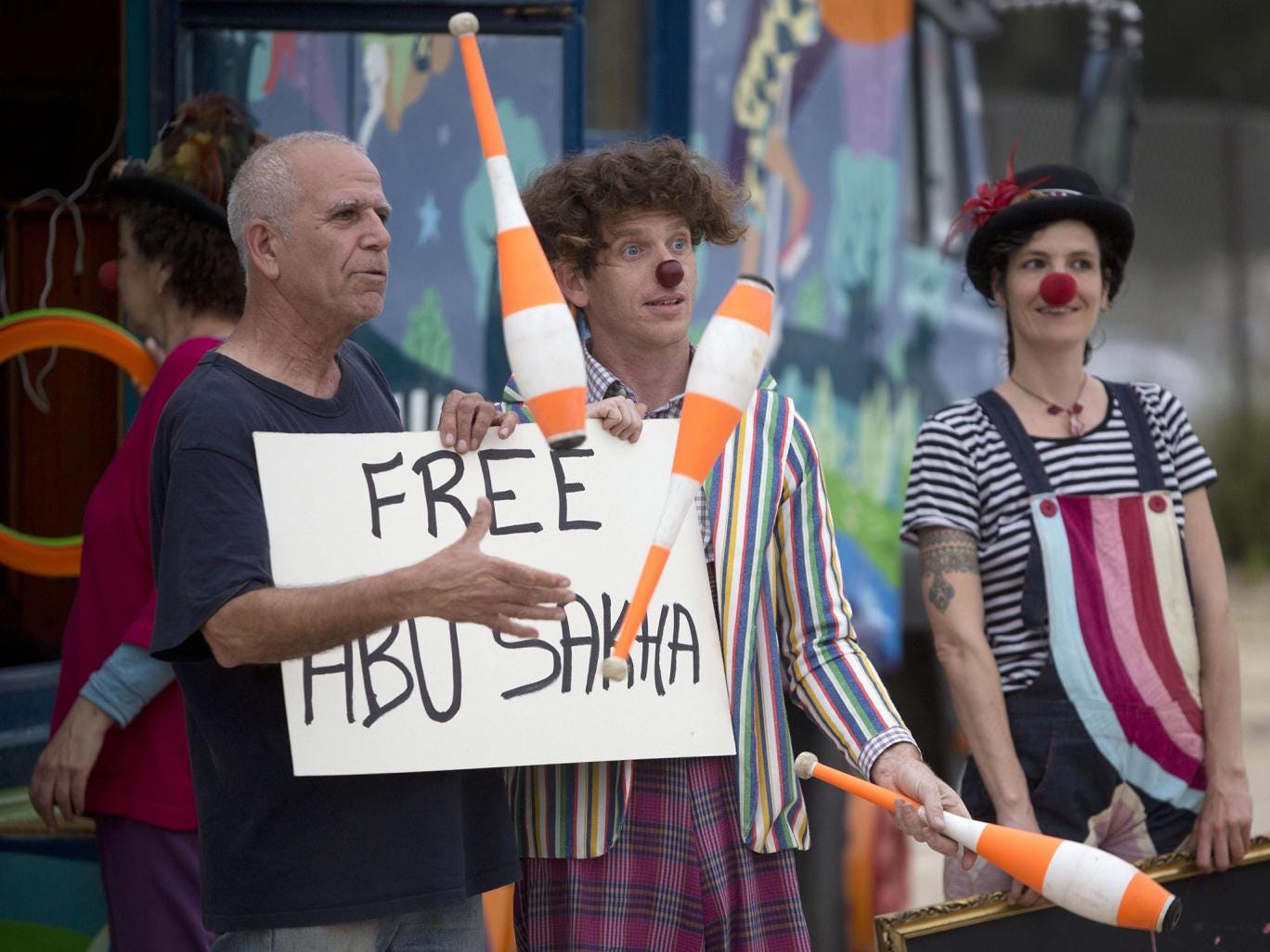 Clowns protest outside the Israeli prison where it is believed Mr Sakha is being held
Israel has imprisoned a Palestinian circus entertainer for nearly three months without charge, prompting Amnesty International and a number of Palestinian rights organisations to call for his immediate release.
On 14 December, children's entertainer Mohammad Faisal Abu Sakha was detained at a checkpoint on his way work at the Palestinian Circus School. Since then, he has been detained without charge in an Israeli prison.
Mr Sakha is detained under an "administrative detention order", allowing the Israeli military to detain him indefinitely. His family have not been allowed to see him since his arrest.
According to Amnesty, Mr Sakha specialises in teaching children with learning disabilities, who make up 10 per cent of the students at the Circus School.
AFP report that Mr Sakha is suspected of association with the Popular Front for the Liberation of Palestine. Though the PFLP does have an armed wing fighting the occupying Israeli forces, the United Kingdom does not consider them to be a terrorist organisation.
His only crime, according to the European Comission-funded Circus School, is "making children happy". The arrest was also condemned by the Palestinian Performing Arts Network, an umbrella organisation which says it "represent[s] the majority of the Palestinian cultural sector."
In a statement calling for Mr Sakha's immediate release, they note that the "the Israeli practice of administrative detention has been condemned on numerous occasions by the UN Human Rights Office," and by the organisation implementing the "International Covenant on Civil and Political Rights", which Israel has signed.
There are around 7,000 Palestinians in Israeli prisons, around 700 of whom are under administrative detention. Around 300 Palestinian children are also incarcerated by Israel.
Prisoners in administrative detention lose the right to legal representation, or to defend themselves before a jury. It is understood that Mr Sakha will be appealing against his detention before a military judge on 21 March. The Israeli Army official will have absolute power over his future.
The Palestinian Circus School say Mr Sakha's only crime is "making children laugh"
In a statement, Amnesty say that the power of administrative detention is "used by Israel as a way of sidestepping the criminal justice system and detaining people who should never have been arrested."
They continue: "We believe that some Palestinians held in administrative detention by Israel are prisoners of conscience, held solely for the peaceful exercise of their right to freedom of expression and association."
http://www.independent.co.uk/news/world/middle-east/israel-under-pressure-to-release-imprisoned-palestinian-clown-a6914246.html
The things they do are truly disgusting.
A clown that helps disabled children.  How low can they bloody go!
[size=33]Amnesty Petitions for Terror-Supporting Palestinian Circus School Teacher's Release From Israeli Detention (VIDEO)
[/size]
The head of Amnesty International-Israel told 
The Algemeiner
 on Thursday why his organization is fighting tooth and nail to have a Palestinian who has expressed support for the destruction of Israel through terrorism on social media released from Israeli administrative detention.
Yonatan Gher was responding to a query about an Amnesty International USA [url=http://amnesty international usa petition -- http//www.amnestyusa.org/get-involved/take-action-now/israelopt-release-mohammad-faisal-abu-sakha-ua-1216?platform=hootsuite]petition[/url]circulating on Twitter, along with a YouTube video — both pointed out by pro-Israel blogger Elder of Ziyon — to protest the detention of 23-year-old Mohammad Faisal Abu Sakha, a circus performer and instructor from Jenin in the West Bank.
"Amnesty International opposes administrative detention and considers any case of administrative detention to be a serious human rights violation, regardless of what the suspicions may be," Gher said. "We call on Israeli authorities to immediately release Mohammad Faisal Abu Sakha, who has been detained since December 15th, unless he is charged with a recognizable criminal offences and tried fairly and promptly. Detainees such as Abu Sakha are denied the right to defend themselves or effectively challenge the legality of their detention because the authorities largely withhold the 'evidence' against them from them and their lawyers."
Gher's saying "evidence" in quotation marks suggests doubt that Israel has any real cause to detain Abu Sakha. This is in spite of violent posts on his Facebook page, a practice among young Palestinians that the Israeli government claims constitutes part of an incitement campaign that has fueled the daily stabbing, rock-throwing, car-ramming and shooting attacks against Israelis since September.
Administrative detention is a counter-terrorism measure employed by Israel and other countries to prevent future acts of violence either on the part of the person detained or through the garnering of information from him/her about the imminent activities of others.
Abu Sakha's Facebook page includes photos calling for the "liberation of Palestine" from the entire state of Israel since its establishment in 1948, both with a map that eliminates the Jewish state and pictures of men and women bearing arms. There is even a tribute to the late terror-master and founder of the Popular Front for the Liberation of Palestine George Habash — with a picture of him lying in an open coffin — to mark the eighth anniversary of his death this month.
The petition on Abu Sakha's behalf is an "urgent appeal" to have him released:
A 23-year-old Palestinian man, Mohammad Faisal Abu Sakha, has been detained by the Israeli military, without charge or any explanation, since 14 December. He has not been allowed visits from his family.
1) Please write immediately in Hebrew, English or your own language:
Calling on the authorities to release Mohammad Faisal Abu Sakha, and all other administrative detainees, unless they are to be charged with recognizably criminal offences and tried fairly and promptly;
Urging them to ensure that he is given access to a lawyer of his choosing and visits from his family.
2) For the full Urgent Action, including appeal addresses and further information, please click on the Word or PDF version below.
3) Please let us know if you took action so that we can track our impact!
EITHER send a short email to uan@aiusa.org with "UA 12/16" in the subject line, and include in the body of the email the number of letters and/or emails you sent,
OR fill out this short online form to let us know how you took action.
The YouTube appeal takes the form of a plea on the part of a disabled young Palestinian boy and his mother.
The child says: "My trainer and instructor Abu Sakha, I love you very much and I miss you very much. I felt sad when I heard that you were arrested."
Abu Sakha is then seen mentoring children in a playground.
The child's distraught mother says, "I call on all local and international institutions to interfere and free the trainer Mohammad Abu Sakha. I hope he will be released as soon as possible in good health, to allow him to get back to the children of the Palestinian Circus School," before her son adds, "Please God, bring us back Abu Sakha very soon."
At the end of the video clip, a slide appears with harsher language than its Twitter counterpart:
Mohammad Abu Sakha, trainer & performer at the Palestinian Circus School, was arrested and sentenced to six months administrative detention by the Israeli Occupation Forces without ANY charge.
Administrative detention can be appealed! Your help is needed to put pressure on the Israeli government! TAKE ACTION NOW! Spread the news! Sign the petition! Call or send a letter to the Israeli Occupation Forces!


http://www.algemeiner.com/2016/01/22/amnesty-petitions-for-terror-supporting-palestinian-circus-school-teachers-release-from-israeli-detention-video/





I find this very disconcerting that a childrens entertainer is spouting incitement to hatred and is around children. Itsa this sort of child abuse that the regressives ignore and why we see young Palestinians throw their lives away from being indoctrinated with hate
Its child abusers like this that should be jail for the incitement of youngsters to commit terrorism. It also shows he is spineless coward grooming children with hate

---
Permissions in this forum:
You
cannot
reply to topics in this forum