Sometimes you're forced to cut down trees. It could be mandated by local authorities or your hand is forced because the tree is in danger of toppling over on your house.
But the tree doesn't have to be removed completely.
This homeowner decided to keep a large portion of the trunk. Then he paid an artist to carve this epic dragon, which now keeps guard over his house.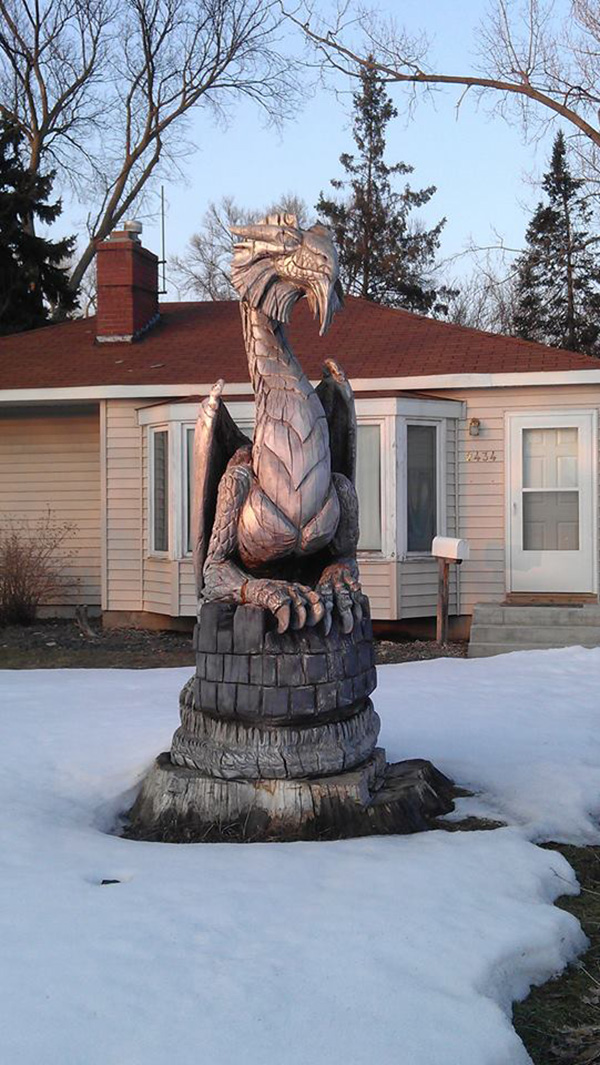 via reddit
It's majestic and detailed and just plain awesome. And it sure beats the neighborhood pink flamingo collection.

Read more at http://www.sunnyskyz.com/blog/1327/He-Needed-To-Cut-Down-His-Tree-Instead-He-Turned-It-Into-This#Css45x4aqo1RFqko.99
Each time we have a serious tornado storm blow through this region there's a group of chainsaw artists that will respond and while they lend their manpower to helping cut up and clean up they're keeping an eye out for possible art stumps to utilize; with the home/land owners permission. FOR FREE~~
It's called 'CHAINSAWART' here in the states...
My favorites are the simpler trees stumps that are used for house identification numbers &/or a fairy type of little home and the ones that we can put flower pots on---but there are some awesome images---those are just a few.
They are really impressive

Its great what people can do and make art from
Didge wrote:They are really impressive

Its great what people can do and make art from
And it's really an oddity here in the states; what our home owners insurance policy will pay for after a huge wind or ice storm damage; I've had to pay out of pocket for the tree removal but not for the actual damage that having a huge tree drop it's limbs all over my yard/fences and buildings! And the cost to have a 'STUMP' ground down/chipped up is WOW, so very costly --- making a hardscape/yard art out of those stumps is such a money saver too.


_________________
"Little thieves are hanged, but great thieves are praised." — Old Russian proverb, offered by Vladimir Putin to Donald J. Trump, Helsinki, July, 2018.

"I don't stand by anything."  ― Donald Trump, interview with John Dickerson, 5.1.17...

"That's libertarians for you — anarchists who want police protection from their slaves." ― Kim Stanley Robinson, Green Mars



Posts

: 25139


Join date

: 2013-12-19


Age

: 53


Location

: Northern California



mmm...I admire the skill of these guys...and the real lumberjacks who shin up trees to top em out and delimb them...
I;ve taken a few down in me time not huge by any means...
I dont care to takle owt over 18 inch dia...thanks ...

and I DONT like leaners...even when they are leaning the way I want em to fall, they are known as "widdow makers" for good reasons....
them guys that drop huge trees in confined spaces are the tops
any berk with a chain saw can make a tree fall over
making it fall in a controlled manner and exactly where you want is is a whole different ball game
doing that and not killing yourself or anyone else is a triumph
_________________
If at any time in 2017 I have annoyed you, pissed you off or said the wrong thing....Suck it up snowflake, cause 2018 AINT gonna be any different
There are those who's opinion I value, there are those who's opinion I neither value or scorn, and then there are those who's opinion I just ignore as insignificant...I can assure you the latter outnumber the first two combined by a whole order of magnitude

[b].(It's hard to remember that the task is to drain the swamp, when you are up to your arse in alligators)
INTERNAL SECURITY DIRECTOR





Posts

: 9585


Join date

: 2015-11-06





Similar topics
---
Permissions in this forum:
You
cannot
reply to topics in this forum