Photographer Mikael Theimer is a self-proclaimed romantic, the kind of guy who falls in love at first sight. 
Theimer, who is originally from Paris but now lives in Montreal, spends his time shooting love-struck people in public for his ongoing photo series, aptly titled "Street Love."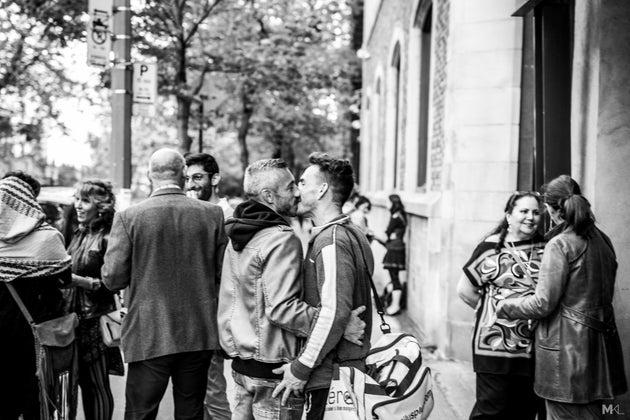 A smooch on the streets of Montreal. 
"Whenever I'm out and see a couple kissing or hugging, I'll try and snap a picture," he told The Huffington Post.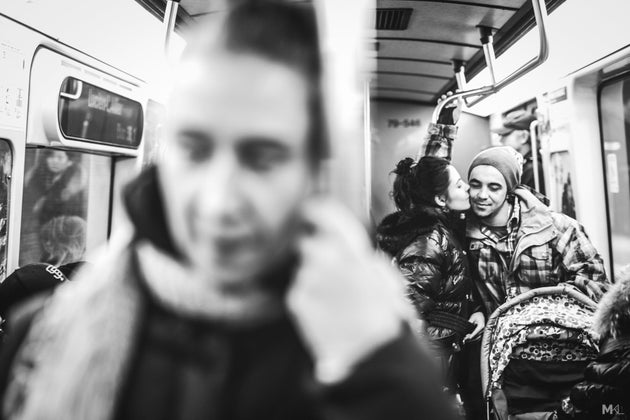 A tender moment on the metro in Montreal.
"I just like seeing people in love, I find that beautiful and pure," he continued. "For a moment, nothing around them matters. I like to focus on the good within the human race. The more you see of it, the more you want to be a part it."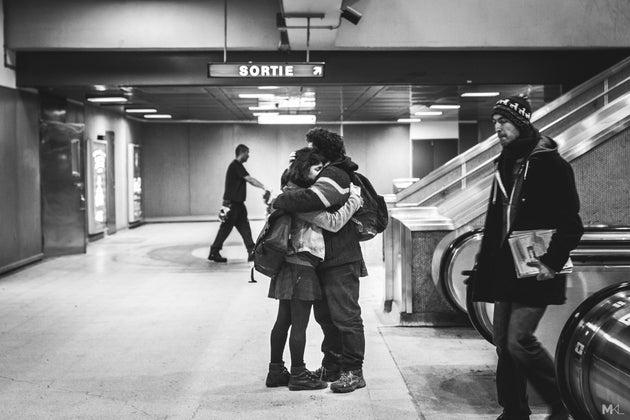 A sweet embrace in Montreal. 
With the exception of a staged photo in front of Café de la Butte in Paris, below, all of the images are "authentic" street photography, Theimer said. In other words, they're candid shots taken in public places without the subjects' knowledge. On occasion, Theimer will approach the couple afterward to ask if they'd like a copy of the photo. 
A kiss on the hand in Paris. 
The photos were shot both on the streets of Montreal and Paris. His favorite image from the series, below, was taken just one week after the November 13 terrorist attacks on Paris at 3 a.m.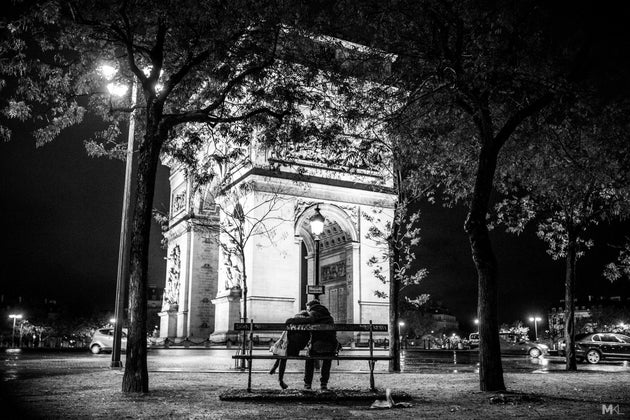 A quiet moment in Paris while the city sleeps. 
"It symbolizes the fact that Paris remains the city of love, even so soon after such terrible events," the photographer explained. 
Below, check out more photos from the "Street Love" series. See some of the artist's other work here and here.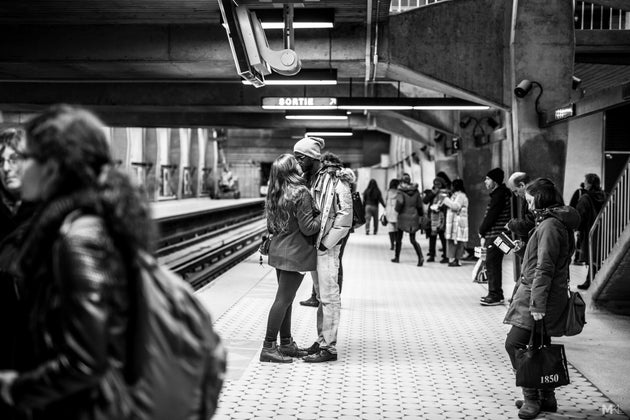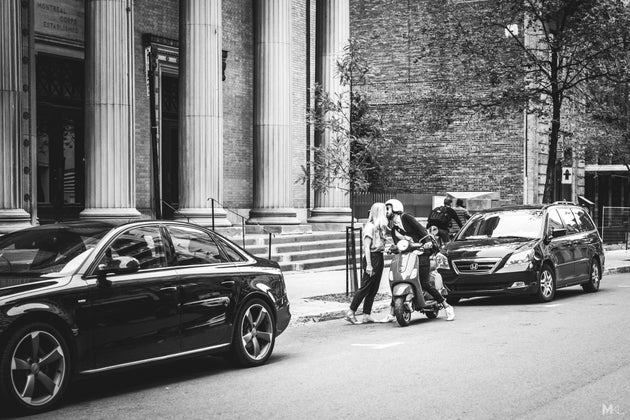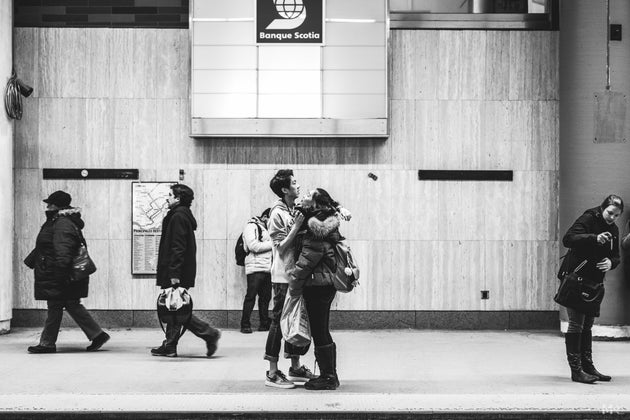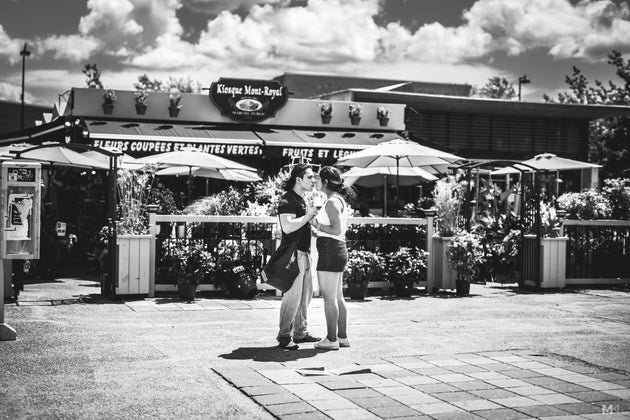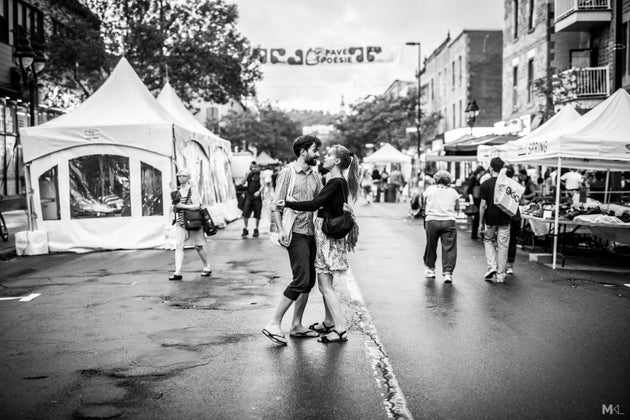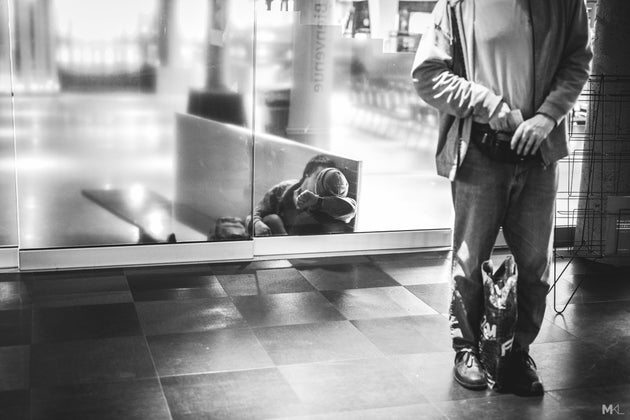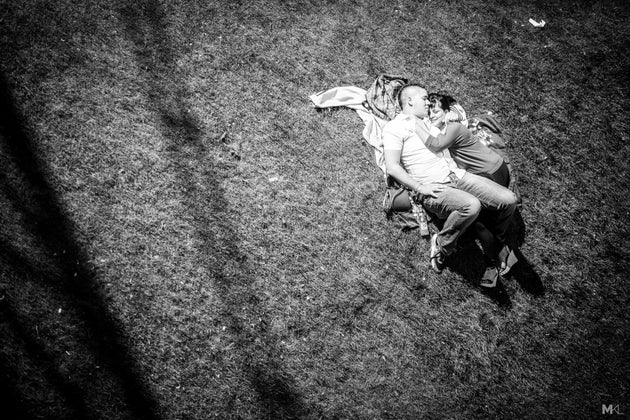 http://www.huffingtonpost.com/entry/street-love-photo-series_us_56bcd61de4b0b40245c5b1d8?ir=Good+News&section=us_good-news&utm_hp_ref=good-news
Ah I do love a little public display of affection.
I don't know why some people hate it so much.

_________________
A Hydro-field cuts through my neighbourhood. Somehow that always just made me feel good. I can put a spare bulb in my hand and light up my yard. Late at night when the wires in the walls, sing in tune with the din of the falls. I'm conducting it all while I sleep...to light the whole town
king of beards. Keeper of the Whip. head cook and bottle washer. Senior mushroom muncher




Posts

: 33291


Join date

: 2013-07-28


Age

: 47


Location

: England



It's quite ironic that a person so full of anger, abuse, and hate posted this thread.
_________________
"It ain't over 'til it's over"



Posts

: 29866


Join date

: 2014-02-10



eddie wrote:Ah I do love a little public display of affection.
I don't know why some people hate it so much.
So do I, where no matter how and if there are bitter people in the world, it shows that not only is love all around but how it can conquer many a heart.
Gorgeous pictures


_________________
"Tolerance of intolerance is cowardice"

"People who fear demons see demons everywhere"

Speaker of the House




Posts

: 6101


Join date

: 2013-12-12


Age

: 32


Location

: The Kingdom formerly known as Siam...



Awwww....nice.

Public displays of affection like the ones captured above are heart warming.
I don't like to see groping in public though....and serious tongues can be a bit embarrassing if you have nowhere else to look, but apart from that, it warms the heart to see genuine affection.

_________________
Not everyone likes me, but not everyone matters.



Posts

: 14197


Join date

: 2015-11-12


Location

: Manchester



How romantic

for tomorrow everyone
xx
_________________
Piglet : "How do you spell love?"  Pooh : "You don't spell it, you feel it"  

Queen of Smilies




Posts

: 2736


Join date

: 2014-04-20


Age

: 47


Location

: Planet feelthelove



Hope everyone has a nice day with or without a Valentine.

_________________
Not everyone likes me, but not everyone matters.



Posts

: 14197


Join date

: 2015-11-12


Location

: Manchester




---
Permissions in this forum:
You
cannot
reply to topics in this forum