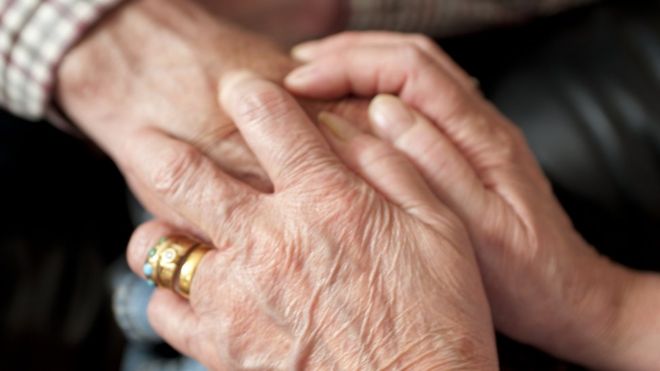 Spending time with loved ones with dementia is important even after they fail to recognise the faces of friends and family, a dementia charity says.
A survey found that 42% of the public think there is no point in keeping up contact at this stage. But the Alzheimer's Society said family visits stimulated feelings of happiness, comfort and security. Even as the condition progresses, it said people with dementia can still hold an "emotional memory".
This means they continue to feel happy long after a visit or experience that they may have forgotten.
The charity is calling on people to visit friends and relatives with dementia regularly and help them take part in activities they enjoy.
In a separate survey by the charity of 300 people affected by dementia, more than half said they were no longer taking part in any, or hardly any, social activities.  And 64% said they felt isolated following their diagnosis.
'Bleak and lonely'
Jeremy Hughes, chief executive of Alzheimer's Society, said: "After spending time with friends and family over the festive period, New Year can be a bleak and lonely time for people with dementia and their carers. It's so important for people with dementia to feel connected throughout the year.  Spending time with loved ones and taking part in meaningful activities can have a powerful and positive impact, even if they don't remember the event itself. We're urging people to get in touch with us and find out how we can help you stay connected."
A survey of more than 4,000 members of the public indicated that 68% would still visit someone with dementia who no longer recognised them. However the charity says that people's busy lives often mean they don't manage to follow up on these good intentions, leaving many living with dementia feeling isolated.
There are around 850,000 people with dementia in the UK.
http://www.bbc.co.uk/news/health-35199882
Queen of Smilies




Posts

: 2720


Join date

: 2014-04-20


Age

: 46


Location

: Planet feelthelove



One of the saddest things I have seen is the amount of people put into care or nursing facilities by family after the person needed full time professional care....and being left there for years with no visitors.
When my mum died in a nursing home she had lots of nice clothes she had never got to wear. We asked if anyone in the home would want them.
We were told that several of the ladies had never had a visitor so had no one to buy them clothes, so they would be glad of them.


_________________
My body is in Manchester (sometimes) my mind's all over the place (always)
Happy now??



Posts

: 12387


Join date

: 2015-11-12


Location

: Manchester



http://imgur.com/gallery/jDzs8
this is a long comic but so worth the read if you know someone who had dementia
just one a short snippet to get you started. 

_________________
My job is to travel the world delivering Chaos and Candy.

We don't know the Questions... does that means we cannot seek the Answers?
The Mod Loki, Minister of Chaos & Candy, Emperor of the Southern Realms, Captain Kangaroo




Posts

: 16208


Join date

: 2013-01-23


Age

: 34


Location

: Australia



Firstly, do we really need a survey and a study and a charity to tell us what we, as human beings with hearts and minds, know already???!

Of course people, all people need contact; mental stimulation and a physical closeness.
I used to work in a nursing home and I can tell you, the one that had regular visits from families, thrived.

_________________
That was his gift, he filled you with words that you didn't know were there.
king of beards. Keeper of the Whip. head cook and bottle washer. Senior mushroom muncher




Posts

: 31834


Join date

: 2013-07-28


Age

: 47


Location

: England



Denentia is heartbreaking for both the person and the family.

Im sure much gets through to someone with really bad dementia but they cant express themselves. They are locked within their own minds. Its so sad. I wish they had a drug that could heal them and let them live their lives doing things, instead of just sitting waiting for death to come. Its a sad, lonely existence for them. So sad.

_________________
__________________________________________________________________________________

Don't walk behind I may not lead
Don't walk in front I may not follow
Just walk beside me and be my friend.



Posts

: 1807


Join date

: 2016-08-22




Similar topics
---
Permissions in this forum:
You
cannot
reply to topics in this forum