Why does America's largest Christian Zionist organization continue to ignore the plight of its co-religionists in Jesus' birthplace?
Graffiti on the Israeli separation wall in the West Bank town of Bethlehem reads, "Merry Christmas from Bethlehem Ghetto," December 16, 2010.
Happy birthday, Jesus! Once again, Christians United for Israel (CUFI), America's largest Zionist organization of any kind, has used "Made in Israel" Christmas ornaments the centerpiece of its holiday fundraising campaign while bashing the boycott, divestment, and sanctions (BDS) movement.
In a December email campaign in the weeks preceding Christmas, CUFI's leaders declared:
Israel's enemies are also our enemies, and they are mounting an aggressive campaign on all fronts to cause innocents harm, especially during the holidays. The BDS (boycott, divestment and sanctions) agenda continues aggressively to harm Israel's economy by organizing boycotts of Israeli made goods.
There are a few telling aspects things about this campaign. Firstly, in denouncing the efforts of Israel's enemies to "cause innocents harm" there is no mention of the series of knife, gun, and vehicular attacks that have targeted Israeli civilians and security personnel since September. CUFI only mentions BDS. Do they really believe that a nonviolent grassroots movement is a greater threat to Israeli security than direct personal violence against Israelis?
Secondly, while BDS was long dismissed as a marginal movement that had no real economic impact, CUFI now warns that this "aggressive campaign … continues aggressively to harm Israel's economy."
Here CUFI may be on to something. This year, several targets of the BDS movement pledged to cease operations in the West Bank, including Veolia, G4S, and SodaStream. In June, the UN World Investment Report cited a 50 percent drop in foreign investment in Israel due to the reaction to "Operation Protective Edge and the boycotts Israel is facing." More recently, the American Anthropological Association voted to preliminarily support the academic boycott of Israel.
A boycott, divestment and sanctions (BDS) activist in a Santa suit uses a sledge hammer to smash SodaStream appliances in Oslo, Norway, December 6, 2014.
In an email blast earlier this year, CUFI warned of a "string of victories" by the BDS movement on U.S. campuses, but declared: "We have provided our CUFI on Campus student leaders with training on how to defeat BDS. They are fighting back. And they are winning!"
The only two victories cited by CUFI: The UC Davis Student Court's decision to overturn its Student Senate's BDS resolution and an anti-BDS resolution passed at Liberty University, the fundamentalist school in Lynchburg, Virginia, founded by Jerry Fallwell.
Such paltry successes have seen few additions even now that CUFI's executive director, David Brog, was named to head the "Campus Maccabees"—the group formed during the multi-billion-dollar Vegas fundraiser hosted by Sheldon Adelson and Haim Saban to combat BDS. Even with those deep pockets propelling their propaganda, CUFI claims that their campus activists are "outnumbered and out-funded by the Israel haters."
It is interesting that while many conservative Christians in the U.S. rail against the so-called War on Christmas, CUFI's December email encourages readers to "start shopping!" to support the Israeli economy, yet doesn't once mention the founder of their faith, let alone the plight faced by those now living in the Bethlehem — the city of his birth.
Several Bethlehem residents have been among the 134 Palestinians and 20 Israelis killed in the latest surge of violence in the region. Those lopsided numbers reflect an all-too-familiar pattern in which some Palestinians have been killed in attacks against Israelis, while many others have been killed during protests, clashes and raids in which Israeli soldiers have used lethal force against unarmed youth.
These include the death of 13-year-old Abed al-Rahman Abdallah in October, whom the Israeli military later admitted was shot by mistake during clashes in an area where the Israeli separation wall cuts deep into the center of the West Bank town. Weeks later, an Israeli officer was suspended after threatening area residents, "we will gas you until you die. Your family, your children, everyone. We will kill you."
While CUFI is promoting Christmas ornaments "Made in Israel," Israeli forces continue to shower Jesus' hometown with tear gas "Made in the USA".
A child holds a spent tear gas cartridge labeled "Made in U.S.A." as Bethlehem-area activists hang U.S.-made crowd control weapons used by the Israeli military in nearby Aida Refugee Camp on trees decorated for Christmas in Bethlehem's Manger Square, West Bank, December 2, 2013.
Bethlehem has even scaled back its Christmas celebrations in recognition of the mourning that many Palestinian families are enduring this holiday season.
It's telling that a Christian organization would rather focus on supporting the Israeli economy than in listening to the voices of their fellow Christians who are suffering under occupation. Since CUFI chooses to ignore them, I will give the last word to Jerusalem's Latin Patriarch Emeritus Michael Sabbah, who expresses his frustration in a recent
Haaretz op-ed
:
At this holy time of the year, Bethlehem, the city of the Nativity, stands at the center of attention of the whole world. What the world might overlook as it watches is that the very city where Jesus was born celebrates yet another occupied Christmas…
Nevertheless, I will not call on anyone. I will not make yet another failed call on the international community. This time, I only call on the Israeli leaders in search of "security". I call on them to finally see the inevitable result of walls, stolen lands and illegal settlements: it will only bring more isolation, rejection and hatred, hence, more insecurity. I call on them to see that justice, education for mutual respect and acceptance will bring security and peace.





http://972mag.com/christians-zionists-prefer-to-ignore-bethlehems-palestinians/115168/

_________________
This planet is our home.  Our life and hers are interdependent - Doreen Valiente



The Left want to make life easier for as many people as possible, The Right want to make life easier for themselves and fuck everyone else

.



Posts

: 17731


Join date

: 2015-01-04



Maybe it has something to do with real persecution elsewhere


Muslims "have nothing whatsoever to do with terrorism." — Hillary Clinton.

"We have been forced to live under a climate of fear, this is not England. I grew up in in to a free decent country accepting British values and the British rule of law. ... I think there is two laws, one for them and one for us." — Nissar Hussain, a former Muslim living in West Yorkshire.

"They wanted to kill us by burning us alive, but we managed to escape. We have lost everything." — Ramni Das, 57, accused of witchcraft in Bangladesh.

Iraq's parliament passed a law that will force Christian children to become Muslim if their father converts to Islam or if their Christian mother marries a Muslim.

In Pakistan, an 8-year-old girl, Sara Bibi, was beaten and locked in a school bathroom by her Muslim head teacher for using the same toilet as Muslims. She was then expelled from the school.

As Muslim jihadis, mobs and regimes terrorized Christians and others throughout the world of Islam, in the West, institutions -- from governments to grade schools -- empowered and praised Islam, often at the expense of Christians.
U.S. President Barack Obama described the idea of giving preference to persecuted Christian refugees as "shameful" -- even though helping persecuted refugees is what America has always been doing and much of what it is about. "That's not American. That's not who we are. We don't have religious tests to our compassion," Obama admonished. Unfortunately for the president, statistics were soon released, indicating that "the current [refugee] system overwhelmingly favors Muslim refugees. Of the 2,184 Syrian refugees admitted to the United States so far, only 53 are Christians while 2,098 are Muslim." So, although Christians are 10% of Syria's population -- and possibly the most persecuted group -- only 2% of the refugees entering America are Christian.
Adding to the confusion, Republican presidential candidate Jeb Bush falsely claimed that Syrian President Bashar Assad "executes Christians." In reality, not only have Christian minorities long been protected under the secular regime of Assad -- himself a member of a religious minority -- but many Christian refugees who fled the jihad in Iraq went to Assad's Syria for sanctuary.
Accordingly, the head of the Syrian Catholic Church, Mar Ignace Youssif III Youan, in a November interview, accused Western governments of "perpetuat[ing] the endless conflict in Syria" and of having "betrayed the Christians of the East. We explained from the beginning that our situation was different from that of other nations in the region, they were not listened to. And now we mourn deaths over the past five years. ... It's a shame that the West has abandoned Christians to this situation."
Less than a week after jihadis murdered 130 people in Paris, Hillary Clinton asserted that Muslims "have nothing whatsoever to do with terrorism."
The same pro-Islamist, anti-Christian spirit floated through some Western schools. In the United Kingdom, pupils at Oldknow Academy were reportedly led in "anti-Christian chants" in assemblies that were "like a rally" with a "plainly divisive" attitude." According to the
Birmingham Mail
, Asif Khan, a Muslim teacher, led pupils, shouting, "We don't believe in Christmas, do we?" and "Jesus wasn't born in Bethlehem, was he?" Children were also asked to shout: "Do we send Christmas cards? No!" and "Do we celebrate Christmas? No!" Khan denies the claims.
However, Ann Connor, an education adviser contracted to work for Department for Education who had earlier visited the school, said, "I found the school to be extraordinary. There was an element of fear." A female staff member was said to be "frightened of Mr. Khan." And a parent complained of the "increasing Islamic ethos in the school."
In the United States, a seventh-grade teacher at Spring View Middle School in Huntington Beach, California, deviated from the district's official curriculum and had students sing "This Is My Fight Song." Lyrics from the song included, "Islam ... Allah's on the way. They will preach them loud tonight. Can you hear their voice this time? This is their fight song. Spread Islam now song. Prove that they're right song."
Parents only found out about the song after some students accidentally brought the pamphlet home. "I believe that by singing the song," one of the angry parents said, "the children feel comfortable that maybe Allah is the only god and maybe that they should start following him. I'm not OK with that." The school responded by sending an apology to parents and said it would continue looking into the incident.
Meanwhile, in the Islamic world, it was business as usual. November's roundup of Muslim persecution of Christians around the world includes, but is not limited to, the following:
Muslim Slaughter of Christians and Savagery
Libya
: Two Christians were killed by gunshots to their heads. The bodies of Wasfy Bakhit Gad Mikhail, 37, and his brother Fahmy, 27, were found on November 13 near Al Khums. On their bodies were black gloves with Islamic phrases. Like many other Christians killed in Libya -- including the 21 who were slaughtered earlier this year by the Islamic State -- the brothers were working as laborers and sent their earnings back home to support their families. "They were targeted and killed because they are Christians," said Father Sulaiman Botros. "They kept the faith and refused to deny the Lord Jesus Christ. They are our church's martyrs."
Egypt
: Marwa Ahmed, a 26-year-old former Muslim woman, was killed by her family for converting to Christianity and marrying a Christian. Three years ago she fled her hometown and moved to Alexandria with her new husband, where she gave birth to a boy and girl. But when her uncle and cousins learned that she was back visiting Taymiyya, they tracked her down and kidnapped her. According to the report, her uncle then forced her younger sister to "kill her to 'punish' her for her conversion." Other reports say that the uncle killed Marwa himself.
Yet another Christian soldier was killed in his (Muslim majority) unit. Bishoy Nata'i Bushri Kamal, 21, was found dead at his military base in Cairo. The army told his family that he had committed suicide by hanging. However, the man's uncle, Sami Bushri, said: "We completely reject this [claim that he had committed suicide]." The uncle added that Bishoy had recently gotten into a quarrel with a certain "Mustafa," a fellow soldier. Injuries were found on Kamal's abdomen, face and back -- all of which indicate that he was tortured, then murdered. (See here for five more examples of Egyptian Christian soldiers found dead, followed by military claims of suicide or some other "accident," and rejection of these claims by their families. They all point to conflicts with Muslim soldiers in the unit, including attempts to force the Christians to convert to Islam.
Yemen
: Two Muslim converts to Christianity, in two separate incidents, were murdered because they left Islam. In Taiz, an al-Qaeda member shot a Christian man 15 to 20 times. The second Christian, shot once in his home, was killed either by another Islamic jihadi group or by members of his own family. A colleague of the second convert said that Muslims were harassing and threatening the man: "A lot of people didn't like that he was a convert... I think it is because of his faith; there is no other reason." Authorities, as usual, made no arrests.
United Kingdom
: Former Muslim, Nissar Hussain, 49, was struck 13 times with a pickax and repeatedly punched and kicked by two hooded men, as he left his house in West Yorkshire. He suffered a shattered kneecap and a broken hand (video of attack here). According to the "apostate," he became a target after he converted to Christianity in 1996 and his family appeared in a 2008 documentary exposing the mistreatment of Muslim converts. Since then, local Muslims drove his family from a previous home and have attacked them in the streets. "Our lives have been jeopardised and subjugated," Hussain said. "We have been forced to live under a climate of fear, this is not England. I grew up in in [sic] to a free decent country accepting British values and the British rule of law. I think multiculturalism has failed, I think David Cameron's Big Society has failed and I think there is two laws, one for them and one for us."
Bangladesh
: On November 18, three men attacked Fr. Piero Parolari, a 64-year-old missionary who had been working at St. Vincent Hospital since 1985. "They wanted to kill him," said a colleague. "Three thugs were on the motorcycle. One shot him in the neck, but only grazed it, whilst another threw a knife (perhaps a Chinese knife) at the carotid artery. The cut did most of the damage. Fr. Parolari lost a lot of blood." The priest fell and hit his head, had bruises on his eyes and body, and three broken ribs. He was reported suffering from respiratory problems, and fluid had to be drained from his lungs.
On November 5, four Catholic families narrowly escaped death when a group of Muslims burned down their homes on the accusation of witchcraft. A Muslim mob tried to lock them inside their houses before setting them on fire. "For more than a year, Muslim youths from a neighboring village accused us of practicing witchcraft and told us to leave the village. They abused us in public and threw bricks at our houses," said Ramni Das, 57, who lost two homes in the attack. "They wanted to kill us by burning us alive, but we managed to escape. We have lost everything."
Kenya
: A man exposed as a secret Christian escaped his Muslim in-laws, who tried to stab him and seized his wife and children. Hassan Ali said that on the evening of November 11, Muslim neighbors and his in-laws, armed with knives, knocked on his door. He said that Muslims in the area may have become suspicious of his break from Islam since he had stopped attending the mosque. "I heard people talking outside my house and mentioning my name... I knew I was in trouble when they started questioning my wife about her faith. I then escaped through the window." His wife's relatives then seized the woman and their two children, a 7-year-old boy and a 4-year-old girl, and took them to her parents' home.
According to a source, "The parents are telling Ali's wife that the children should start going to a madrassa, an Islamic elementary school. ... Ali's wife is facing pressure from her parents to recant the Christian faith, and she is emotionally troubled."
Ali said it will be "very difficult" to return to his house or see his family again. "What is worrying me at the moment is that communication between my wife and me has now been disconnected. I cannot reach her again. I know my wife and my two children, Hussein and Mariam, will be Islamized. This is making me to have sleepless nights."
Central Nigeria
: Hausa-Fulani Muslim herdsmen regularly commit atrocities against Christians that should be described as "ethnic/religious cleansing," according to a report by the Nigeria Conflict Security Analysis Network (NCSAN). Despite the media narrative that Hausa violence is a result of environmental degradation and migration, the herdsmen are reportedly motivated by an Islamic agenda that seeks to cleanse the land of Christians no less than the more notorious jihadi organization, Boko Haram. Data from the report finds that in just a year-and-a-half (December 2013 to July 2015), the Muslim herdsmen slaughtered 1,484 Christians (532 men, 507 women, and 445 children), injured 2,388 Christians (1,069 men, 817 women, and 502 children), and burned or destroyed 171 churches, 314 houses and 39 shops and businesses of Christians.
The NCSAN report concludes that "for many people the atrocities committed by the Hausa-Fulani Muslim herdsmen can be, at best, described as ethnic cleansing, and at worst, as genocide. This is because, from the evidence presented, there is a deliberate and calculated infliction of physical destruction, targeted at particular religious [Christian] and ethnic groups. Such destruction is supported and driven by a religious supremacist ideology to ensure Islam dominates all aspects of life in Taraba State."
Central African Republic (CAR)
: Thousands of people have been killed since 2013, when the Muslim militias known as "Seleka" seized power in the Christian-majority country. After months of killings, raping, and looting by Seleka, Christian militias known as "Anti-Balaka" emerged and were likely responsible for killing three Muslims. In retaliation, Muslims torched a church and slaughtered over 30 men and women, and torched their homes, in Christian-majority parts of Bangui (the CAR capital). According to a local witness, "The people have lost everything, and have nowhere to lay their head. They have become wanderers and vagabonds in their own country... [T]he objective continues to be to impoverish the Christians by burning all their homes and property... The threat of sudden death is on everyone's mind, given what is going on in CAR far from the media cameras. We are defenceless, our very lives exposed, and only God can save us."
Muslim Attacks on Christian Churches
Spain
: On November 2, a group of Muslims stormed the Church of our Lady of Carmen, in the town of Rincon de la Victoria, and smashed wooden statues of the Virgin Mary and Jesus on the cross. A spokesman for the Diocese of Malaga said the attack was not representative of all Muslims and that the diocese was committed to maintaining "respect and fraternity between different religious groups." The month before, a Moroccan man was arrested in the same town after trying to destroy another statue of the Virgin Mary while screaming "Allahu Akbar!"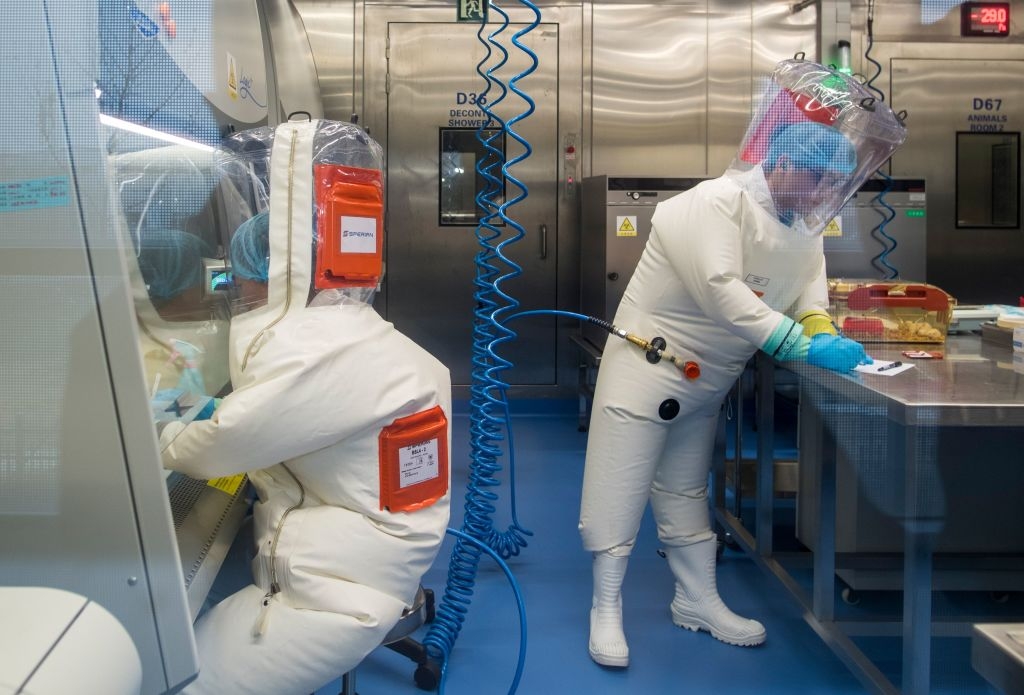 On November 2, a group of Muslims stormed the Church of our Lady of Carmen, in the town of Rincon de la Victoria, Spain, and smashed wooden statues of the Virgin Mary and Jesus on the cross. The month before, a Moroccan man was arrested in the same town after trying to destroy another statue of the Virgin Mary while screaming "Allahu Akbar!"
Iraq
: The Islamic State reportedly blew up the convent belonging to the Dominican Sisters of St. Catherine of Siena on the morning of November 5. The destruction of the convent also caused considerable damage to adjacent buildings. According to the Assyrian Monitor for Human Rights and other media, this latest attack by the "caliphate" occurred in Tel Keppe -- "Hill of Stones" -- one of the largest historically Assyrian Christian towns in northern Iraq, about 8 miles from Mosul.
Egypt
: On November 12, three gunmen opened fire on an Evangelical church by the Giza pyramids, near Cairo. Separately, in the city of Rashid, a retired Muslim judge is attempting to destroy a church. Judge Mohamed Mostafa Kamel Tirana and his two sons claim that they purchased the church building in 1990, and say that it was their family's ancestral home. However, Tirana only registered the purchase of the building in 2008 -- 18 years after the alleged purchase. The lawyer acting for the church leaders says the building has been registered as a church since 1948 in the city's real estate authority, the Property Taxes office and the 1946 Cadastral map. "His purpose of taking over the church is demolishing its building and rebuild[ing] big shopping malls on its land," said church leader Luka Asaad Awad. Last September 2, the judge managed to infiltrate the church and tried to demolish the building from inside. "We beg President Abdel Fatah El-Sisi to intervene and protect the church and stop the demolition of it," said the church leader.
Kenya
: Muslims burned down two Christian churches, Faith Victory Church and Holistic Church, on the outskirts of Tiribe town. Prior to these arson attacks, church leaders received threatening messages from Muslims, including calls to "stop converting our people to Christianity, and if not you will soon regret changing our people to Christianity." Christians have been since worshiping in tents, some of which have been flooded by heavy rains -- five people were swept away by a downpour.
Indonesia
: More than 1,000 Christian churches have been shut down in Muslim-majority Indonesia since 2006, when the "religious harmony" law was passed, according to a report. The law requires minority religious groups to secure 60 signatures of local residents of another faith, and a written recommendation from local authorities before obtaining permits to build houses of worship, which, as Christian leaders indicate, is often impossible.
Dhimmitude
Iraq
: Parliament passed a law that will force Christian children to become Muslim if their father converts to Islam or if their Christian mother marries a Muslim. Leaders of the Assyrian Christians, Yazidis, Mandeans, Kakai and Bahai vigorously fought the law and their representatives walked out of the parliament session in protest after it was passed. They had requested adding: "Minors will keep their current religion until the completion of 18 years of age, then they have the right to choose their religion" -- but the clause was rejected.
Iran
: Fourteen Christians, among them converts from Islam, were arrested after agents from the Ministry of Intelligence raided a private house-church meeting. Most of the group had previously been members of the Emmanuel Protestant Church in Tehran, which Iranian authorities had forced to close in 2012. According to Christian Solidarity, "We are extremely concerned at the arrests of these 14 Christians and the fact that their whereabouts remain unknown, which gives rise to concerns regarding their wellbeing. These people had merely gathered peacefully and had not partaken in any illegal activities. It is unacceptable that the Iranian authorities continue to harass the Christian community without cause."
Uzbekistan
: On Sunday, November 8 in Tashkent, the nation's capital, twelve Protestant Christians holding a worship meeting in a private home were detained, and some beaten, after eight plain-clothes anti-terrorism officers stormed their morning meeting. A large quantity of Christian literature -- approximately 100 books -- was also confiscated. Two Christians were handcuffed and another was "hit and kicked" in the head and in the abdomen by an armed officer. The Christians were then taken to the police station where they were held for nine hours. During that time, they were forbidden to use the toilet and denied water. Some of the Christians detained had infant children with them and were not allowed to feed them until they had written statements denouncing Sarvar Zhuliyev, in whose home they had met. Christian parents were forced to write statements declaring that Sarvar Zhuliyev had "taught them the faith of Jesus Christ." Some of the children were also interrogated by police and forced to write statements. Problems began when the head teacher of a school in the capital's Yashnobod District told police that two pupils were speaking about their Christian faith with other pupils.
Turkey
: A survey revealed that "Eighty percent of minorities in Turkey say they cannot express themselves openly on social media, while 35 percent said they are subject to hate speech on the same platform." The survey was conducted among 746 Turkish citizens who are members of the Greek, Armenian, Syriac, and Jewish communities. Over one-third of respondents also said they were subject to defamation, humiliation, obscenity or threats due to their minority identity on social media.
Pakistani Dhimmitude


Sana John, a 13-year-old Christian girl, was kidnapped and converted to Islam by force in Haji Pura, near Silakot. On November 9, Muslim men stopped the girl while she was returning home from school and seized her. The Christian family was threatened not to file a complaint. According to her father, "In Pakistan there is no justice for the poor and, above all, no one cares for Christians, no one has heard my cry. The police do not pursue the culprits, no one is doing anything for us."

A few days later, a Muslim family kidnapped, beat and left naked on the streets an 8-year-old Christian girl, as a way to "punish" her uncle for pursuing a relationship with a female member of the Muslim family. The Muslims kidnapped the Christian girl, named Parwasha, on her way home from school, after which she was stripped naked and beaten. When the girl ran home to her family, they went to local police, only to find that the Muslim family had already filed a complaint against the entire Christian family for "shaming" the Muslim family.

Another 8-year-old girl, Sara Bibi, was scolded, beaten and locked in a school bathroom by her Muslim head teacher for using the same toilet as Muslims. Headmistress of the school, Zahida Rana, locked Sara in the bathroom and then shouted at her: "You are a Christian, an infidel. How dare you use the same toilet as Muslim girls?" Despite vigorously pleading her innocence, Sara was beaten and only released from the bathroom 3 hours later, at the end of the school day. The girl has since been expelled from the school.

A Christian activist, Aslam Masih, was shot in the legs by four Muslims in Lahore. The attack, says Christian lawyer Sardar Mushtaq Gill, "is a clear sign of intimidation towards our work." Before shooting, the criminals asked him to withdraw a complaint that he had filed with the police. When he refused they opened fire.

A group of masked men set fire to a Christian broadcasting outlet, Gawahi TV, in Karachi. The building collapsed. Gawahi television was established in February 2013 in a joint collaboration between Catholic and Protestant communities, to "spread the Gospel of Jesus Christ to people of all religions who live in Pakistan." As reported by the television website, about 12 million people watched it regularly. Despite receiving many threats, and making many requests for security, police did not help.

About this Series
While not all, or even most, Muslims are involved, persecution of Christians is expanding. "Muslim Persecution of Christians" was developed to collate some -- by no means all -- of the instances of persecution that surface each month.
It documents what the mainstream media often fails to report.
It posits that such persecution is not random but systematic, and takes place in all languages, ethnicities and locations.
We all despise ISIS, we know that.

Now, don't get desperate and post it again, again, again.
_________________
This planet is our home.  Our life and hers are interdependent - Doreen Valiente



The Left want to make life easier for as many people as possible, The Right want to make life easier for themselves and fuck everyone else

.



Posts

: 17731


Join date

: 2015-01-04



Yeah you depise so much you forgot to post all these persecutions against Christians world over because of your racist hate of Israeli's is all you care about.
Again moral equivalence


Similar topics
---
Permissions in this forum:
You
cannot
reply to topics in this forum