An image distributed on Twitter claiming to show an Isis training camp in eastern Afghanistan Bill Roggio/Long War Journal. Isis now has support from 42 different international groups in countries ranging from the Philippines to Egypt, it has been revealed. The map, produced for The Independent by statistics agency Statista, shows the 30 groups to have pledged formal affiliation to the terrorist group and 12 more that have pledged their support, as identified in a Global Terrorism Index report.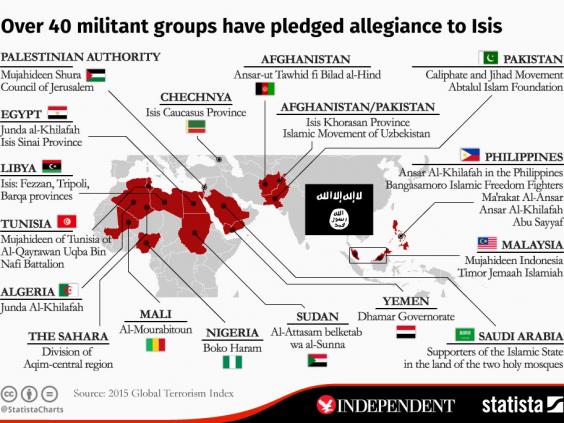 The map of where militant groups have pledged their support to Isis
http://www.independent.co.uk/news/world/middle-east/global-terrorism-index-the-map-that-shows-where-42-different-militant-groups-have-pledged-support-to-a6767051.html
Hence why I keep saying not to act now could see more groups topple governements in Muslim majority nations, and then there will really be a massive problem. If we pull out from taking on ISIS, its self defeating and would give a massive propganda coup to these many groups, thinking the west fears them. We would no doubt then see a massive spiral in terrorist attacks would over.

---
Permissions in this forum:
You
cannot
reply to topics in this forum