Here we are, another terror attack in France. An absolutely sickening tragedy that needs us to all stand in solidarity against terror wherever it happens, whether in France, Lebanon or in Israel.
That being said, the following brain dead asshats blamed Zionists or Israel: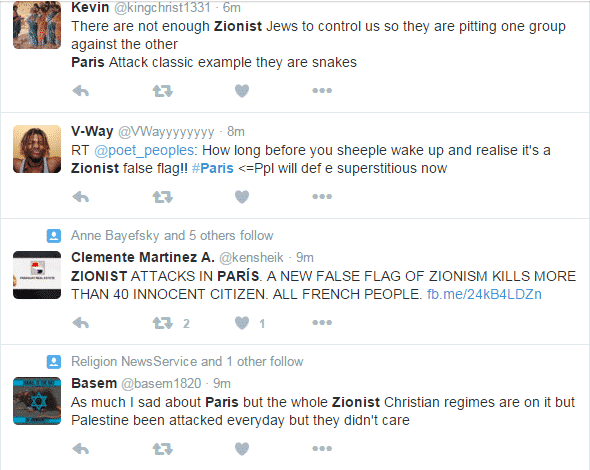 h/t @ad_holland on Twitter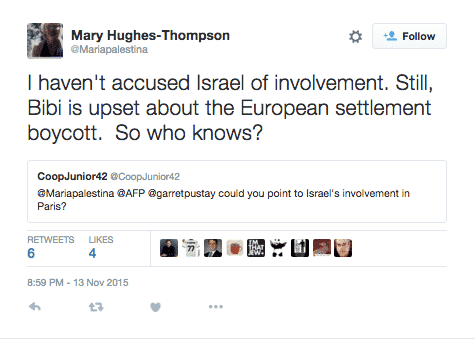 h/t StandWithUs
The following people tried to tie this atrocity to "Palestine".
The following people have already determined the perpetrators were not Muslim:
http://www.israellycool.com/2015/11/14/the-worst-of-twitter-paris-edition/
More comments on the link
And some of the left wonder why many people do not take anything they say as serious or believeable when you have such idiotic extremem lefties out there. I mean its a good thing I or others do not club all lefties together or Muslims for the views and acts carried out and stated by siome.
If people ever wanted to know why and how antisemitism is very much alove today. As I have been saying for ages, there is a growing racist left wing extremist movement around the world. Who claim to champion justice and equality. Where in fact they are making Hitler and Nazism look amature in comparrison, as Nazism did not deny its racism and hate of Jews.
I mean we see it on here daily, so called champions of justice, actually make a mockery of the definition. Make what is unacceptable. Trrorism and Atisemitism acceptable, by deligitimizing and dehumanizing Israeli civillians. This is why you do not see the same parity of outrage to the recent terrorism and murder of israel civllians. In the minds of the new extremist lefty and some Muslim.s Israeli's civillians are not allowed to be treated equally and are thus denied being classifed as civillians or even human, doing exactly just as nazism did the same. By then dehumanizing Jews, any terrorist acts commited against them, is excused and instead argued that those who committed acts of terror against them, were victims.
You know  so much promoted  victims, that it was the Arab nations that refused to accept the self determination of a minority group from within a former larger majority nation. Which basically would be like championing the Sebian genocide of the Muslims formed from the creation of Bosnia. any ethical reasoning is discarded when it comes to Jews, because throughout and has always been the case many times in histor. They have been constantly promoted as inferior, constantly denied being treated as human and for one single purpose. To make it accpetable and justifiable to excuse murder and terrorism when done to Israeli's
Last edited by Didge on Sun Nov 15, 2015 8:26 pm; edited 4 times in total

---
Permissions in this forum:
You
cannot
reply to topics in this forum