A Guide to how to REALLY show respect.
The Daily Telegraph's Jeremy Corbyn Coverage Isn't Going Down Well Even With Its Readers
Readers of the Daily Telegraph have hit out at the paper for its coverage of Jeremy Corbyn's bow at the Cenotaph during the Remembrance Sunday service.
The broadsheet's article outlined criticism of the Labour leader for "only slightly moving his head after laying a traditional wreath of poppies".
It went on to quote former Conservative defence minister, Sir Gerald Howarth, and an etiquette expert, William Hanson, both of whom decided Corbyn's bow was not deep enough.
The bow in question - video on link
Hanson said: "Protocol dictates that while his bow did not not necessarily have to be deep, like a theatrical bow and scrape, it should have gone down around 45 degrees from the waist.
"It is his first time in this role at the Cenotaph and he is not cut from the cloth of a statesman." 
(thank goodness he's not that pompous, hence his enormous popularity)
Howarth took a slightly more direct approach and called Corbyn an "embarrassment".
A poll within the article however showed the majority of readers of the article did not agree.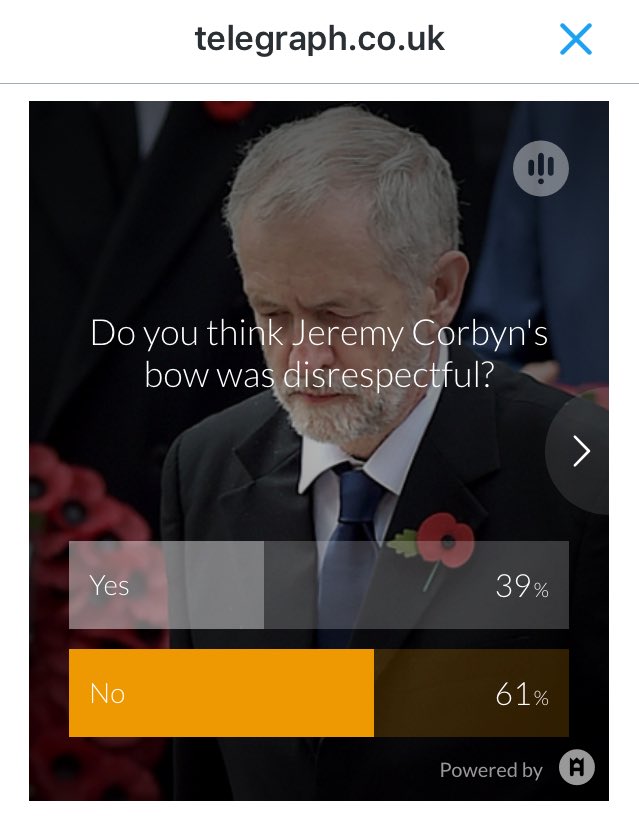 http://www.huffingtonpost.co.uk/2015/11/09/the-telegraph-jeremy-corbyn-remembrance-sunday_n_8508200.html?1447058798
Of course, they didn't like to say that after the ceremony the others all disappeared for a slap-up meal.  Corbyn stayed until the march was over and spent time talking to the vets and taking pictures of them.  He also had a hand written note on his wreath, the others were printed.
Following that he went to a ceremony in his own constituency.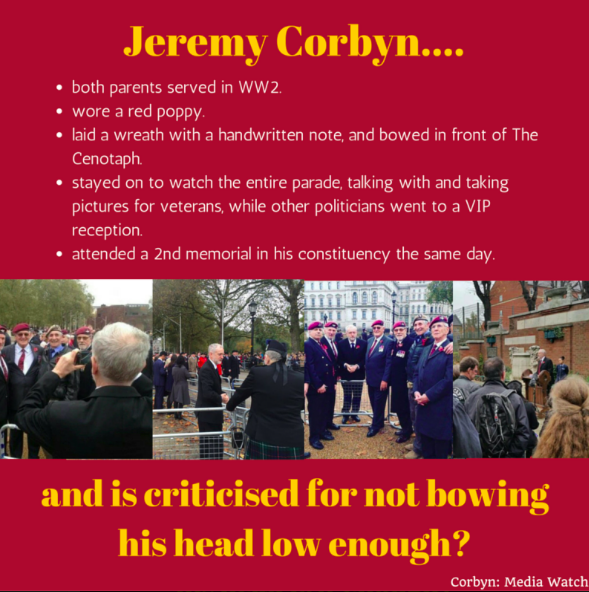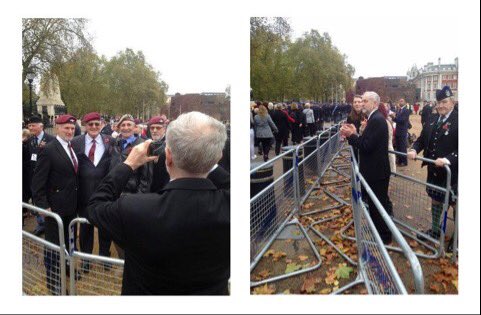 Of course, you will always get the brainless wonders that believe stuff in the Murdoch press, but they are becoming a dying breed.
The sooner Murdoch dies,the better.
He hates Britain, and uses the press to further his views.

_________________
I have never met a caring sharing and compassionate Tory.
Tories and far right wingers. All liars and only it it for themselves.
Poet Laureate & Traveling Bard of NewsFix




Posts

: 5502


Join date

: 2013-12-14


Age

: 62


Location

: Has declared war against far rw extremists.



Why do the lefties get upset over a left wing paper taking the micky themselves? lol
Handy Andy wrote:The sooner Murdoch dies,the better.
He hates Britain, and uses the press to further his views.
Man of the deliberately run, "slow news", said, his role in the "communications revolution" is that of a battering ram". Was this an admittance of battering the truth out of news?




Posts

: 760


Join date

: 2013-02-12



If it wasn't, it should have been Jane

Labour are in civil war,so forget about them until Corbyn has gone, once that has happened then we can all take the party seriously again.

Poor old Jezza only has about 20 Labour MPs who support him & the rest are plotting his downfall,which will probably happen next year.

To make things worse for the party formally know as the Labour party,membership has plateaued & those who have joined are the usual assortment of loonie left Stalinists,Trotskyists,stop the war activists,people who stab police horses & Russel Brand..........My God,former party members like John Brown must be turning in their graves.

Like every body else,including former Labour voters,I am waiting for Jezza & co the produce some real political policy....where do they stand on Trident? Where do they stand on immigration? Where do they stand on Europe?

At present,the Tories are split regarding the EU referendum which in itself could & should be exploited by a good opposition party....That split is the perfect weakness to attack,but what is the Labour leadership doing?...........I don't know.Do you?

---
Permissions in this forum:
You
cannot
reply to topics in this forum