8th November 2015 | International Solidarity Movement, Al-Khalil team | Hebron, occupied Palestine
The International Solidarity Movement (ISM) urges the international community to take immediate and urgent action against the Israeli occupation forces' recent declaration of the Tel Rumeida neighborhood and Shuhada street in downtown Hebron as a closed 'Closed Military Zone.'
On November 1st, the occupation forces instructed all Palestinian residents to 'register'. Since November 3rd, all non residents, including human rights workers, doctors, teachers, plumbers, and others are barred from entry.
This declaration comes amidst a month long escalation claiming the lives of over 70 Palestinians across the West Bank and Gaza – one third of them in Hebron.  Many of the extrajudicial killings in Hebron are occurring in the areas now evacuated of all internationals who had been monitoring and reporting what they witness.
As of November 3rd, all international human rights monitors in Tel Rumeida have been evicted from the area under threat of arrest and subsequent deportation.  Although the order is being issued for one day, and renewed daily, the occupation forces have told residents and evicted human rights workers that it will be in force for the long term.
Yesterday, November 7th, Israeli forces raided several Palestinian homes, trapping families inside, while settlers freely roamed the streets and chanted "Death to the Arabs!"
Israeli forces are targeting not only international human rights observers, but also Palestinian activists. On Saturday, 7th November, Israeli forces commandeered the local activist group Youth Against Settlements' centre and turned it into a military base for 24 hours. They took Palestinian activists as hostages, stole several dozen electronic devices, and completely destroyed the media center. Palestinian activists have been targeted by the Israeli forces and their spokesperson has been illegally held in prison for over a week already.
"Soldiers and settlers are making life for the Palestinians intolerable to force them to leave their houses voluntarily. This is a crime under international law. They are targeting activists to silence the truth and stop the truth from reaching the whole world", explains Tel Rumeida resident Abed Salaymeh. Other international human rights observers have been directly targeted by Israeli forces through arrests, evictions and settler violence. Such conditions facilitate further extrajudicial killings in this neighborhood, as well as further takeovers of Palestinian homes by Israeli settlers.
The ISM calls for:
–       An immediate end to the 'Closed Military Zone' order on Tel Rumeida and Shuhada Street
–       Cessation of threats and harassment of residents and foreign human rights activists
–       Removal of restrictions on movement throughout downtown Hebron
–       Removal of all illegal Israeli settlers from Hebron
We call on civil society worldwide to support the above demands and do all they can to pressure the Israeli government to cease its severe human rights abuses against the Palestinian people, including joining the Boycott, Divestment, and Sanctions (BDS) movement.
For more information, please see:
B'Tselem Press Release, Nov. 6, 2015: "New restrictions on movement in Hebron and area disrupt lives and constitute prohibited collective punishment"
B'Tselem, Oct. 20: "Footage from Hebron: Israeli military enables 5-day settler attack"
International Solidarity Movement, Nov. 7: Palestinians held hostage in their own homes by Israeli forces in al-Khalil (Hebron)
International Solidarity Movement, Nov. 4: International human rights defenders arrested and evicted while "Hebron is becoming ghettoized"
International Solidarity Movement, Oct. 30: Palestinian residents of Hebron required to register in preparation for severe new restrictions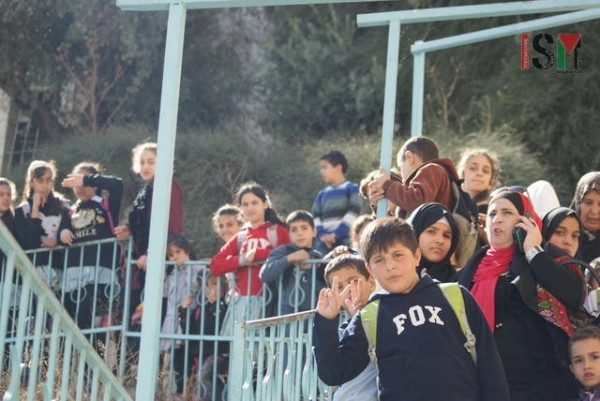 School children kept waiting on stairs by Shuhada street, 1 November
http://palsolidarity.org/2015/11/urgent-alert-tel-rumeida-declared-closed-military-zone-human-rights-activists-expelled-homes-raided/
Basicaly they want to make life so unbearable that the Palestinians leave and they can steal yet more land.

---
Permissions in this forum:
You
cannot
reply to topics in this forum