The Chand baoli near Jaipur extends almost 100ft into the ground, making it one of the deepest and largest stepwells in India. Photograph: dbimages/Alamy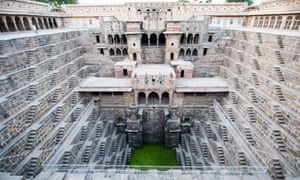 India

Across large swaths of the Thar desert in western India, traditional techniques for harvesting the little amount of rain that falls has helped people survive the powerful effects of the sun for centuries. The most beautiful of these are step wells – known as
baolis
in Hindi – large, stone structures built to provide water for drinking and agriculture.
Baolis
have existed for at least 1,000 years and were constructed in towns and alongside serais (travellers' inns), across the desert and into Delhi.
Baolis
exist in all shapes and sizes and are essentially reservoirs built into the earth. Groundwater is pulled up from a circular well at the bottom and rainwater is collected from above. A set of steps – on one or more sides of the structure – lead down to the water level, which fluctuates depending on the amount of rain. More recently, electric pumps have been installed in many
baolis
to help retrieve the water. "Step wells are etched into people's collective memory so deeply, they are now part of their DNA, passed on from one generation to another," says Farhad Contractor of the Sambhaav Trust, an ecological conservation group.
Today, many
baolis
have fallen prey to rapid urbanisation and neglect. In Delhi only around 15 survive but local groups are fighting to protect and preserve them. While 700mm of rain falls on Delhi every year, half of the city has been declared a dark zone – where the groundwater level has depleted so much that the rate of recharge is less than the rate of withdrawal – by the groundwater authority. Rainwater harvesting, therefore, is key to a secure water supply for India's second-biggest city.
http://www.theguardian.com/global-development-professionals-network/2015/aug/19/water-scarcity-drought-peru-kenya-india

---
Permissions in this forum:
You
cannot
reply to topics in this forum